ANALISIS SEMIOTIKA PEMASARAN OSWALD DENGAN SISTEM CONSUMER BRANDSCAPE PADA IKLAN MS GLOW FOR MEN #SEMUAJUGABISA
Keywords:
Semiotics, Oswald Marketing Semiotics, Consumer Brandscape, Beauty Standard, Men's Skincare
Abstract
Advertising has the power to change the mindset of an exposed audience. Therefore, advertisements must attract the attention of audiences by displaying advertising visualizations that are packaged in a unique way but cannot be separated from the main message to be conveyed to the audience. The more unique an ad will get a lot of responses from the audience and it is possible that the ad will go viral. This study aims to reveal the meaning of MS Glow For Men's viral advertisement titled #SemuaJugabisa. The virality of the MS Glow For Men ad on social media Instagram is due to the presentation of unusual visualizations and an advertising story wrapped in comedy featuring well-known comedians in Indonesia, Babe Cabiita and Marshel Widianto who are also brand ambassadors of MS Glow For Men. The results of the research through Oswald's Marketing Semiotics analysis with the Consumer Brandscape system reveal the meaning behind the MS Glow For Men #SemuaJugabisa advertisement, where MS Glow For Men has the motivation to break the concept of beauty standards for brand ambassadors, advertising stars and all men in using facial care products. So that the goal of MS Glow For Men is achieved, which is to make all men have a well-groomed, clean and radiant face or what is known as 'glowing'.
Keywords: Semiotics, Oswald Marketing Semiotics, Consumer Brandscape, Beauty Standard, Men's Skincare
References
Gandakusumah, B., & Marta, R. F. (2021). Visualisasi Elemen Pembentuk Consumer Brandscape Melalui Oposisi Biner Semiotika Pemasaran Xing Fu Tang (幸福堂) dan Xi Bo Ba (喜悦). Jurnal Bahasa Rupa, 04(02), 167–176.https://doi.org/https://doi.org/10.31598.
Littlejohn, Stephen W. dan Foss, Karen A. 2014. Teori Komunikasi Theories of Human Communication. Edisi 9. Jakarta : Salemba Humanika.
Marta, R. F., & Septyana, V. (2015). Semiotika Pemasaran pada Brand Value Melalui Sign Berupa Layout Berita dan Iklan Ibadah Haji (Studi Komparasi pada Harian Pos Kota dengan Rakyat Merdeka). Semiotika : Jurnal Komunikasi, 9(2), 482– 508. https://journal.ubm.ac.id/index.php/semiotika/article/view/24.
Moleong, Lexy J. (2010), Metodologi penelitian kualitatif, Remaja Rosdakarya, Bandun.
Oswald, L.R,. Marketing Semiotics Signs, Strategies, and Brand Value, 1st ed. Oxford: Oxford University Press, 2012
Poerwandari, E.K. (2007). Pendekatan Kualitatif dalam penelitian Psikologi. Jakarta: LPSP3 Universitas Indonesia.
Rorong, M. J. (2019). Representasi Nilai Kemanusiaan Web Series Kisah Carlo (Analisis Semiotika dalam perspektif Charles Sanders Peirce). Semiotika: Jurnal Komunikasi, 13(1).
Rorong, M. J. (2019). PENEMPATAN TEORI DALAM ILMU KOMUNIKASI:(KAJIAN KEPUSTAKAAN DALAM PERSPEKTIF DEDUCTIVE-INTERPRETIVE). Commed: Jurnal Komunikasi dan Media, 4(1), 90-107.
Sobur, Alex. (2013). Semiotika Komunikasi. Bandung: PT Remaja Rosdakarya.
Vera, Nawiroh. 2014. Semiotika dalam Riset Komunikasi. Bogor: Penerbit Ghalia Indonesia.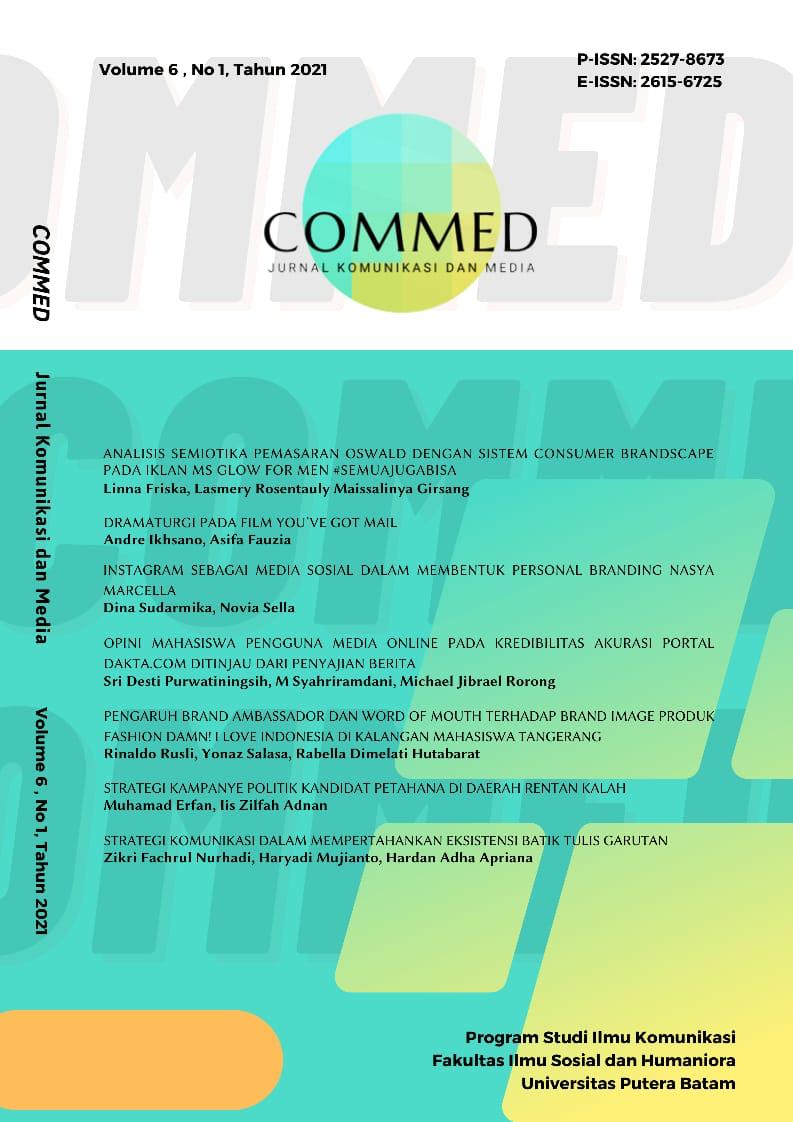 Downloads