ANALISIS SENTIMEN MASKAPAI CITILINK PADA TWITTER DENGAN METODE NAÏVE BAYES
Keywords:
Analisis, Sentimen, Maskapai, Citilink, Naïve Bayes
Abstract
The use of airline transportation is no longer a new thing for the community, ranging from business people, families going on vacation, even to the reach of the middle class. This transportation is really needed by the community to be able to travel long distances with a relatively shorter period of time. One of them is Citilink, Citilink is a subsidiary airline of the Garuda Indonesia company with ticket prices that can be reached by the middle class and below. Assessment of Citilink airlines can be seen through any promos that are most promoted to the public. The good and bad services of Citilink Airlines as an evaluation for people who want to use these services, can also be seen from the tweet of the people on Twitter social media. Therefore many researchers use social media as a place to collect data. This research aims to classify or group positive or negative sentiments of the community towards Citilink airline services in order to provide information about public satisfaction with Citilink Indonesia airline services, with a dataset of 2000 tweets resulting in accuracy reaching 0.778, with a processing time of two minutes twenty three seconds.
References
[1] S. Ernawati and R. Wati, "Penerapan Algoritma K-Nearest Neighbors Pada Analisis Sentimen Review Agen Travel," J. Khatulistiwa Inform., vol. VI, no. 1, 2018.
[2] "Text Mining Dan Sentimen Analisis Twitter Pada Gerakan Lgbt," Intuisi J. Psikol. Ilm., vol. 9, no. 1, pp. 18–25, 2017.
[3] V. Effendy, "ANALISIS SENTIMEN BERBAHASA INDONESIA DENGAN PENDEKATAN LEXICON BASED ( STUDI KASUS : SOLUSI PENGELOLAAN SAMPAH ) Jurnal Ilmiah Komputer dan Informatika ( KOMPUTA )," vol. 4, no. 1, 2015.
[4] I. Zulfa and E. Winarko, "Sentimen Analisis Tweet Berbahasa Indonesia Dengan Deep Belief Network," IJCCS (Indonesian J. Comput. Cybern. Syst., vol. 11, no. 2, p. 187, 2017.
[5] W. Gata, "Akurasi Text Mining Menggunakan Algoritma K-Nearest Neighbour pada Data Content Berita SMS," vol. 6, pp. 1–13, 2017.
[6] D. Wahyudi, A. H. Mirza, and P. H. Merrieayu, "IMPLEMENTASI DATA MINING DENGAN NAIVE BAYES CLASSIFIER UNTUK MENDUKUNG STRATEGI PROMOSI ( Studi kasus Universitas Bina Darma Palembang )," pp. 1–10.
[7] N. MOH, "Klasifikasi Dokumen Komentar Pada Situs Youtube Menggunakan Algoritma K-Nearest Neighbor (K-Nn)," Univ. Dian Nuswantoro, no. 5, 2016.
[8] R. Delima, U. Kristen, D. Wacana, A. Rachmat, U. Kristen, and D. Wacana, "Implementasi Metode K-Nearest Neighbor dengan Decision Rule untuk Klasifikasi Subtopik Berita IMPLEMENTASI METODE K-NEAREST NEIGHBOR DENGAN DECISION RULE UNTUK KLASIFIKASI per topik-topik berita sehingga membuat pencarian berita dipermudah . Bagi Pembuata," no. June, 2014.
[9] K. Teks and B. Indonesia, "Pemanfaatan Teknik Supervised Untuk Klasifikasi Teks Bahasa," no. May, 2016.
[10] A. Rachmat C and Y. Lukito, "Klasifikasi Sentimen Komentar Politik dari Facebook Page Menggunakan Naive Bayes," J. Inform. dan Sist. Inf. Univ. Ciputra, vol. 02, no. 02, pp. 26–34, 2016.
[11] R. W. Pratiwi and Y. S. Nugroho, "Prediksi Rating Film Menggunakan Metode Naïve Bayes," J. Tek. Elektro, vol. 8, no. 2, pp. 60–63, 2016.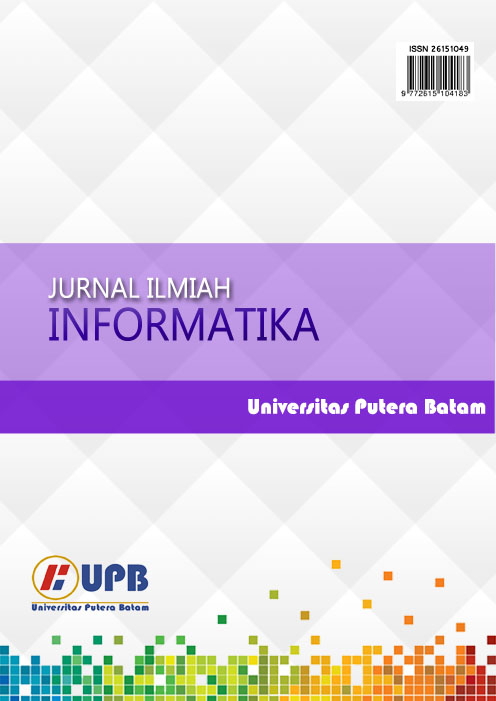 Downloads
How to Cite
Yasid, M. (2019). ANALISIS SENTIMEN MASKAPAI CITILINK PADA TWITTER DENGAN METODE NAÏVE BAYES. JURNAL ILMIAH INFORMATIKA, 7(02), 82–86. https://doi.org/10.33884/jif.v7i02.1329