PENERAPAN DATA MINING PADA PENJUALAN MAKANAN DAN MINUMAN MENGGUNAKAN METODE ALGORITMA NAÏVE BAYES
Studi Kasus : Makan Barbeque Sepuasnya
Keywords:
Data mining, naive bayes, algoritma
Abstract
Changes in human behavior against the times, this causes business actors, especially culinary businesses to innovate so that the business they run continues to survive. With this competence, it causes more problems, one of which is the emergence of startups that eventually become competitors in the business world in all fields. All business owners have an innovation by analyzing food and beverage sales to generate new opportunities which will then be used to identify future opportunities. This affects the income and expenses obtained by companies and restaurants. This research paper generates new knowledge, namely by using the Na Bayve Bayes algorithm to generate an opportunity in the sale of food and beverages based on sales in the previous month. The results of the analysis process will be used for the benefit of restaurants in marketing optimization efforts. This new knowledge will also provide information such as the results of sales opportunities in the following months
References
[1] Nurdiawan, Odi., Noval Salim. 2018. "Penerapan Data Mining Pada Penjualan Barang Menggunakan Metode Naïve Bayes Classifier Untuk Optimasi Strategi Pemasaan." Jurnal Teknologi Informasi dan Komunikasi.
[2] Ridwan, Mujib., Hadi Suyono., M. Sarosa. 2013. "Penerapan Data Mining Untuk Evaluasi Kinerja Akademik Mahasiswa Menggunakan Algoritma Naïve Bayes Classifier." Jurnal EECCIS Vol. 7 No.1.
[3] Mardi, Yuli. 2017. "Data Mining: Klasifikasi menggunakan Algoritma C4.5." Jurnal Edik Informatika V2.i2 (213-219)
[4] Harwati., Hanna Miratama. 2016. "Prediksi Prestasi Mahasiswa Dengan Jalur Siswa Berprestasi (PSB) Menggunakan Metode Naïve Bayes."
[5] Simanjuntak, P., & Elisa, E. (2019). Data Mining Untuk Menentukan Pemilihan Celular Card Di Kota Batam. Journal Information System Development (ISD), 4(2).
[6] Effendi, M.R. 2015. "Akurasi Data Mining Untuk Menghasilkan Pola Kelulusan Mahasiswa Dengan Metode Naïve Bayes." 101-106.
[7] Rizqiyani, Vidya., Anggraini Mulwinda., Riana Defi Mahadji Putri. 2017. "Klasifikasi Judul Buku dengan Algoritma Naïve Bayes dan Pencarian Buku Pada Perpustakaan Jurusan Teknik Elektro." Jurnal Teknik Elektro Vol. 9 No. 2.
[7] Anggraini, Mathia., Rizki Ayuning Tyas., Ismi Ana Sulasiyah., Qurrotul Aini. 2020. "Implementasi Algoritma Naïve Bayes Dalam Penentuan Rating Buku." Jurnal Sistem Informasi Vol. 9 No. 3.
[8] Watratan, Alvina Felicia., Arwini Puspita B. ., Dikwan Moeis. 2020. "Implementasi Algoritma Naïve Bayes Untuk Memprediksi Tingkat Penyebaran Covid-19 Di Indonesia." Journal Of Applied Computer Science And Technology (Jacost) Vol. 1 No. 1.
[9] Saleh, Alfa. 2015. "Implementasi Metode Klasifikasi Naïve Bayes Dalam Memprediksi Besarnya Penggunaan Listrik Rumah Tangga." Citec Journal Vol. 2 No. 3.
[10] Maryah., M. Fadel Asikin., Daisy Kurniawaty., Selly Kurnia Sari., Imam Cholissodin. 2016. "Implementasi Metode Naïve Bayes Classifier Untuk Seleksi Asisten Praktikum Pada Simulasi Hadoop Multinode Cluster." Jurnal Teknologi Informasi dan Ilmu Kompuiter (JTIIK) Vol. 3 No. 4.
[11] Simanjuntak, P., Pangaribuan, H., & Syastra, M. T. (2021). Data Mining Rekomendasi Pemakaian Skincare. MEANS (Media Informasi Analisa dan Sistem), 6(1), 80-83.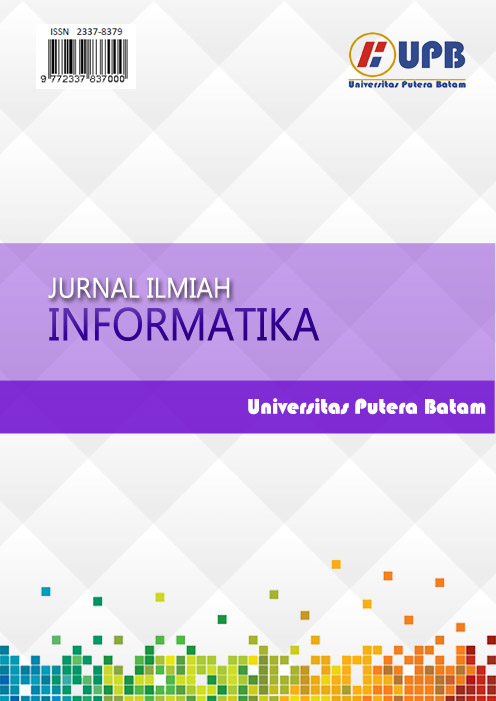 Downloads
License
Copyright (c) 2021 JURNAL ILMIAH INFORMATIKA
This work is licensed under a Creative Commons Attribution 4.0 International License.