ANALISIS KEAMANAN WEBSITE UNIVERSITAS INTERNASIONAL BATAM MENGGUNAKAN METODE ISSAF
Keywords:
Keamanan Website, ISSAF, Penetration, Hacker
Abstract
With the support of various types of media for delivering information, technological developments change over time. To facilitate access to information, one of them can use the media website. With the development of website technology, more and more parties are using it as a supporting medium for information transmission, including educational institutions in Indonesia. However, many administrators do not understand the security of the website created but pay more attention to the appearance and function of the website. As a result, there were cases of hacker attacks on websites that resulted in data leaks and changes in website appearance. Therefore, it is important to realize the importance of website security to prevent leakage of important data. Because there have been cases of hacker attacks that have occurred several times, the researchers conducted a security analysis of the main website of the Universitas Internasional Batam Institute using the ISSAF method.
References
[1] A. Manik, I. Salamah, and E. Susanti, "PENGGUNA WEBSITE POLITEKNIK NEGERI SRIWIJAYA THE IMPACT OF WEBQUAL 4 . 0 METHOD TOWARDS USER," J. Elektro Telekomun. Terap., pp. 477–484, 2017.
[2] D. R. Chandranegara, C. Sri, K. Aditya, and F. D. Setiawan, "Implementasi Website Profile Madrasah Muhammadiya Al-Munawarroh Malang Sebagai Media Informasi Bagi Masyarakat," vol. 4, no. 2, pp. 305–309, 2020.
[3] I. Riadi and A. Y. Y. W, "Analisis Keamanan Website Open Journal System Menggunakan Security Analysis Open Journal System Website Using," J. Teknol. Inf. dan Ilmu Komput., vol. 7, no. 4, pp. 853–860, 2020, doi: 10.25126/jtiik.202071928.
[4] E. I. Alwi, H. Herdianti, and F. Umar, "Analisis Keamanan Website Menggunakan Teknik Footprinting dan Vulnerability Scanning," INFORMAL Informatics J., vol. 5, no. 2, p. 43, 2020, doi: 10.19184/isj.v5i2.18941.
[5] M. Rusdan, D. T. H Manurung, and F. Kharisma Genta, "Evaluation of Wireless Network Security Using Information System Security Assessment Framework (ISSAF) (Case Study: PT. Keberlanjutan Strategis Indonesia)," TEST Eng. Manag., vol. 83, no. June, pp. 15714 – 15719, 2020.
[6] W. S. Fatmala, Suprapto, and A. Rachmadi, "Analisis Kualitas Layanan Website E-Commerce Berrybenka Terhadap Kepuasan Pengunjung Menggunakan Metode WebQual 4.0 dan Importance Performance Analysis (IPA)," J. Pengemb. Teknol. Inf. dan Ilmu Komput., vol. 2, no. 1, pp. 175–183, 2018.
[7] G. Guntoro, L. Costaner, and M. Musfawati, "Analisis Keamanan Web Server Open Journal System (Ojs) Menggunakan Metode Issaf Dan Owasp (Studi Kasus Ojs Universitas Lancang Kuning)," JIPI (Jurnal Ilm. Penelit. dan Pembelajaran Inform., vol. 5, no. 1, p. 45, 2020, doi: 10.29100/jipi.v5i1.1565.
[8] L. D. Samsumar, K. Gunawan, D. Program, S. Manajemen, D. Program, and S. Komputerisasi, "Analisis Dan Evaluasi Tingkat Keamanan Jaringan Komputer Nirkabel ( Wireless Lan ); Studi," Ilm. Teknol. Inf. Terap., vol. IV, no. 1, pp. 73–82, 2017.
[9] Suharyanto, C. E, and Simanjuntak, P. (2017). Potential Threat Analysis Hypertext Transfer Protocol and Secure Hypertext Transfer Protocol of Public WiFi Users (Batam Case). International Journal of Scientific & Engineering Research, 8(3), 320-326.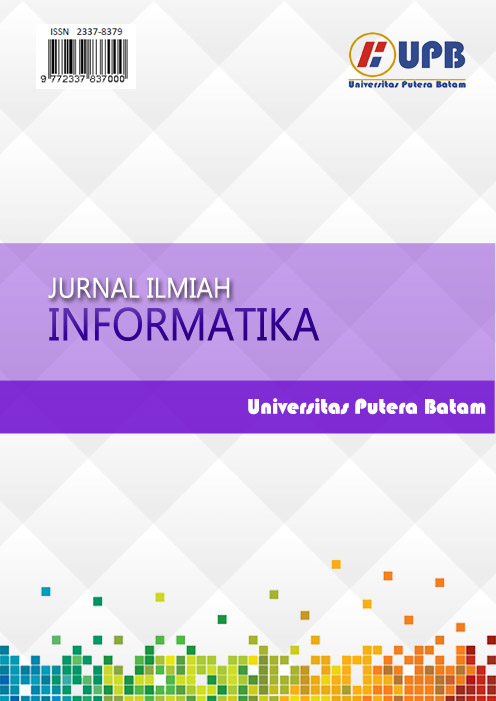 Downloads
How to Cite
Eko Prasetyo, S., & Hassanah, N. (2021). ANALISIS KEAMANAN WEBSITE UNIVERSITAS INTERNASIONAL BATAM MENGGUNAKAN METODE ISSAF. JURNAL ILMIAH INFORMATIKA, 9(02), 82–86. https://doi.org/10.33884/jif.v9i02.3758
License
Copyright (c) 2021 JURNAL ILMIAH INFORMATIKA
This work is licensed under a Creative Commons Attribution 4.0 International License.