PENERAPAN WEB PROXY DAN MANAGEMENT BANDWIDTH MENGGUNAKAN MIKROTIK ROUTERBOARD PADA KANTOR POS PALEMBANG 30000
Keywords:
Web Proxy, Mikrotik, Internet, Bandwidth
Abstract
The Palembang 30000 POS office which is supported by information technology has a computer network that is directly connected to the ISP (Internet Service Provider) which has a bandwidth allocation of 20 Mbps. The problem at the Palembang 30000 POS Office is that there is no web proxy and Bandwidth Management application, so employees can access various sites that interfere with employee performance and employees who use the internet for free result in uneven bandwidth usage. The purpose of this study is to implement a web proxy and bandwidth management, so that the bandwidth is evenly distributed, therefore it is necessary to divide the bandwidth using a proxy routerboard, the method used for bandwidth distribution is using the simple queue method. By implementing a web proxy, it can control internet usage and block website sites that have the potential to interfere with employee performance, by making bandwidth management able to limit bandwidth usage and share bandwidth equally on each client, so internet access is now running more stable.
References
[1] Riska, P., Sugiartawan, P., & Wiratama, I. (2018). Sistem Keamanan Jaringan Komputer dan Data Dengan Menggunakan Metode Port Knocking. Jurnal Sistem Informasi dan Komputer Terapan Indonesia (JSIKTI), 1(2),
53-64.
[2] Amarudin, A., & Ulum, F. (2018). Desain Keamanan Jaringan Pada Mikrotik Router OS Menggunakan Metode Port Knocking. Jurnal Teknoinfo, 12(2), 72-75.
[3] Andi. (2016). Manajemen Sistem Jaringan Komputer dengan Mikrotik RouterOS. Yogyakarta : CV Andi Offset.
[4] Sari, I. P., & Sukri, S. (2018). Analisis Penerapan Metode Antrian Hirarchical Token Bucket untuk Management Bandwidth Jaringan Internet. Jurnal RESTI (Rekayasa Sistem Dan Teknologi Informasi), 2(2), 522-529.
[5] Santoso, S., & Assegaff, S. (2017). Analisis Dan Rancang Bangun Sistem Layanan Proxy Server Pada SMK Unggul Sakti Jambi. Jurnal Manajemen Sistem Informasi, 2(1), 260-277.
[6] Eko, S. C., & Pastima, S. (2017). Quality of service of gsm. A comparative internet access analysis of provider in Batam. International Journal of Open Information Technologies, 5(6).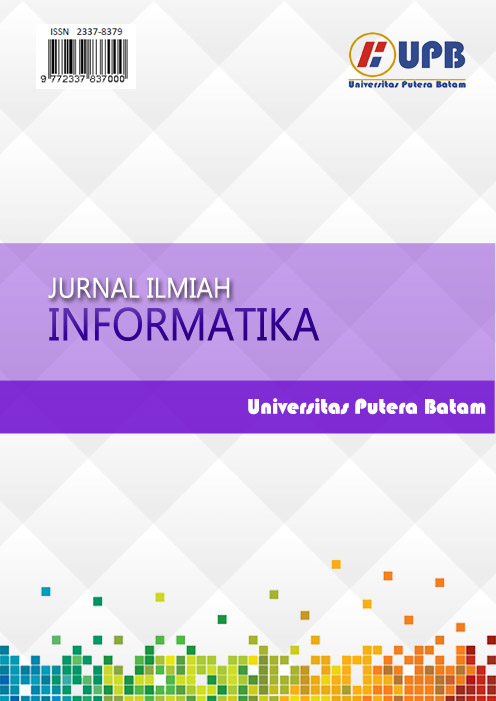 Downloads
How to Cite
Ariyadi, T., & Maulana, A. T. (2021). PENERAPAN WEB PROXY DAN MANAGEMENT BANDWIDTH MENGGUNAKAN MIKROTIK ROUTERBOARD PADA KANTOR POS PALEMBANG 30000. JURNAL ILMIAH INFORMATIKA, 9(02), 116–122. https://doi.org/10.33884/jif.v9i02.4444
License
Copyright (c) 2021 JURNAL ILMIAH INFORMATIKA
This work is licensed under a Creative Commons Attribution 4.0 International License.