PERANCANGAN SISTEM INFORMASI MANAJEMEN PELATIHAN KURSUS BERBASIS WEB PADA CV NIXTRAIN INFOTAMA
Keywords:
Sistem Informasi, Manajemen, Web
Abstract
Training activities are usually carried out face-to-face, but along with the development of increasingly advanced times, especially in the field of technology, business actors, especially in the field of training, find more efficient and effective ways to run their business or business. The design of a website-based training management information system will make it easier for prospective trainees to access updated training information anywhere and anytime using the internet. Then it will reduce damage and loss of data because data about training activities is stored safely and neatly on a website. The design of this website itself is designed by the methodology used is Object Oriented Programming or commonly abbreviated as OPP.
References
Y. Hasyim, "Rancang bangun sistem informasi manajemen pelatihan (simpel) unit pelatihan teknis pertanian dinas pertanian dan ketahanan pangan pemerintah provinsi jawa timur," J. Ilm. Penelit. dan Pembelajaran Inform., vol. 2, no. 1, p. 224416, 2017.
H. Adhitama, "Perancangan Sistem Informasi Manajemen Training Center PUSFID," 2019.
S. R. Serepia, M. R. Julianti, and D. L. Fauzi, "Sistem Informasi Pelatihan Departemen Training PT Gajah Tunggal Tbk Berbasis Web," J. SISFOTEK Glob., vol. 9, no. 1, 2019.
H. Agustin, "Sistem Informasi Manajemen Menurut Prespektif Islam," J. Tabarru' Islam. Bank. Financ., vol. 1, no. 1, pp. 63–70, 2018.
M. Muslihudin, Analisis Dan Perancangan Sistem Informasi Menggunakan Model Terstruktur Dan UML. Penerbit Andi, 2016.
D. R. Prehanto, S. Kom, and M. Kom, Buku Ajar Konsep Sistem Informasi. SCOPINDO MEDIA PUSTAKA, 2020.
T. S. Patma, M. Maskan, and A. Utaminingsih, Sistem Informasi Manajemen: Guna Mendukung Keputusan, vol. 1. UPT Percetakan dan Penerbitan Polinema, 2018.
M. Destiningrum and Q. J. Adrian, "Sistem Informasi Penjadwalan Dokter Berbassis Web Dengan Menggunakan Framework Codeigniter (Studi Kasus: Rumah Sakit Yukum Medical Centre)," J. Teknoinfo, vol. 11, no. 2, pp. 30–37, 2017.
R. A. O. Putro, Z. Hakim, K. Sabardiman, and M. Sulastri, "Rancang Bangun Pengelolaan Data Informasi Pelayanan Jasa Laundry Shinwash," Acad. J. Comput. Sci. Res., vol. 3, no. 1, 2021.
R. Akbar, "Sistem Informasi Pelayanan Warga RW 01 Kelurahan Rawa Buaya Berbasis Website," 2019.
S. E. NAFIUDIN, Sistem informasi manajemen. Penerbit Qiara Media, 2019.
Fernandes, F., & Simanjuntak, P. (2021). SISTEM PAKAR MENDETEKSI KERUSAKAN POMPA MORITA FIRE TRUCK MENGGUNAKAN METODE FORWARD CHAINING BERBASIS WEB. Computer and Science Industrial Engineering (COMASIE), 4(3), 11-20.
M. Napiah, M. Raharjo, J. L. Putra, S. Heristian, and I. N. Leksono, "Rancang Sistem Penyajian Bank Soal Untuk Jenjang Sekolah Menengah Atas Berbasis Web," J. Infortech, vol. 2, no. 2, pp. 133–138, 2020.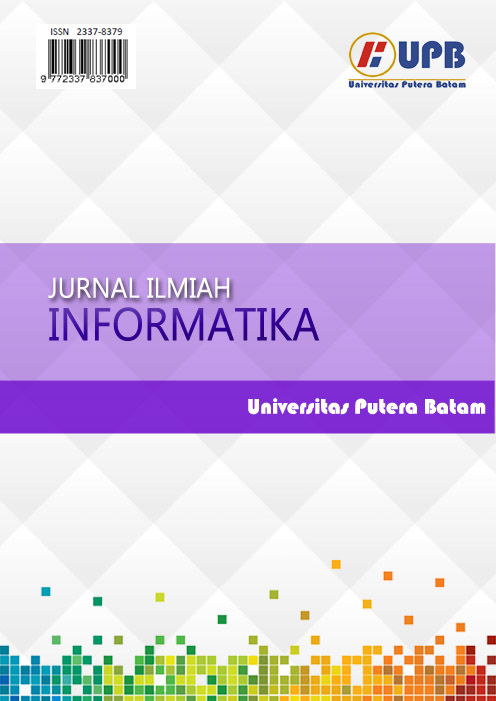 Downloads
How to Cite
Khamdun, K., Nainggolan, E. R., & Putra, J. L. (2022). PERANCANGAN SISTEM INFORMASI MANAJEMEN PELATIHAN KURSUS BERBASIS WEB PADA CV NIXTRAIN INFOTAMA. JURNAL ILMIAH INFORMATIKA, 10(01), 1–7. https://doi.org/10.33884/jif.v10i01.4478
License
Copyright (c) 2022 JURNAL ILMIAH INFORMATIKA
This work is licensed under a Creative Commons Attribution 4.0 International License.