IMPLEMENTASI METODE BUSINESS PROCESS REENGINEERING (BPR) PADA SISTEM PELAYANAN DATA PENDUDUK
Keywords:
Sistem Pelayanan Data Penduduk, Business Process Reengineering, Sistem Administrasi Kependudukan,
Abstract
Kalimas Village is currently still using conventional methods in providing population data services so that the recording process takes a long time. The solution to overcome this is to create a web-based program that has features of recording and reporting population data. With this website, employees don't need books and Microsoft Word to make notes that happen twice. Business Process Reengineering (BPR) is a business approach that focuses on analyzing workflows or business processes that occur within an institution or organization. The author applies the BPR method to identify the workflow of the system that is running at the Kalimas Sub-District office and get an idea for creating a web-based application to help speed up the process of serving population data in Kalimas Sub-District. The results of this study are in the form of a population administration system to record SKTM, KTP, KK, Birth Certificates, Death Certificates, Transfer Certificates, and Coming Transfer Letters. Parties who can use this application are kelurahan employees, village heads, and admins. The application generated from this research has the benefit of making it easier for Kalimas Village employees to manage population data and making it easier for the Lurah to monitor the Kalimas Village population data.
References
F. F. D. Imaniawan and F. F. Wati, "Sistem Informasi Administrasi Kependudukan Berbasis Web Pada Desa Bogangin Sumpiuh," Indones. J. Netw. Secur., vol. 7, no. 3, pp. 1–9, 2017.
A. H. Nugroho and T. Rohimi, "Perancangan Aplikasi Sistem Pengolahan," Jutis, vol. 8, no. 1, pp. 17749231–5527063, 2020.
A. Erfina, N. Mira, I. Anggraeni, and D. Gustian, "Perancangan Dan Pembangunan Sistem Pelayanan Data Penduduk Dengan Metode Bpr ( Business Process Reengineering ) Studi Kasus : Kecamatan Takokak," vol. 3, no. April, 2020.
R. Hidayat, S. Aris, and R. Haerul, "Implementasi Metode Bpr (Business process reengineering) Dalam Perancangan Dan Pembangunan Sistem Informasi Data Kependudukan Desa," SISMATIK, pp. 52–60, 2021.
A. Ritonga, K. Nasution, and M. Z. Siambaton, "Perancangan aplikasi administrasi desa berbasis website menggunakan metode Booyer," J. Minfo Plgan, vol. 10, pp. 1–13, 2021.
S. Maesaroh, I. Erliyani, and Y. F. Ningsih, "Aplikasi Pengolahan Data Kependudukan Industri 4.0 Berbasis Web," J. CERITA, vol. 6, no. 1, pp. 95–105, 2020, doi: 10.33050/cerita.v6i1.892.
M. Kadafi, H. Khadijah, and M. S. Syaputra, "Pelaksanaan Pencatatan Dokumen Keluarga Berbasis Sistem Informasi Administrasi Kependudukan (Siak) Dalam Mewujudkan Tertib Administrasi Kependudukan Di Desa Senaru," J. War. Desa, vol. 2, no. 1, pp. 39–43, 2020, doi: 10.29303/jwd.v2i1.92.
E. W. Puspitarini, M. Noviyanti, A. Dewi, and I. Winata, "Sistem Informasi Administrasi Data Kependudukan Pada Kantor Kelurahan Kolursari," vol. 9, no. 1, pp. 1–8, 2017.
O. Tumundo, "1) Staf dan Peneliti pada Pemerintah Kota Bitung/ASN 2) Staf Pengajar dan Peneliti pada PS Pengelolaan Sumberdaya Pembangunan, Pascasarjana Universitas Sam Ratulangi, Manado," vol. 17, pp. 391–398, 2021.
A. O. P. Pambudi, "Life Cycle Sustainability Minyak Jelantah Menggunakan Pendekatanbusiness Process Reengineering (BPR) dan Quality Function Deployment (QFD)," J. Univ. Islam Majapahit, pp. 1–6, 2020.
R. Fajriah and S. Nazar, "Analisa Business Process Reengineering Dalam Pengembangan Sistem Distribusi Produk Lensa Mata Berbasis Mobile Application," CESS (Journal Comput. Eng. Syst. Sci., vol. 5, no. 1, p. 1, 2020, doi: 10.24114/cess.v5i1.14353.
Simanjuntak, P., Realize, R., & Handoko, K. (2019). PEMBINAAN ADMINISTRASI DAN DOKUMENTASI DENGAN MEMANFAATKAN SOFTWARE APPLICATION. Jurdimas (Jurnal Pengabdian Kepada Masyarakat) Royal, 2(2), 133-136.
H. Hendro, I. A. Imdan, and S. Novieta, "Perancangan Proses Bisnis Menggunakan Teknologi Informasi dengan Metode Business Process Engineering untuk Meningkatkan Kualitas Pelayanan Jasa Pengiriman," 2017.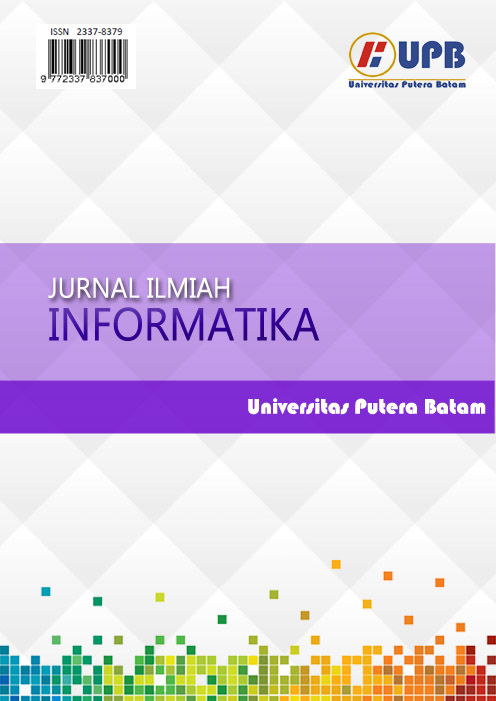 Downloads
How to Cite
Arip Islahudin, M. ., & Hadikurniawati, W. (2022). IMPLEMENTASI METODE BUSINESS PROCESS REENGINEERING (BPR) PADA SISTEM PELAYANAN DATA PENDUDUK. JURNAL ILMIAH INFORMATIKA, 10(01), 25–34. https://doi.org/10.33884/jif.v10i01.4598
License
Copyright (c) 2022 JURNAL ILMIAH INFORMATIKA
This work is licensed under a Creative Commons Attribution 4.0 International License.