DESIGN AND APPLICATION OF MOTION CAPTURE ON 3D CHARACTERS IN VIDEO
Keywords:
Animasi 3D, Kinect, Blender 2.79b, Motion Capture, MDLC
Abstract
Design and Application of Motion Capture on 3D Characters in Video. Motion Capture is a technology that can record the movement of a human model into a 2D or 3D digital realistically. In Indonesia itself, users of Motion Capture technology are still low in demand, the factor cost is very expensive and the availability of the Motion Capture system is limited. Over time, Mocap technology has been found which is simpler and easier to use by the general using the Kinect camera, which allows us to produce information depth, texture, user, and skeleton. The research method of this 3D animation video uses the MDLC (Multimedia Development Life Cycle). This animated video was made using the Mocap Markerless technique and the Blender 2.79b application as a media for making 3D characters up to the 3D animation stage. The design and implementation of Motion Capture on 3D characters in this video aims to prove and can help Mocap users understand how to design and implement simple Motion Capture creations on 3D characters into videos.
References
A. Chatzitofis, D. Zarpalas, S. Kollias, and P. Daras, "Deepmocap: Deep Optical Motion Capture Using Multiple Depth Sensors and Retro-Reflectors," Sensors (Switzerland), vol. 19, no. 2, pp. 1–26, 2019, doi: 10.3390/s19020282.
A. Zinkernagel, "Step-by-Step Instructions to Track- and Export Facial Movements with Blender List of Figures," pp. 1–21, 2018.
A. Borodulina, "Application of 3D Human Pose Estimation of Motion Capture and Character Animation," 2019, no. June.
M. A. Farooq and P. Corcoran, "Generating Thermal Image Data Samples using 3D Facial Modelling Techniques and Deep Learning Methodologies," arXiv, pp. 0–4, 2020.
T. Ohashi, Y. Ikegami, and Y. Nakamura, "Synergetic Reconstruction From 2D Pose and 3D Motion for Wide-Space Multi-Person Video Motion Capture in the Wild," 2020, [Online]. Available: http://arxiv.org/abs/2001.05613.
S. Sharma, S. Verma, M. Kumar, and L. Sharma, "Use of Motion Capture in 3D Animation: Motion Capture Systems, Challenges, and Recent Trends," Proc. Int. Conf. Mach. Learn. Big Data, Cloud Parallel Comput. Trends, Prespectives Prospect. Com. 2019, pp. 289–294, 2019, doi: 10.1109/COMITCon.2019.8862448.
S. Shimada, V. Golyanik, W. Xu, and C. Theobalt, "PhysCap: Physically Plausible Monocular 3D Motion Capture in Real Time," vol. 1, no. 1, 2020, [Online]. Available: http://arxiv.org/abs/2008.08880.
V. Gutta, N. Baddour, P. Fallavollita, and E. Lemaire, "Multiple Depth Sensor Setup and Synchronization for Marker-Less 3D Human Foot Tracking in a Hallway," Proc. - 2019 IEEE/ACM 1st Int. Work. Softw. Eng. Heal. SEH 2019, pp. 77–80, 2019, doi: 10.1109/SEH.2019.00021.
M. Magdin, "Simple MoCap System for Home Usage," Int. J. Interact. Multimed. Artif. Intell., vol. 4, no. 4, p. 80, 2017.
B. Johanes, R. Rantung, S. R. U. A. Sompie, and R. Sengkey, "Application of Motion Capture in Making 3D Animation for Basic Movement of Shorinji Kempo," vol. 10, no. 2, pp. 119–126, 2021.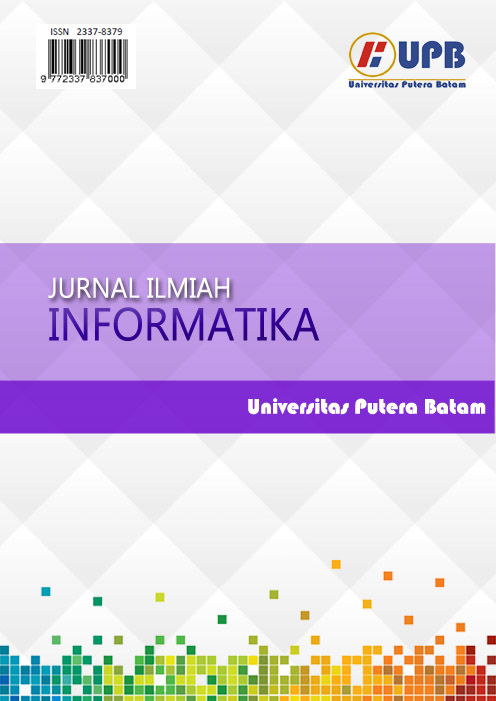 Downloads
How to Cite
Pratama, J., & Frenky, F. (2022). DESIGN AND APPLICATION OF MOTION CAPTURE ON 3D CHARACTERS IN VIDEO. JURNAL ILMIAH INFORMATIKA, 10(01), 35–43. https://doi.org/10.33884/jif.v10i01.4613
License
Copyright (c) 2022 JURNAL ILMIAH INFORMATIKA
This work is licensed under a Creative Commons Attribution 4.0 International License.