RESERVE VENDING MACHINE FOOD WASTE SEBAGAI DEPOSITO MELALUI QRIS BANK SAMPAH RUMAH TANGGA
Keywords:
Finite State Automata (FSA), Non-deterministic Finite Automata (NFA), Vending Machine (VM), QRIS , Food Waste
Abstract
The problem of waste is one of the things that need to be considered by society, especially food waste. Household waste management has begun to be carried out using the Reduce, Reuse and Recycle (3R) method but has not yet used technology. By using Finite State Automata (FSA) which is the basic concept of the Vending Machine (VM), waste management can be more economically by converting waste into balances for Rubbish Bank customers which of course becomes income for the society. In the payment method, QRIS applies where the customer does not get cash but immediately gets the balance which will go into the customer's own account. This implementation certainly reduces the amount of waste because it applies paper less and cashless. In this Reserve Vending Machine Food Waste process using Non-Deterministic Finite Automata (NFA).
References
H Hayat and H. Zayadi, 2018. "Model Inovasi Pengelolaan Sampah Rumah Tangga," Jurnal Ketahanan Pangan, vol. 2, no. 2, pp. 131–141
A. S. Suryani, 2014. "Peran Bank Sampah Dalam Efektivitas Pengelolaan Sampah (Studi Kasus Bank Sampah Malang)," Jurnal Aspirasi, vol. 5, no. 1, pp. 71–84
M. F. Silaen, S. Manurung, C. D. Nainggolan, S. Lecture, I. Tinggi, and A. Ekonomi, "Effect Analysis Of Benefit Perception, Ease Perception, Security And Risk Perception Of Merchant Interest In Using Quick Response Indonesia Standard (Qris).
N. Saribanon, E. Soetarto, S. H. Sutjahjo, E. G. Sai'id, and Sumardjo,2009. "Perencanaan Sosial Dalam Pengelolaan Sampah Permukiman Berbasis Masyarakat Di Kotamadya Jakarta Timur," Forum Pascasarjana, vol. 32, no. 2, pp. 143–152
P. Handoko, H. Hermawan, and S. Jaya, 2018 "Reverse Vending Machine Penukaran Limbah Botol Kemasan Plastik Dengan Tiket Sebagai Alat Tukar Mata Uang," Seminar Nasional Sains dan Teknologi 2018, pp. 1–12
K. Kim, D. H. Park, H. Bang, G. Hong, and S. il Jin, 2014. "Smart coffee vending machine using sensor and actuator networks," Digest of Technical Papers - IEEE International Conference on Consumer Electronics, pp. 71–72
T. I. Saputra, F. Fauziah, and A. Gunaryati, 2018. "Simulasi Vending Machine Dengan Mengimplementasikan Finite State Automata," JOINTECS (Journal of Information Technology and Computer Science), vol. 3, no. 3, pp. 143–148
A. Faisal, G. V. Saragih, and W. Gata, 2020. "Desain Vending Machine Rokok Dengan Mengimplementasikan Finite State Automata Terintegrasi Dengan E-KTP," Matics, vol. 12, no. 1, p. 55
Indra, Y., & Simanjuntak, P. (2020). Rancang Bangun Alat Penyortir Sampah Non Organik Berbasis Arduino. Jurnal Teknik Informatika UNIKA Santo Thomas, 43-50
I. Luluk Kusminah, 2018. "penyuluhan 4R (Reduce, Reise, recyle, replace) dan kegunaakn bank sampah sebagai langkah menciptakan lingkungan yang bersih dan ekonomis didesa mojowuku kabupaten gresik," vol. 03, no. 01, pp. 22–28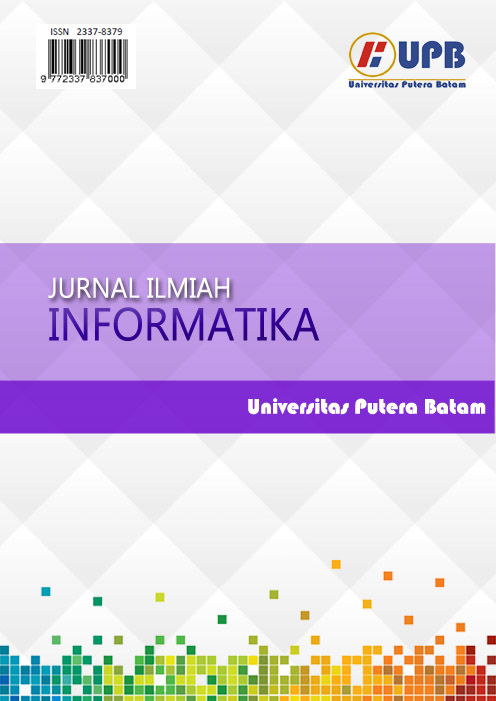 Downloads
How to Cite
Hilyati, K., Gata, W., Hermalani, E. H. ., Bayhaqy, A., & Frieyadie, F. (2022). RESERVE VENDING MACHINE FOOD WASTE SEBAGAI DEPOSITO MELALUI QRIS BANK SAMPAH RUMAH TANGGA. JURNAL ILMIAH INFORMATIKA, 10(01), 51–56. https://doi.org/10.33884/jif.v10i01.4640
License
Copyright (c) 2022 JURNAL ILMIAH INFORMATIKA
This work is licensed under a Creative Commons Attribution 4.0 International License.