PERANCANGAN LEARNING MANGEMENT SYSTEM BERBASIS ANDROID
Keywords:
Perancangan, Learning Management System, Android
Abstract
The purpose of this research is to design a companion application for learning activities, previously SMPN 163 Jakarta used a third-party application to accompany learning activities. In addition, this study also aims to create an integrated and integrated learning companion application for SMPN 163 Jakarta to overcome the problem of inconsistency in the use of applications by each teacher at SMPN 163 Jakarta. The time of the study was carried out from March to July 2022. This study uses a qualitative approach by developing a system using research and development methods. The result of this research is the application that the researcher makes can integrate learning activities from third-party applications. With the application that the researcher made, the applications that are used as learning companions by the teachers of SMPN 163 Jakarta can be replaced with applications that the researchers made, and overcome the problem of inconsistency in the use of learning companion applications. In addition, with the application that the researcher made, it is possible to store administrative data for safer learning activities because they no longer use paper media so that there is no risk of paper being lost or torn.
References
D. Darmawan and K. N. Fauzi, Sistem Informasi Manajemen. PT. Remaja Rosdakarya Offset, 2013.
N. Rusdi and M. A. Suyuti, Pengantar Sistem Manufaktur. Yogyakarta: Puisi Indonesia Deepublish, 2018.
A. A. Sofyan, L. F. Gustomi, and S. Fitrianto, "Perancangan Sistem Informasi Perencanaan dan Pengendalian Bahan Baku Pada PT. Hema Medhajaya," Jurnal Sisfotek Global, vol. 6, pp. 1–1, 2016.
S. D. Foreman, The LMS Guidebook Learning Management System Demystified. 2017.
Abdul. Hamid, "EFEKTIFITAS IMPLEMENTASI LMS (LEARNING MANAGEMENT SYSTEM) EFRONT TERHADAP MINAT DAN HASIL BELAJAR PADA MATA," 2015.
D. Griffiths and D. Griffiths, Head First Android Development: A Brain-Friendly Guide, 2nd ed. Sebastopol: O'Reilly Media, 2017.
A. Ariyanto, "Sistem Pakar Diganosa Penyakit Ginjal Berbasis Andorid," vol. 1, 2018.
Y. Supardi, Koleksi Program Tugas Akhir dan Skripsi dengan Android. Jakarta: Elex Media Komputindo, 2017.
A. S. Rosa and M. Shalahuddin, Rekayasa Perangkat Lunak Terstruktur Dan Berorientasi Objek. Bandung: Informatika, 2018.
S. Mulyani, Metode Analisis dan Perancangan Sistem, 1st ed. Abdi Sistematika, 2016.
E. Elisa and P. Simanjuntak, Konsep Rekayasa Perangkat Lunak. Malang: Pustaka Learning Center, 2020.
Hafizh. Hendri, "Tutorial Membuat Aplikasi Android Menggunakan Android Studio. [Online]. Diakses dari https://www.twoh.co/2014/12/14/tutorial-membuat-aplikasi-android-menggunakan-android-studio/.," 2014.
Developers, "Mengenal Android Studio," https://developer.android.com/studio/intro/index.html?hl=id, 2016.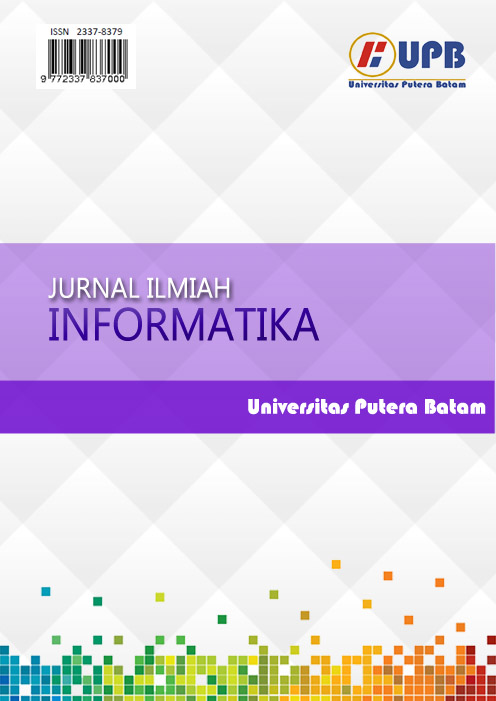 Downloads
How to Cite
Andi Firdaus, M., Husain , A., & Dwi Puspitasari, A. C. D. (2022). PERANCANGAN LEARNING MANGEMENT SYSTEM BERBASIS ANDROID. JURNAL ILMIAH INFORMATIKA, 10(02), 138–144. https://doi.org/10.33884/jif.v10i02.6359
License
Copyright (c) 2022 JURNAL ILMIAH INFORMATIKA
This work is licensed under a Creative Commons Attribution 4.0 International License.