SISTEM PAKAR DIAGNOSA PENYAKIT SAPI SEBAGAI UPAYA PENCEGAHAN PENYEBARAN WABAH PMK DI LAMONGAN
Keywords:
Expert System, PMK, Forward Chaining
Abstract
On May 5, 2022, Indonesia was hit by an outbreak of PMK in livestock. Until now, in August 2022, there are 20 provinces, 215 districts/cities, 1,808 sub-districts and 7,434 villages that are still actively infected with nail and mouth disease (PMK). The emergence of PMK is an epidemic that results in huge losses to cattle farmers. Especially if you do not have knowledge about the transmission of the disease. One of the efforts to prevent the spread of livestock disease is to implement an expert system for diagnosing cattle disease using the forward chaining method. Where this system will help farmers to provide knowledge of disease symptoms and diagnosis of disease, so that farmers are able to take initial action to handle their livestock.
References
Rizal, Moch Syaiful (2018) Sistem Pakar Diagnosa Penyakit pada Sapi Menggunakan Metode Forward Chaining Berbasis Web. Universitas Muhammadiyah Jember
B. Yuwono, "SISTEM PAKAR DIAGNOSA PENYAKIT AYAM MENGGUNAKAN PERINTAH SUARA," Telematika : Jurnal Informatika dan Teknologi Informasi, vol. 7, no. 2, Art. no. 2, Apr. 2015, doi: 10.31315/telematika.v7i2.417.
Cahyana, M. A. K., & Simanjuntak, P. (2020). Aplikasi Sistem Pakar untuk Mendiagnosis Penyakit Kusta dengan Metode Forward Chaining. Computer and Science Industrial Engineering (COMASIE), 3(1), 31-37.
R. Rosnelly and U. P. Utama. 2012. Sistem Pakar: Konsep dan Teori. Penerbit Andi.
Husin. 2018. SISTEM PAKAR PENDETEKSI PENYAKIT BERDASARKAN KELUHAN BUANG AIR KECIL MENGGUNAKAN METODE FORWARD CHAINING. Jurnal Ipteks Terapan. http://ejournal.lldikti10.id/index.php/jit/article/view/2490-14810/pdf45
P. S. R. M.Kom and U. F. S. P. M.Kom. 2018. Mengenal Metode Sistem Pakar. Uwais Inspirasi Indonesia.
D. Kusbianto, R. Ardiansyah, and D. A. Hamadi. 2017. IMPLEMENTASI SISTEM PAKAR FORWARD CHAINING UNTUK IDENTIFIKASI DAN TINDAKAN PERAWATAN JERAWAT WAJAH. JIP, vol. 4, no. 1, p. 71. doi: 10.33795/jip.v4i1.147.
H. Wadi. 2020. Sistem Pakar Forward Chaining dengan Java GUI & MySQL : Studi kasus diagnosa penyakit ikan air tawar. TURIDA Publisher.
Wisnu Dwi Prasetyo, Rizki Wahyudi. 2019. SISTEM PAKAR DIAGNOSIS PENYAKIT TERNAK SAPI MENGGUNAKAN METODE FORWARD CHAINING BERBASIS WEBSITE RESPONSIF. Jurnal Teknologi dan Terapan Bisnis (JTTB. Vol. 2, No. 1, Maret 2019, page. 13-21
Tinaliah, Tinaliah. "Aplikasi Sistem Pakar Untuk Diagnosa Penyakit Hewan Ternak Sapi Dengan Bayesian Network." Sisfotenika, vol. 5, no. 1, 2015, doi:10.30700/jst.v5i1.19.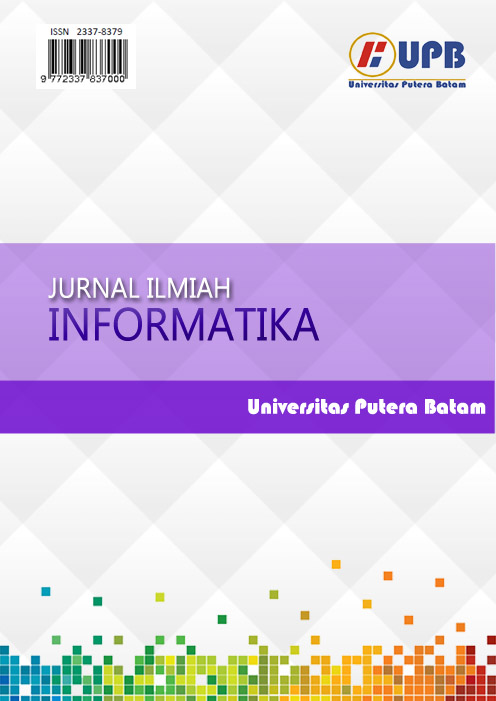 Downloads
How to Cite
Zamroni, M. R., Cita K. N. S, Q., & Wahyudi, A. (2022). SISTEM PAKAR DIAGNOSA PENYAKIT SAPI SEBAGAI UPAYA PENCEGAHAN PENYEBARAN WABAH PMK DI LAMONGAN. JURNAL ILMIAH INFORMATIKA, 10(02), 145–152. https://doi.org/10.33884/jif.v10i02.6373
License
Copyright (c) 2022 JURNAL ILMIAH INFORMATIKA
This work is licensed under a Creative Commons Attribution 4.0 International License.