IMPLEMENTASI AUGMENTED REALITY BERBASIS FILTER INSTAGRAM PADA PENERAPAN MEDIA PEMBELAJARAN TENTANG PENGENALAN TATA SURYA
Keywords:
Augmented Reality, Filter Instagram, Solar System, Learning Media
Abstract
The need for interactive media in learning is starting to be in demand by the wider community and along with the increasing use of Smartphones in times like this Augmented Reality (AR) is a new medium in the learning process of children's Natural Sciences in recognizing the planets in the Solar System and can handle problems from traditional learning media that exist today which are felt to be less informative and interactive for children, from the function of using educational media that can visualize various objects and information that can arouse curiosity in students so that children can start to be more active in learning. With Augmented Reality (AR) technology, it aims to make children able to directly visualize their child's imagination about the planets. This interactive 3D multimedia learning media using Instagram-based Augmented Reality technology was created with Blender 3D Software 2.93, Spark AR Studio 141 The results of this study are the application of Augmented Reality learning media for solar system based on Instagram filters
References
Jamun, Yohannes Marryono. "Dampak teknologi terhadap pendidikan." Jurnal Pendidikan dan Kebudayaan Missio 10.1 (2018): 48-52.
[2] Ari Piyoto, Sri Purwaningtyas. "Ilmu Pengetahuan Alam: untuk SD/MI Kelas VI" : Pusat Perbukuan, Kementerian Pendidikan Nasional, (2010): 49-53.
Putra, I. Komang Angga Maha. "PERANCANGAN FILTER INSTAGRAM BERBASIS AUGMENTED REALITY DENGAN FACE MASK SPARK AR PADA AKUN NEW MEDIA COLLEGE." Jurnal Teknologi Informasi dan Komputer 6.3 (2020).
Azuma, Ronald T. "A survey of augmented reality." Presence: teleoperators & virtual environments 6.4 (1997): 355-385
Kusuma, Susanna Dwi Yulianti. "Perancangan Aplikasi Augmented Reality Pembelajaran Tata Surya dengan Menggunakan Marker Based Tracking." Jurnal Informatika Universitas Pamulang 3.1 (2018): 33-38.
Masri, Mahrizal, and Efi Lasmi. "Perancangan Media Pembelajaran Tata Surya Menggunakan Teknologi Augmented Reality Dengan Metode Markerless." JET (Journal of Electrical Technology) 4.1 (2019): 40-46.
S. Mahayani, I. Irwandani, Y. Yuberti, and W. Widayanti, "KOTAK POP-UP BERBASIS PROBLEM SOLVING: PENGEMBANGAN MEDIA PEMBELAJARAN PADA MATERI CAHAYA DAN ALAT-ALAT OPTIK UNTUK KELAS VIII SMP," Jurnal Pendidikan Matematika dan IPA, vol. 9, no. 2, p. 98, Jul. 2018
Nugroho, Atmoko, dan Basworo Ardi Pramono. "Aplikasi mobile Augmented Reality berbasis Vuforia dan Unity pada pengenalan objek 3D dengan studi kasus gedung m Universitas Semarang." Jurnal Transformatika 14.2 (2017): 86-91.
Slick, J. (2018, Maret 25). "What Is 3D Modeling?" Diambil kembali dari Lifewire: https://www.lifewire.com/what-is-3d-modeling-2164
Azwar, A., Hamria, H., & Kaharu, M. N. S. (2020). GAME EDUKASI PENGENALAN TEKNOLOGI INFORMASI DAN KOMUNIKASI BERBASIS ANDROID. JURNAL ILMIAH INFORMATIKA, 8(02), 141–150. https://doi.org/10.33884/jif.v8i02.2481
Andi Firdaus, M., Husain , A., & Dwi Puspitasari, A. C. D. (2022). PERANCANGAN LEARNING MANGEMENT SYSTEM BERBASIS ANDROID. JURNAL ILMIAH INFORMATIKA, 10(02), 138–144. https://doi.org/10.33884/jif.v10i02.6359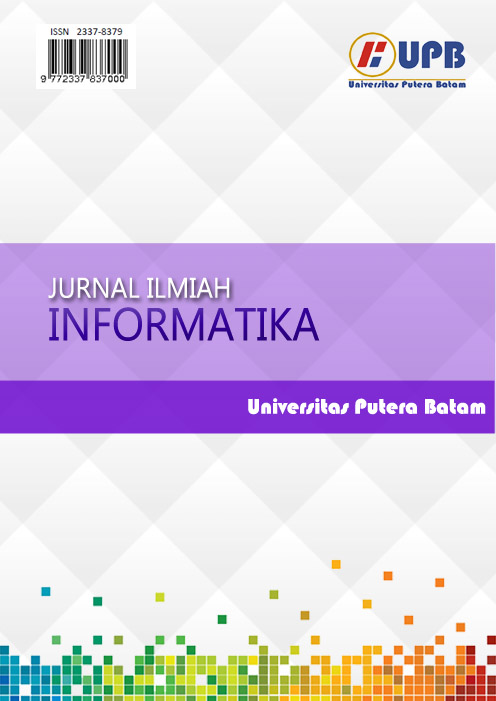 Downloads
How to Cite
Satria, D. A., B. Firmansyah, R., & Akbarsyah Basuki, A. (2023). IMPLEMENTASI AUGMENTED REALITY BERBASIS FILTER INSTAGRAM PADA PENERAPAN MEDIA PEMBELAJARAN TENTANG PENGENALAN TATA SURYA . JURNAL ILMIAH INFORMATIKA, 11(01), 63–68. Retrieved from https://ejournal.upbatam.ac.id/index.php/jif/article/view/7155
License
Copyright (c) 2023 JURNAL ILMIAH INFORMATIKA
This work is licensed under a Creative Commons Attribution 4.0 International License.