ANALISIS USABILITY PADA APLIKASI ALINGKA MENGGUNAKAN METODE COGNITIVE WALKTHROUGH
Keywords:
Usabilty Testing Usability Cognitive Walkthrough E-Government Aplikasi mobile, Aplikasi mobile, Usability Testing, Usability Cognitive, Walkthrough, E-Government
Abstract
Current developments the mission to achieve innovation through the use of technology. This technology makes interactions between government and citizens more accessible. Technological life forced Baubau City to create ALINGKA software that can help people in emergency situations. The success of your software can be determined by usability testing. Though, this application has not been tested. Usability testing is to find out how far the ALINGKA application can run properly. The goal is to find the results of applying ALINGKA with the cognitive walkthrough method, and provide recommendations for improvement. Respondent data was collected by questionnaire. Respondents in this study were the people of Wolio District, Baubau City who were obtained according to the Taro Yamane formula, then filtered using purposive sampling according to predetermined criteria so that 15 specific respondents were obtained. Obtained by calculating the success rate of 84% which is the average success rate of the respondent's work situation. Respondents spent time working on task scenarios which were calculated using the time to complete the task at a rate of 0.118 goals/second. Calculations from this study show that from a usability point of view the ALINGKA application there are still many application menus that need to be updated.
References
S. Heryati, "Peran Pemerintah Daerah Dalam Penanggulangan Bencana [The Role of Local Governments in Disaster Management]," J. Pemerintah. Dan Keamanan Publik (JP dan KP), vol. 2, no. 2, pp. 139–146, 2020.
J. Harimudin and I. Salihin, "Kajian Risiko Bencana Banjir di Kota Baubau," J. Geogr. Apl. Dan Teknol., vol. 1, no. 2, pp. 1–16, 2017.
R. B. Prihatin, "Masyarakat Sadar Bencana: Pembelajaran dari Karo, Banjarnegara, dan Jepang," Aspir. J. Masal. Sos., vol. 9, no. 2, pp. 221–239, 2018, doi: 10.46807/aspirasi.v9i2.1106.
I. A. Anriani and E. G. Sihombing, "Analisis Sistem Pelayanan Administrasi Kependudukan Berbasis Aplikasi E-Open Di Kelurahan Pejuang Kota Bekasi," J. Ilm. Inform., no. 2, 2022.
E. D. Madyatmadja, H. Nindito, and D. Pristinella, "Citizen behavior: The evaluation of complaint application that connected to smart city," Adv. Sci. Technol. Eng. Syst., vol. 5, no. 4, pp. 24–29, 2020, doi: 10.25046/aj050403.
A. Q. Wahyu Sulistya et al., "A case study of indonesian government digital transformation: Improving public service quality through E-government implementation," Proc. - 2019 5th Int. Conf. Sci. Technol. ICST 2019, 2019, doi: 10.1109/ICST47872.2019.9166234.
A. Amnah and H. Wibowo, "Mobile-Based E-Complaint Technology for the Government of Bandar Lampung," Int. Conf. Inf. Technol. Bus., no. December, pp. 223–234, 2020.
A. Sulhi, R. Kamal, and M. Qomarul Huda, "Evaluasi Usabilitas Sebuah Situs Web Menggunakan Metode Cognitive Walkthrough A'ang Subiyakto, Nurul Shifa," vol. 15, no. 1, pp. 99–106, 2021.
R. D. L. Yakub, "Pengujian Usability pada aplikasi E-Marketplace PT XYZ dengan menggunakan metode Cognitive Walkthrough," J. Teknosain, vol. 18, pp. 94–103, 2021, [Online]. Available: http://journal.bina-tunggal.ac.id/index.php/teknosain/article/view/63.
M. Defriani, M. G. Resmi, and I. Jaelani, "Uji Usability dengan metode Cognitive Walkthough dan System Usability Scale (SUS) pada situs web STT Wastukancana.," vol. 4, pp. 30–39, 2021.
M. A. Arga Kusumah, R. I. Rokhmawati, and F. Amalia, "Evaluasi Usability Pada Website E-commerce XYZ Dengan Menggunakan Metode Cognitive Walkthrough dan System Usability Scale (SUS)," Pengemb. Teknol. Inf. dan Ilmu Komput., vol. 3, no. 5, pp. 4340–4348, 2019.
A. Alif Attamimi and K. Gianina Tileng, "Usability Testing on E-Commerce Shopee Based on Mobile Application with," Cogn. Walkthrough Method to Increase Entrep. Creat. / JEE, vol. 10, no. 2, pp. 103–110, 2021.
P. Ambarwati, M. M.-J. S. Informasi, and undefined 2021, "Usability Evaluation of the Restaurant Finder Application Using Inspection and Inquiry Methods," Jsi.Cs.Ui.Ac.Id, vol. 17, no. 2, pp. 1–17, 2021, [Online]. Available: https://jsi.cs.ui.ac.id/index.php/jsi/article/view/1049.
N. A. Karaim and Y. Inal, "Usability and accessibility evaluation of Libyan government websites," Univers. Access Inf. Soc., vol. 18, no. 1, pp. 207–216, 2019, doi: 10.1007/s10209-017-0575-3.
M. A. Karim and A. R. Adriansyah, "Analisis dan Perancangan Aplikasi Mobile untuk Donasi menggunakan Metode Hybrid berbasis React Native," J. Inform. Terpadu, vol. 8, no. 1, pp. 26–34, 2022, doi: 10.54914/jit.v8i1.394.
N. Syahrani, F. I. Komputer, U. B. Darma, and S. I. Akademik, "EVALUASI KUALITAS SISTEM INFORMASI AKADEMIK UNIVERSITAS ISLAM NEGERI RADEN FATAH PALEMBANG MENGGUNAKAN," pp. 722–730.
F. Alexander and M. B. Ismiati, "Evaluasi Usability Pada Desain E-Learning Menggunakan Metode Cognitive Walkthrough," JuSiTik J. Sist. dan Teknol. Inf. Komun., vol. 3, no. 1, p. 31, 2019, doi: 10.32524/jusitik.v3i1.632.
"Kota Baubau Dalam Angka 2021." BPS Kota Baubau/BPS-Statistics of Baubau Municipality, pp. 51–53, 2021.
R. R. Andalas and M. A. Gustalika, "Evaluasi Usability Google Meet Pada Pembelajaran Daring Menggunakan Metode Cognitive Walkthrough (Cw) Dan System Usability Scale (Sus)," JATI (Jurnal Mhs. Tek. Inform., vol. 6, no. 2, pp. 601–608, 2022, [Online]. Available: https://ejournal.itn.ac.id/index.php/jati/article/view/5348.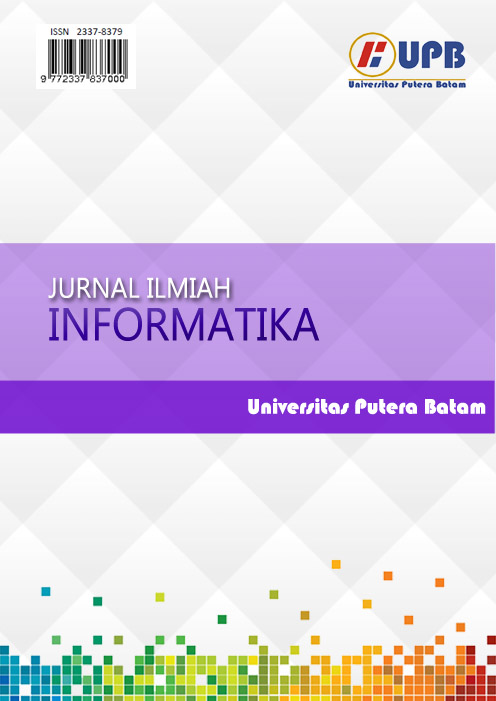 Downloads
How to Cite
Fadila Aprilina, A., & Azrino Gustalika, M. (2023). ANALISIS USABILITY PADA APLIKASI ALINGKA MENGGUNAKAN METODE COGNITIVE WALKTHROUGH. JURNAL ILMIAH INFORMATIKA, 11(01), 69–76. https://doi.org/10.33884/jif.v11i01.7158
License
Copyright (c) 2023 JURNAL ILMIAH INFORMATIKA
This work is licensed under a Creative Commons Attribution 4.0 International License.