IMPLEMENTASI METODE PROMETHEE PADA PEMILIHAN REGISTRAR DOMAIN DI INDONESIA
Keywords:
Registrar Domain, PROMETHEE, Sistem Pendukung Keputusan
Abstract
A domain registrar is a commercial company whose job is to register domain names that have been registered with ICANN (Internet Corporation for Assigned Names and Numbers) or maintain domain ccTLDs that involve certain country codes. Domain registration is the first step in website development as an effort to the existence of a business entering the digital economy era. To ensure the continuity of a business in the internet world, the selection of a domain registration service is very important. Because the domain is the identity as well as the address of a business on the internet. Domain registration service organizations must meet various important criteria needed as a professional domain registration service. These criteria must be able to answer the crucial characteristics of a domain registrar. This study uses PROMETHEE (Preference Ranking Organization Method for Enrichment Evaluation). The PROMETHEE method is used to rank among all alternatives based on predetermined criteria. The stages of problem solving in this study are determining alternatives, determining criteria, to ranking alternatives, so that will produce the best alternative output. In this study the PROMETHEE calculation results obtained with the best alternative output being the Domainesia registrar with a net flow value of 0.592.
References
M. Huda, "Website Sebagai Media Informasi dan Bisnis," Journal of Community Service and Empowerment," vol. 1, no. 1, pp. 56-68, 2020.
M. T. Febriyantoro and D. Arisandi, "Pemanfaatan Digital Marketing Bagi Usaha Mikro, Kecil dan Menengah Pada Era Masyarakat Ekonomi Asean," Jurnal Manajemen Dewantara," vol. 1, no. 2, pp. 62-76, 2018.
B. Suprayogi and A. Razak, "Implementasi Pemasaran Digital Dalam Meningkatkan Pendapatan Pelaku UMKM Pamokolan Ciamis," Jurnal Produktif," vol. 3, no. 2, pp. 254-261, 2019.
A. Hendrawan, et. al., "Pengaruh Marketing Digital Terhadap Kinerja Penjualan Produk UMKM Asti Gauri di Kecamatan Bantarsari Cilacap," Jurnal Administrasi dan Kesekretarisan," vol. 4, no. 1, pp. 50-61, 2019.
Y. Abdullah, et. al., "Strategi Internet Marketing Pada Bisnis Kuliner di Komunitas Wisata Tasikmalaya," Jurnal Riset Manajemen dan Bisnis (JRMB) Fakultas Ekonomi UNIAT, vol. 5, no. 1, pp. 209–220, 2020.
D. Aryani, et. al., "Peranan Penting Nama Domain Dalam Media Pemasaran Toko Online," Seminar Nasional Teknologi Informasi dan Multimedia 2015" 6-8 Februari 2015.
S. Al Fatih, "Analisis Keterhubungan Konsep Merek dengan Nama Domain: Kajian Kekayaan Intelektual di Indonesia," Journal of Judicial Review, vol. 23, no. 2, pp. 257–264, 2021.
A. Nugrahani and A.S. Sudarwanto, "Sinkronisasi Pengaturan Nama Domain dan Hak Merek," Journal Private Law, vol. 7, no. 2, pp. 170-175, 2019.
T. Imandasari and A. P. Windarto, "Sistem Pendukung Keputusan dalam Merekomendasikan Unit Terbaik di PDAM Tirta Lihou Menggunakan Metode Promethee," Jurnal Teknologi dan Sistem Komputer, vol. 5, no. 4, pp. 159-165, 2017.
J. Sulistiono, "Implementasi Promethe II Dalam Pemilihan Layanan Internet Service Provider Pada PT Sinar Kreasindo," Seminar Nasional Teknologi Komputer & Sains (SAINTEKS) 2019, pp.9-570, Januari 2019.
S. Sinaga and R. Rosnelly, "Sistem Pendukung Keputusan Menggunakan Metode PROMETHEE Untuk Pemilihan Supplier pada PT. Medan Tropical Canning & Frozen Industri," IT Journal, vol. 9, no. 1, pp. 56-67, 2021.
T. Apriani and A. Simangunsong, "Sistem Pendukung Keputusan Penentuan Kualitas Getah Hevea brasiliensis (Karet) Terbaik pada PT Timbang Deli Verdant Bioscience dengan Metode Promethee," Jurnal Ilmu Komputer dan Informatika, vol. 2, no. 1, pp. 47–56, 2022.
F. Saqdiah, et. al., "Analisis Pemilihan Pemasok Kelapa Sawit yang Berkelanjutan dengan Menggunakan Metode PROMETHEE (Studi Kasus pada PT Perkebunan Nusantara III)," Jurnal Manajemen dan Organisasi, vol. 13, no. 2, pp. 124–133, 2022.
Nursobah and R. Andrea, "Sistem Pendukung Keputusan Penentuan Lokasi Strategis Dalam Membangun Bisnis Usaha Menggunakan Metode Promethee II," Jurnal Media Informatika Budidarma, vol. 6, no. 2, p. 1064-1070, 2022.
D. N. Batubara, et. al., "Penerapan Metode PROMETHEE II Pada Pemilihan Situs Travel Berdasarkan Konsumen," Jurnal SISFOKOM, vol. 8, no. 1, 2019.
Bahrudin, M. J. U. H., & Gutama, H. (2020). SCRAPING WEB MARKETPLACE MENGGUNAKAN METODE DOM PARSING UNTUK PENGUMPULAN DATA PRODUK. JURNAL ILMIAH INFORMATIKA, 8(01), 77–80. https://doi.org/10.33884/jif.v8i01.1852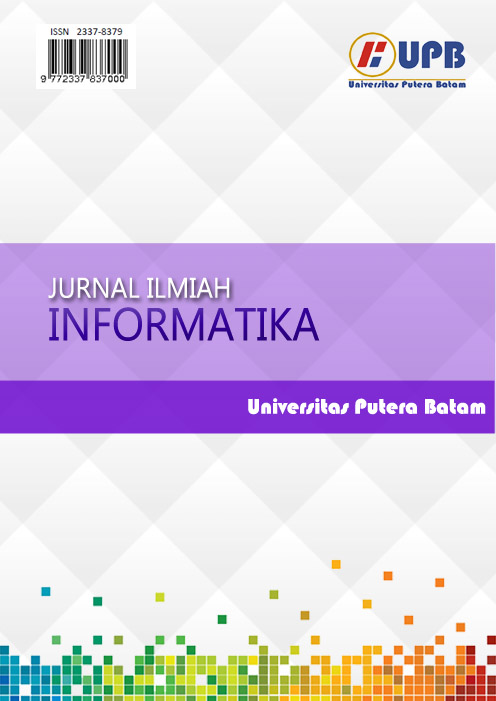 Downloads
How to Cite
Wicaksono, M., & Ighsan Lucky, M. (2023). IMPLEMENTASI METODE PROMETHEE PADA PEMILIHAN REGISTRAR DOMAIN DI INDONESIA. JURNAL ILMIAH INFORMATIKA, 11(01), 94–101. https://doi.org/10.33884/jif.v11i01.7174
License
Copyright (c) 2023 JURNAL ILMIAH INFORMATIKA
This work is licensed under a Creative Commons Attribution 4.0 International License.