PEMETAAN PROSES BISNIS AS-IS DALAM MANAJEMEN LAYANAN TOEIC INSTITUSI VOKASI
Keywords:
Business Process, Mapping, AS-IS, SIPOC, TOEIC Service
Abstract
The Ministry of Communication and Informatics has established a Business Process Map for Ministry Level on Level zero (0) up to level 3 and this applies to organizations up to the work unit level. The requirement to prepare supporting facilities in English language test services can improve student competences. It become one of the core businesses of UPT Bahasa in Sambas State Polytechnic with some repetitive processes, so that it is necessary to simplify the existing business process maps. Mapping of AS-IS business process is needed to help determine priorities from TOEIC implementation flow. Based on the running system, there are 13 major processes in the implementation of the TOEIC in the institution with duration for approximately 4 weeks. It is ineffective because only one test period can be held at a time. Depend on those conditions, the mapping of business process activities is needed to define AS-IS business process to give brief explanation about the running system and find the right solution to prepare system optimalization to define the TO-BE Business Process. This research is succeed to provide the mapping of AS-IS Business Process of TOEIC Service Management and determine the mapping level from level 0 to level 3.
References
M. P. A. N. D. R. B. R. INDONESIA, PERATURAN MENTERI PENDAYAGUNAAN APARATUR NEGARA DAN REFORMASI BIROKRASI REPUBLIK INDONESIA NOMOR 19 TAHUN 2018 TENTANG PENYUSUNAN PETA PROSES BISNIS INSTANSI PEMERINTAH, JAKARTA: KEMENTERIAN PENDAYAGUNAAN APARATUR NEGARA DAN REFORMASI BIROKRASI REPUBLIK INDONESIA, 2018.
M. Dachyar and Z. Sanjiwo, "Business Process Re-Engineering of Engineering Procurement Construction (EPC) Project in Oil and Gas Industry in Indonesia," Indian Journal of Science and Technology, vol. 11, no. 9, pp. 1-8, 2018.
B. Andersen, Business Process Improvement Toolbox Second Edition, Milwaukee: ASQ Quality Press, 2007.
C. Hammer and J. MD, Reengineering The Corporation: A Manifesto For Business Revolution., New York: HarperCollins Publishers, 1993.
G. D. Kerpedzhiev, U. M. Konig, M. Roglinger and M. Rosemann, "An Exploration into Future Business Process Management Capabilities in View of Digitalization," Bus Inf Syst Eng , vol. 63, no. 2, pp. 83-96, 2021.
V. C. Rentes, S. I. D. d. Pádua and E. B. Coelho, "Implementation of a strategic planning process oriented towards promoting business process management (BPM) at a clinical research centre (CRC)," Business Process Management Journal, vol. 25, no. 4, pp. 707-737, 2019.
J. S. Suroso and M. A. Fakhrozi, "Assessment of Information System Risk Management with Octave Allegro At Education Institution," Procedia Computer Science, vol. 135, no. 1, pp. 202-213, 2018.
Poltesa, "Renstra UPT Bahasa Politeknik Negeri Sambas," Politeknik Negeri Sambas, Sambas, 2021.
L. Trachenko, L. Lazorenko and Y. Maslennikov, "OPTIMIZATION MODELING OF BUSINESS PROCESSES OF ENGINEERING SERVICE ENTERPRISES IN THE NATIONAL ECONOMY," Naukovyi Visnyk Natsionalnoho Hirnychoho Universytetu, vol. 4, no. 4, pp. 165-171, 2021.
S. Ghanadbashi and R. Ramsin, "Towards a method engineering approach for business process reengineering," Journal of The Institution and Engineering Technology, vol. 10, no. 2, pp. 27-44, 2016.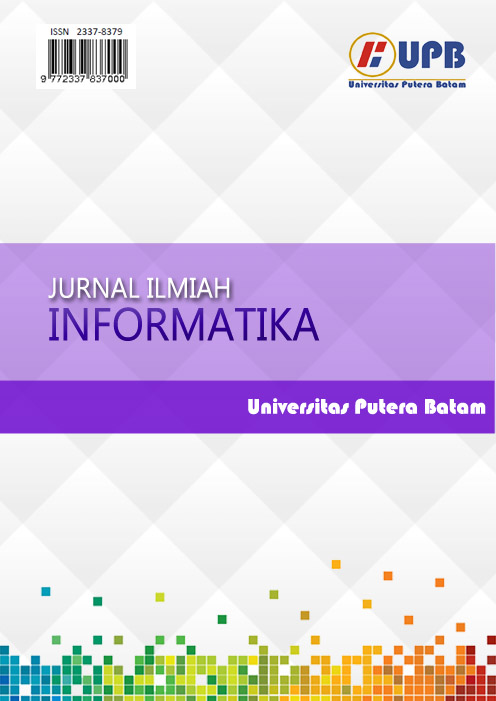 Downloads
How to Cite
Prihartini, N. (2023). PEMETAAN PROSES BISNIS AS-IS DALAM MANAJEMEN LAYANAN TOEIC INSTITUSI VOKASI. JURNAL ILMIAH INFORMATIKA, 11(02), 129–134. https://doi.org/10.33884/jif.v11i02.7405
License
Copyright (c) 2023 JURNAL ILMIAH INFORMATIKA
This work is licensed under a Creative Commons Attribution 4.0 International License.