PERANCANGAN USER INTERFACE DAN USER EXPERIENCE APLIKASI KEPEGAWAIAN BERBASIS MOBILE PADA J&T EXPRESS DENGAN METODE HUMAN CENTERED DESAIN
Keywords:
Human Resource, user interface, user experience, Human Centered Design
Abstract
Human resources are a valuable asset for every company. Human resources can help create a positive work culture, increase productivity, increase employee satisfaction, and support company growth and innovation. The J&T company is an 8-year-old shipping and logistics service company in Indonesia. Of course, employees have a lot of hope, especially in terms of welfare and transparency in the staffing system. Because this system is not yet computerized, it results in data recording errors, such as typing wrong numbers, ignoring data entry, or changing the position of numbers. Errors like this can cause inaccuracies in recorded data such as attendance, recording of overtime and others which result in recording errors in calculating employee salaries that are not appropriate. Therefore it is necessary to design a user interface and user experience to develop the application. The method used by researchers is the Human Centered Design method, which is an approach in which the system focuses on all forms of activities carried out by users and can identify what the user's needs are. This research is expected to create a solution by developing the needs of system users and creating a more modern and user friendly appearance when used by users.
References
H. Riniwati, Manajemen Sumber Daya Manusia. Malang: UB Press, 2016.
N. W. D. Irmayani, Manajemen sumber daya Manusia. Yogyakarta: Deepublish, 2021.
Heriani Puspa Kartika, Ratih Hesty Utami P, and Rr. Hawik Ervina Indiworo, "Faktor-Faktor yang Mempengaruhi Kinerja Karyawan JNT Express Kota Rembang Tahun 2022," J. Penelit. Ekon. Manaj. dan Bisnis, vol. 1, no. 4, pp. 185–196, 2022, doi: 10.55606/jekombis.v1i4.710.
M. S. Hartawan, "Penerapan User Centered Design (Ucd) Pada Wireframe Desain User Interface Dan User Experience Aplikasi Sinopsis Film," Jeis J. Elektro Dan Inform. Swadharma, vol. 2, no. 1, pp. 43–47, 2022, doi: 10.56486/jeis.vol2no1.161.
C. Damayanti, A. Triayudi, and I. D. Sholihati, "Analisis UI/UX Untuk Perancangan Website Apotek dengan Metode Human Centered Design dan System Usability Scale," J. Media Inform. Budidarma, vol. 6, no. 1, p. 551, 2022, doi: 10.30865/mib.v6i1.3526.
S. Ernawati and A. D. Indriyanti, "Perancangan User Interface dan User Experience Aplikasi Medical Tourism Indonesia Berbasis Mobile Menggunakan Metode User Centered Design (UCD)(Studi …," J. Emerg. Inf. …, vol. 03, no. 04, pp. 90–102, 2022.
L. Kirby, H. Tolle, and A. H. Brata, "Perancangan User Experience Aplikasi Mobile Social Crowdsourcing Bencana Alam menggunakan Pendekatan Human-Centered Design (HCD)," J. Pengemb. Teknol. Inf. dan Ilmu Komput. e-ISSN, vol. 2548, no. 5, p. 964X, 2019.
A. R. Setiadi and H. Setiaji, "Perancangan UI/UX menggunakan pendekatan HCD (Human-Centered design) pada website Thriftdoor," Automata, vol. 1, no. 2, pp. 228–233, 2020.
A. M. Nidhom, Interaksi Manusia dan Komputer. Ahlimedia Book, 2019.
R. A. Malik and M. R. Frimadani, Lean UX:Pemahaman dan Penerapan Metodologi Desain UI yang Efektif. Yogyakarta: Jejak Pustaka, 2023.
I. D. P. Nugroho and N. S. Fatonah, Penerapan User Centerd Design untuk sistem Contingency Plan. Buku Pedia, 2022.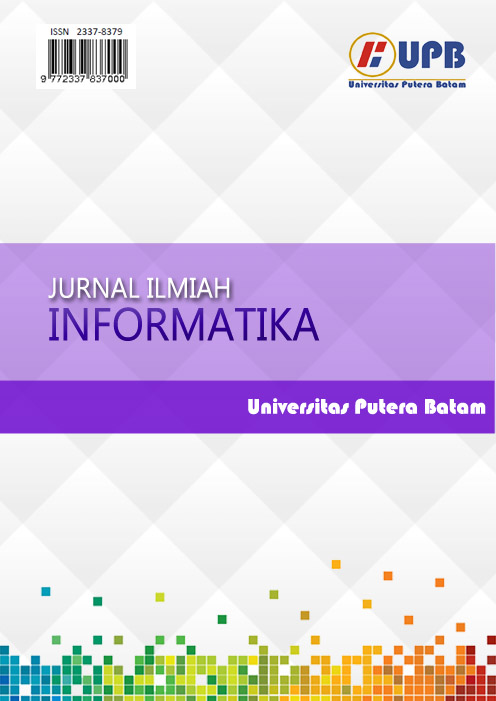 Downloads
How to Cite
Mayangsari, P., & Badrul, M. (2023). PERANCANGAN USER INTERFACE DAN USER EXPERIENCE APLIKASI KEPEGAWAIAN BERBASIS MOBILE PADA J&T EXPRESS DENGAN METODE HUMAN CENTERED DESAIN. JURNAL ILMIAH INFORMATIKA, 11(02), 135–142. https://doi.org/10.33884/jif.v11i02.7406
License
Copyright (c) 2023 JURNAL ILMIAH INFORMATIKA
This work is licensed under a Creative Commons Attribution 4.0 International License.