ANALISA DAN PERANCANGAN START-UP PEMESANAN JASA DESAIN GRAFIS BERBASIS APLIKASI MOBILE
Keywords:
Aplikasi, Desain Grafis, Pemesanan, Waterfall
Abstract
Graphic design is a visual form that uses images to convey information or messages as quickly as possible. There are still many people who find it difficult to find design services that fit their needs and budget. Some problems found in finding suitable design services include difficulty finding affordable services, lack of adequate quality of service, and lack of transparency in the booking process. The application "Mykreasi" for the creation of Android-based design services is present as a solution to meet the needs of Indonesian society in the search for quality and affordable design services. The development tool used by the author, namely Flutter as a programming language and Google Firebase as its database. The method used in website design and development is a waterfall method that is part of one of the SDLC (Software Development Life Cycle) methods that has several stages ranging from analysis, design, coding, testing, and support. The result of the application design is implementation directly to customers through the Google Play Store. Application design is expected to be a solution to meet the needs of the community in finding quality and affordable design service
References
Lpksglo, "Artikel Desain Grafis," lpksglobalinspira.id, 2023. lpksglobalinspira.id/artikel/artikel-desain-grafis/ (accessed Jul. 04, 2023).
B. Fachri and R. W. Surbakti, "Perancangan Sistem Dan Desain Undangan Digital Menggunakan Metode Waterfall Berbasis Website (Studi Kasus: Asco Jaya)," J. Sci. Soc. Res., vol. 4, no. 3, p. 263, 2021, doi: 10.54314/jssr.v4i3.692.
L. Mazia, A. C. Rudiana, E. Pujiastuti, and D. Ferdiansyah, "Sistem Informasi Pelayanan Jasa Berbasis Web pada Kampus Dekorasi Bojonggede," Indones. J. Netw. Secur., vol. 8, no. 4, pp. 22–27, 2019.
H. A. Lalu Mutawali, Buyung Kurnia Fathoni, "Implementasi Scrum Dalam Pengembangan Sistem Informasi Jasa Desain Grafis," Manaj. Inform. Dan Sist. Inf., vol. 3, no. 2, pp. 116–122, 2020.
R. B. B. Sumantri, W. Setiawan, and D. N. Triwibowo, "Rancang Bangun Aplikasi Media Jasa Desain Logo Dengan Metode Waterfall Berbasis Website," METHOMIKA (Jurnal Manaj. Inform. Komputerisasi Akuntansi), vol. 6, no. 2, pp. 157–163, 2022, [Online]. Available: https://doi.org/10.46880/jmika.Vol6No2.pp157-163.
W. Lubis and M. K. Harahap, "Perancangan Aplikasi Pemesanan Jasa Percetakan Berbasis Web Menggunakan Metode Waterfall," JMP J. Manaj Inform. Politek. Ganesha, vol. 9, Nomor 1, p. 8, 2021.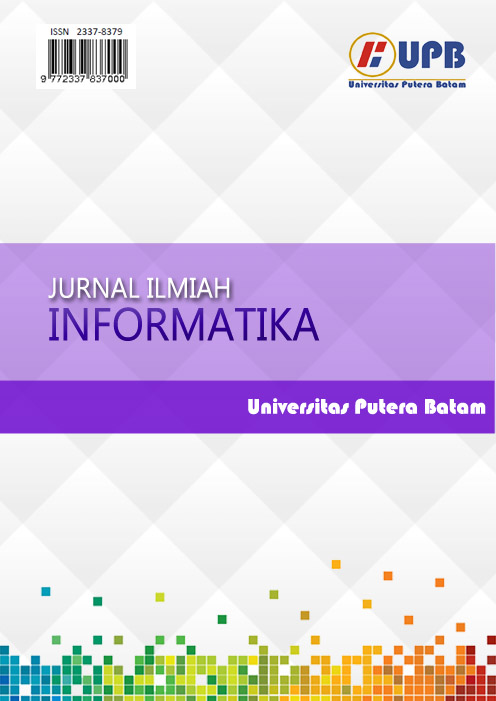 Downloads
How to Cite
Setiawan, A. R., Dwianto, S., & Pradana, A. D. (2023). ANALISA DAN PERANCANGAN START-UP PEMESANAN JASA DESAIN GRAFIS BERBASIS APLIKASI MOBILE. JURNAL ILMIAH INFORMATIKA, 11(02), 170–175. https://doi.org/10.33884/jif.v11i02.8016
License
Copyright (c) 2023 JURNAL ILMIAH INFORMATIKA
This work is licensed under a Creative Commons Attribution 4.0 International License.