PERANCANGAN SISTEM INFORMASI COMPANY PROFILE DAN PEMESANAN LAYANAN JASA BERBASIS WEB PT GEOTERRA
Keywords:
Company Profile, Sistem Informasi, Waterfall, Website
Abstract
The company profile information system is a method used by companies to introduce themselves to the general public and convey information about the type of business they are engaged in. This Website is very beneficial for PT.Geoterra and its clients, as clients do not need to visit the company to order their services. The system can minimize costs for clients, leading to the development of an easily accessible information system that provides Details regarding the corporation and what it provides.. positive impact on company is that it gains a broader reach since the system can be accessed by clients through computers and mobile devices. The company profile information system is designed using the Waterfall method, with data collected through literature studies, interviews, and observations. The result is an efficient and effective system that provides comprehensive and engaging information to users and potential clients.
References
R. Liem, R. Pratama Sutanto, P. Studi Desain Komunikasi Visual, and F. Seni dan Desain, "Perancangan Buku Company profile Sebagai Media Promosi Vegas Conceptual Show."
M. R. Julianti, M. I. Dzulhaq, and A. Subroto, "Sistem Informasi Pendataan Alat Tulis Kantor Berbasis Web pada PT Astari Niagara Internasional," Jurnal Sisfotek Global, vol. 9, no. 2, 2019, doi: 10.38101/sisfotek.v9i2.254.
A. Muhaimin and Herianto, "Rancang Bangun Sistem Informasi Penerimaan Peserta Didik Baru Berbasis Web Pada SDIT Al-Manar Kota Pekanbaru," Jurnal Fasilkom, vol. 10, no. 1, pp. 20–24, 2020, doi: 10.37859/jf.v10i1.1903.
R. Soekarta, "RANCANG BANGUN SISTEM INFORMASI AKADEMIK BERBASIS WEB ( Studi Kasus Universitas Muhammadiyah Sorong )," 2019.
L. Sunarya and N. Larasati, "MEDIA COMPANY PROFILE SEBAGAI SARANA PENUNJANG INFORMASI DAN PROMOSI," 2012.
A. Professor, "Web Based Student Information Management System," International Journal of Advanced Research in Computer and Communication Engineering, vol. 2, no. 6, pp. 2342–2348, 2013.
R. Gunawan, Y. Yudiana, and W. Y. Apriansyah, "Rancang Bangun Company profile Kebab Ben's Berbasis Web Menggunakan Framework Codeigniter," Dirgamaya: Jurnal Manajemen dan Sistem Informasi, vol. 1, no. 2, pp. 36–45, 2021, doi: 10.35969/dirgamaya.v1i2.181.
D. Dikelurahan et al., "Perancangan Aplikasi Sistem Pengolahan," JUTIS, vol. 8, no. 1, pp. 17749231–5527063, 2020.
Sugiyono, Metode Penelitian Kuantitatif, Kualitatif, dan RND. Bandung: Alfabeta, 2019.
N. Oktaviani, I. M. Widiarta, and Nurlaily, "Sistem Informasi Inventaris Barang Berbasis Web Pada Smp Negeri 1 Buer," Jurnal Informatika, Teknologi dan Sains, vol. 1, no. 2, pp. 160–168, 2019, doi: 10.51401/jinteks.v1i2.422.
M. Shalahuddin and R. A.S, Rekayasa Perangkat Lunak. Bandung: Informatika, 2018.
W. Apriliah, N. Subekti, and T. Haryati, "Penerapan Model Waterfall Dalam Perancangan Aplikasi Sistem Informasi Simpan Pinjam Pada Koperasi PT. CHIYODA INTEGRE INDONESIA KARAWANG," Jurnal Interkom: Jurnal Publikasi Ilmiah Bidang Teknologi Informasi dan Komunikasi, vol. 14, no. 2, pp. 34–42, Jul. 2019, doi: 10.35969/interkom.v14i2.50.
V. Marudut and M. Siregar, "SISTEM INFORMASI PENDATAAN LOGISTIK AKTIVA TETAP PT. BANK CENTRAL ASIA, Tbk KANTOR CABANG PEMATANGSIANTAR," 2018.
R. Budiman et al., "PERANCANGAN SISTEM INFORMASI PENYEWAAN STUDIO MUSIK PADA WAYZON STUDIO MUSIK," Jurnal Sistem Informasi dan Informatika (Simika) P-ISSN, vol. 6, pp. 2622–6901, 2023.
E. Susilo, F. Danang Wijaya, and R. Hartanto, "Perancangan dan Evaluasi User Interface Aplikasi Smart Grid Berbasis Mobile Application," 2018.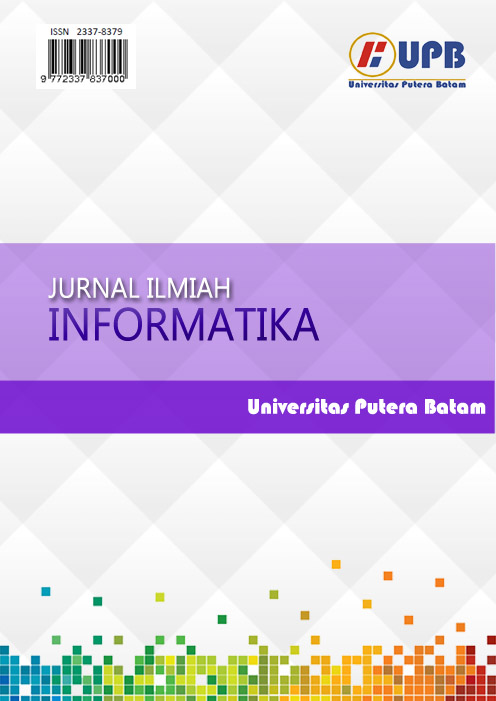 Downloads
How to Cite
Damara, M. Z., & Arribe, E. (2023). PERANCANGAN SISTEM INFORMASI COMPANY PROFILE DAN PEMESANAN LAYANAN JASA BERBASIS WEB PT GEOTERRA. JURNAL ILMIAH INFORMATIKA, 11(02), 183–188. https://doi.org/10.33884/jif.v11i02.8028
License
Copyright (c) 2023 JURNAL ILMIAH INFORMATIKA
This work is licensed under a Creative Commons Attribution 4.0 International License.