RANCANG BANGUN APLIKASI SISTEM PERPAJAKAN DESA KARANG BINDU BERBASIS WEB
Keywords:
Aplikasi, Sistem Perpajakan, Pendataan, Web
Abstract
Karang Bindu Village is located in Rambang Kapak Tengah Prabumulih sub-district, South Sumatra. Led by the village head Mr. Iin Saputra. The administrator of Karang Bindu village has difficulties in collecting tax data, such as recording taxpayer data and proof of tax payments which are still being made manually. Therefore, it is hoped that there will be an application that can help admins in the tax data collection process. To obtain clearer information the author conducted research using qualitative descriptive methods. Where in this research the author used two data sources, namely, primary data and secondary data. In addition, data collection techniques were obtained from interview scripts and direct observation of the object of research and by looking for references through books or journals. After conducting this research, the authors collected the data obtained and then the authors resolved the existing problems by producing a "Web-Based Tax System Application in Karang Bindu Village". This application is made using the php web programming language, the database used by Mysql and the final report using a printable pdf, and using Vscode to edit the programming language.
References
Rauf, Abdur, and Agung Tri Prastowo. 2021. "Rancang Bangun Aplikasi Berbasis Web Sistem Informasi Repository Laporan Pkl Siswa (Studi Kasus Smk N 1 Terbanggi Besar)." Jurnal Teknologi dan Sistem Informasi (JTSI) 2(3): 26. http://jim.teknokrat.ac.id/index.php/JTSI.
Alda, Muhammad. 2020. Aplikasi CRUD Berbasis Android Dengan Kodular dan DataBase Airtable. Bandung: Media Sains Indonesia.
Anggraeni, Elisabet Yunaeti. dkk. 2017. Pengantar Sistem Informasi. Yogyakarta: ANDI, Anggota IKAPI.
Anggara, Sahya. 2016. Hukum Administrasi Perpajakan, cet-keI. Bandung: CV Pustaka Setia.
Santoso, Agustinus Budi. 2022. Pemprograman Web Php Dasar Database Mysql Dengan Bootstrap, cet-ke1. Bandung: Widina Bhakti Persada Bandung.
Jauhari, Achmad., Devie Rosa Anamisa., Fifin Ayu Mafarroha. (2019). Rekayasa Perangkat Lunak, cet-ke1. Malang: Media Nusantara Creative.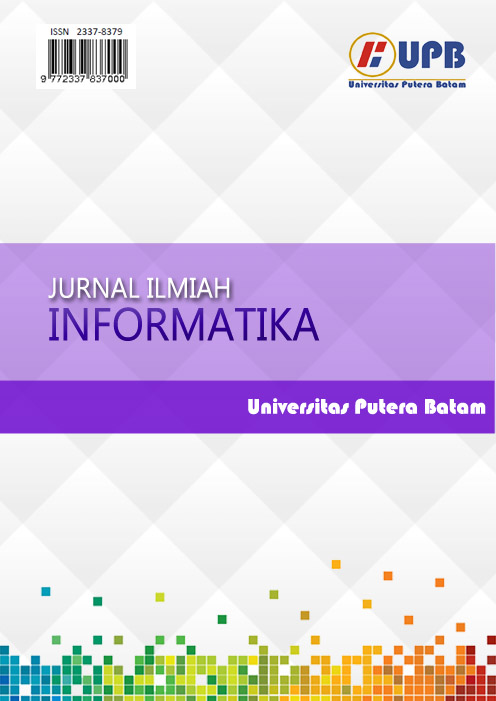 Downloads
How to Cite
Naftaly, R., Muchlis, M., & Hesinto, S. (2023). RANCANG BANGUN APLIKASI SISTEM PERPAJAKAN DESA KARANG BINDU BERBASIS WEB. JURNAL ILMIAH INFORMATIKA, 11(02), 206–210. https://doi.org/10.33884/jif.v11i02.8033
License
Copyright (c) 2023 JURNAL ILMIAH INFORMATIKA
This work is licensed under a Creative Commons Attribution 4.0 International License.