PENGARUH KEPEMIMPINAN, MOTIVASI DAN KEPUASAN KERJA TERHADAP KINERJA PEGAWAI DINAS PERHUBUNGAN PROVINSI RIAU
Jurnal Ilmiah Manajemen UPB
Abstract
Effective leadership is a vital requirement for the survival and success of the organization. Effective leadership not only affect his subordinates but also he is able to ensure that his subordinates achieve best execution of the work. Thus, in this study aimed to examine the effect of Leadership (X1), motivation (X2), job satisfaction (X3) effect on performance (Y) Employees in the Riau Islands Provincial Transport Department. The number of respondents research counted 128 employees by distributing questionnaires were subsequently analyzed using SPSS for Windows version 21. The statistical t-test results showed that both the leadership variable (X1), motivation (X2), and job satisfaction variables (X3) effect on the performance of employees ( Y). F test results stating that all the variables in this study affect the performance of employees. In this study the results of leadership are variables that have the greatest influence on employee performance. And regression estimation results show the predictive capability of all independent variables on employee performance (Y) amounted to 40.3%, while the remaining 59.7% is influenced by other variables outside the study.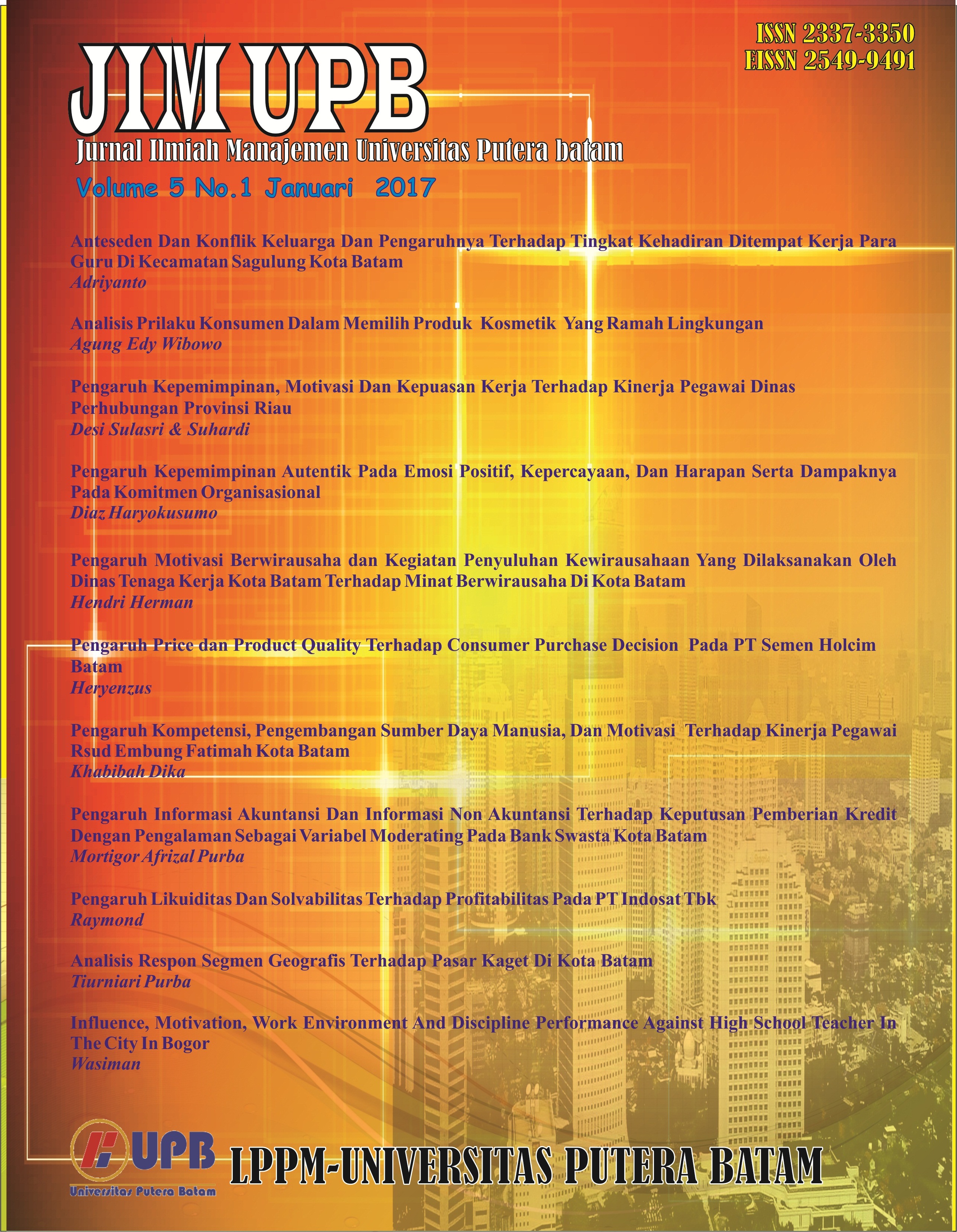 How to Cite
ILMIAH MANAJEMEN UPB, Jurnal. PENGARUH KEPEMIMPINAN, MOTIVASI DAN KEPUASAN KERJA TERHADAP KINERJA PEGAWAI DINAS PERHUBUNGAN PROVINSI RIAU.
JIM UPB (Jurnal Ilmiah Manajemen Universitas Putera Batam)
, [S.l.], v. 5, n. 1, p. 26-40, oct. 2017. ISSN 2549-9491. Available at: <
http://ejournal.upbatam.ac.id/index.php/jim/article/view/129
>. Date accessed: 24 oct. 2021.