EVALUASI SISTEM INFORMASI AKUNTANSI ATAS PROSEDUR PENGELUARAN KAS PADA KOPERASI KELUARGA BESAR PT SEMEN PADANG
Jurnal Ilmiah Manajemen Universitas Putera Batam

Universitas Putera Batam
Abstract
The purpose of the study explains the evaluation of accounting information systems on cash disbursement procedures in the family cooperative Large PT Semen Padang. This research uses descriptive method. The subject of this research is the department store of Cooperative Family of PT Semen Padang. The study explains that: 1) cash expenditures consist of purchasing merchandise that incurs debt and cash expenditures to finance operational activities. Cash disbursement system with a check that the amount of cash disbursement above Rp. 1,000,000.- and cash through small cash funds amounting to less than Rp. 1,000,000.-, 2) payments of checks payable can be made by the check taker directly to the treasury by carrying the established supporting evidence and paying the debt by check from the bank account by transferring the supplier's cash money, 3) the internal control system of the procedure Cash disbursements run well, because the function of the cash parent and accounting division has occurred separation of functions and running as it should.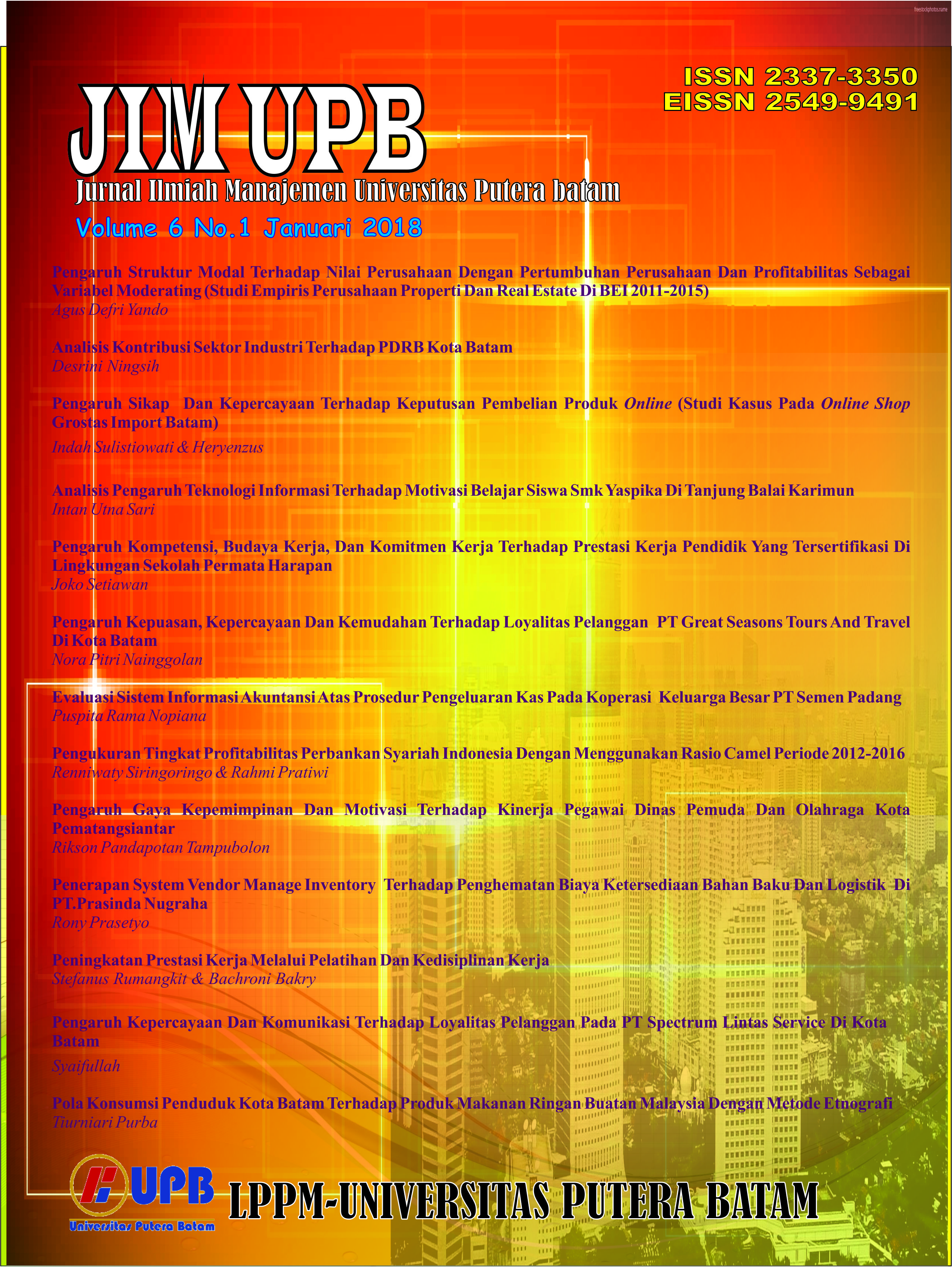 How to Cite
UNIVERSITAS PUTERA BATAM, Jurnal Ilmiah Manajemen. EVALUASI SISTEM INFORMASI AKUNTANSI ATAS PROSEDUR PENGELUARAN KAS PADA KOPERASI KELUARGA BESAR PT SEMEN PADANG.
JIM UPB (Jurnal Ilmiah Manajemen Universitas Putera Batam)
, [S.l.], v. 6, n. 1, p. Puspita Rama Nopiana (63-76), mar. 2018. ISSN 2549-9491. Available at: <
http://ejournal.upbatam.ac.id/index.php/jim/article/view/447
>. Date accessed: 25 june 2019.