POLA KONSUMSI PENDUDUK KOTA BATAM TERHADAP PRODUK MAKANAN RINGAN BUATAN MALAYSIA DENGAN METODE ETNOGRAFI
Jurnal Ilmiah Manajemen Universitas Putera Batam

Universitas Putera Batam
Abstract
The purpose of this study is to analyze the pattern of Batam City residents consumption of snack products produced by Malaysia. This goal is motivated by the population of Batam City comes from various ethnic groups in Indonesia and the pattern of consumption of snacks produced by Malaysia is very high. The approach used in this research is qualitative with ethnography method. The ethnographic form used is realistic ethnography that is an objective report of the situation, usually written in the third person's point of view and objectively reporting the information learned from the participants somewhere. The reason for using this method is because of the researcher's need to describe how cultural groups are going and to explore the behaviors and problems they face. Sampling technique is by purposive sampling. The result of the research shows that there are seven topics that illustrate the tendency of people consumption pattern of Batam City for Malaysian snack food product that is to buy souvenirs (handmade) of foreign-made (Malaysia) brand means cool, in terms of price is much cheaper if buying Malaysian handmade brands, Malaysian-made snack packs have varied aesthetics, Malaysian snack products are in accordance with the tongue of all Indonesians, Malaysia's elegantly polished, Malaysian-made snack food has an expired rate Malaysian people understand the behavior of people doing homecoming activities by producing simple and elegant snacks, the people of Batam have a low awareness of "I love Indonesian products", in the end this Malaysian snack product is deadly small and medium enterprises (SMEs) local.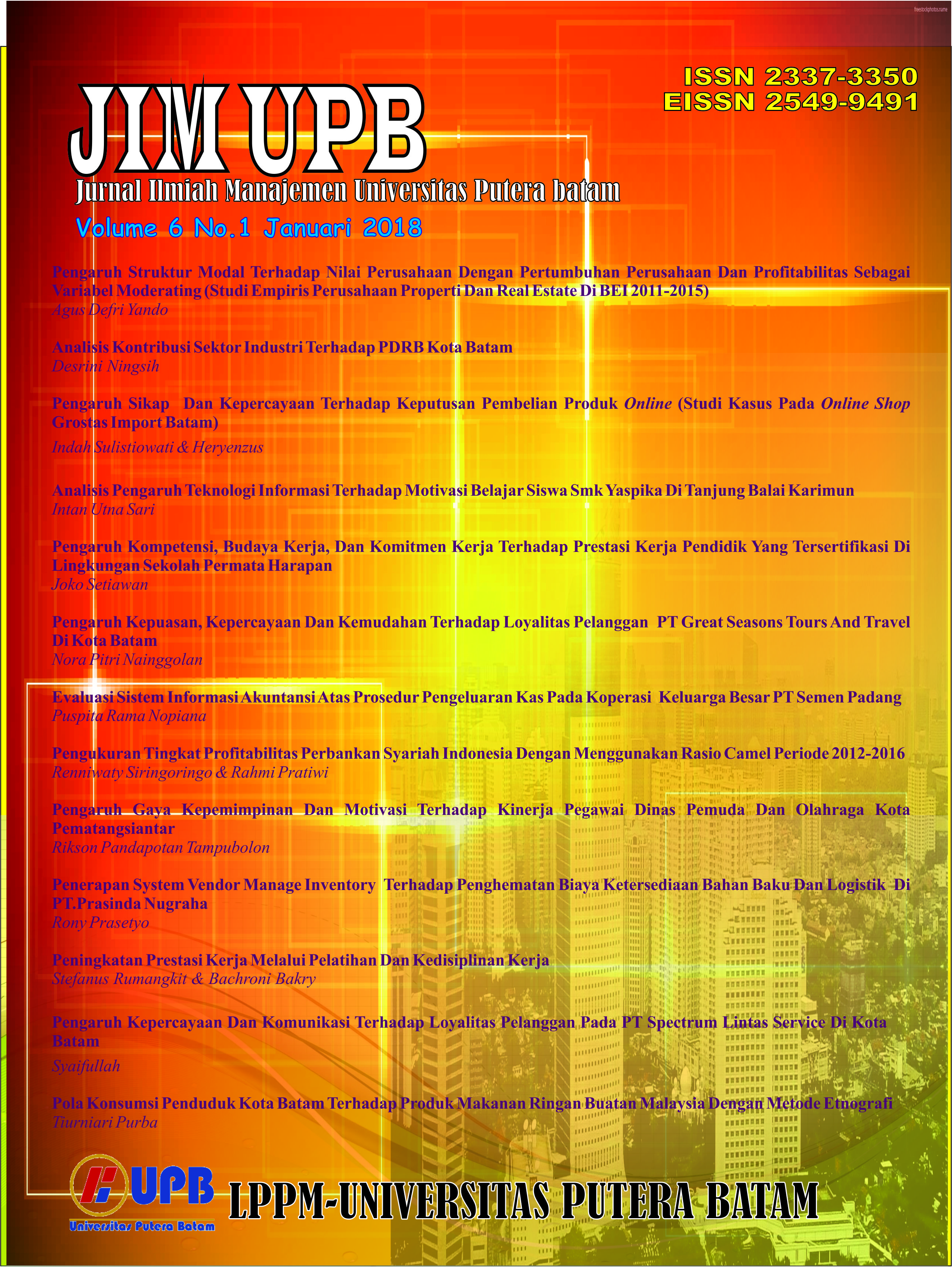 How to Cite
UNIVERSITAS PUTERA BATAM, Jurnal Ilmiah Manajemen. POLA KONSUMSI PENDUDUK KOTA BATAM TERHADAP PRODUK MAKANAN RINGAN BUATAN MALAYSIA DENGAN METODE ETNOGRAFI.
JIM UPB (Jurnal Ilmiah Manajemen Universitas Putera Batam)
, [S.l.], v. 6, n. 1, p. Tiurniari Purba (126-139), mar. 2018. ISSN 2549-9491. Available at: <
http://ejournal.upbatam.ac.id/index.php/jim/article/view/453
>. Date accessed: 19 aug. 2019.