Pendekatan Dimensional Wisata Berbasis Komunitas: Eksistensi Pemasaran Digital Pada Masyarakat Pesisir Provinsi Kepulauan Riau
David Humala Sitorus

Putera Batam University

Lismayasari Lismayasari

Putera Batam University
Abstract
This study aims to provide a response to an alternative review of tourism-based communities as an effort to contribute to the state and small communities with breakthroughs in economic acceleration and poverty alleviation programs for local communities in tourist villages throughout the Riau Islands province. In contrast and normatively, the division of tourism concepts cannot be separated from branding and regional characteristics of cultural and ethnic concepts. Technological intervention indicates that there is a schematic and constructive relationship pattern related to the differentiation of the need for tourism consumption which is the fruit of the concept of community based tourism. Researcher contextually, namely there are three supporting dimensions that provide a strong foundation for the program to improve the economic construct of local communities in the province of Riau Islands, namely Branding, tourism-based communities, the existence of the surrounding community, community creativity and stakeholders in it. This study uses a quantitative survey method with samples taken from 160 tourism village residents who have used digital technology related to product marketing for the branding process of local areas for visitors to tourist attractions in the Riau Islands province. This research is a survey research where the data analysis process uses Structure Equation Model analysis with a continuous analysis base pattern.
References
Alhaddad, A. (2014). The effect of brand image and brand loyalty on brand equity. International Journal of Business and Management Invention, 3(5), 28–32.
Amerta, I. M. S. (2017). Community based tourism development. International Journal of Social Sciences and Humanities, 1(3), 97–107. https://doi.org/10.29332/ijssh.v1n3.60
Cahyaningrum, D. (2017). Community Empowerment Based Local Wisdom In Tourism Of Bajo Community , Wakatobi. International Journal of Scientific & Technology Research, 6(11), 196–201.
Charan, A. (2015). Brand and Brand Image. In Marketing Analytics (pp. 3–22). https://doi.org/10.1142/9789814641371_0001
Imbaya, B. O., Nthiga, R. W., Sitati, N. W., & Lenaiyasa, P. (2019). Capacity building for inclusive growth in community-based tourism initiatives in Kenya. 30(May 2018), 11–18. https://doi.org/10.1016/j.tmp.2019.01.003
Koski, P., Matilainen, A., Suutari, T., & Merja, L. (2018). Management by boundaries e Insights into the role of boundary objects in a community-based tourism development project € hdesm a. 67, 284–296. https://doi.org/10.1016/j.tourman.2018.02.003
Lestari. E.G & Dewi.I.S. (2016). Kreativitas Pustakawan Pada Era Digital Dalam Menyediakan Sumber Informasi Bagi Generasi Digital Native. Kreativitas Pustakawan Pada Era Digital Dalam Menyediakan Sumber Informasi Bagi Generasi Digital Native, 1–17.
Mair, H. (2014). Community-based tourism. In Encyclopedia of Tourism (pp. 1–2). https://doi.org/10.1007/978-3-319-01669-6_32-1
Mirzai, A., Fard, Y. S., & Slambolchi, A. (2016). the Branding : a Study of Brand Image , Brand. Advanced Social Humanities and Management, 3(1), 52–64.
Mtapuri, O., & Giampiccoli, A. (2019). Tourism, community-based tourism and ecotourism: a definitional problematic. South African Geographical Journal, 101(1), 22–35. https://doi.org/10.1080/03736245.2018.1522598
Nair, V., Haniza Mohamad, nor, & Hamzah, A. (2013). Tourism cooperative for scaling up communitybased tourism. Worldwide Hospitality and Tourism Themes, Vol. 5, pp. 315–328. https://doi.org/10.1108/WHATT-03-2013-0017
Pawson, S., D'Arcy, P., & Richardson, S. (2017). The value of community-based tourism in Banteay Chhmar, Cambodia. Tourism Geographies, 19(3), 378–397. https://doi.org/10.1080/14616688.2016.1183143
Putra, R. A. (2018). Peran Teknologi Digital dalam Perkembangan Dunia Perancangan Arsitektur. Elkawnie, 4(1). https://doi.org/10.22373/ekw.v4i1.2959
Qom, M., & Azad, N. (2017). The impact of brand extension on brand image. Industrial Engineering and Management Systems, 16(4), 437–441. https://doi.org/10.7232/iems.2017.16.4.437
Rahmayani, I. (2018). Indonesia Raksasa Teknologi Digital Asia.
Setiawan, W. (2017). Era Digital dan Tantangannya. Seminar Nasional Pendidikan 2017, 1–9.
Yusof, Y., Ibrahim, Y., Muda, M. S., & Amin, W. A. A. W. M. (2012). Community Based Tourism and Quality of Life. Review of Integrative Business and Economic Research, 1(1), 335–345.
Zarantonello, L., & Pauwels-Delassus, V. (2018). Brand Identity and Brand Image. In The Handbook of Brand Management Scales (pp. 6–25). https://doi.org/10.4324/9781315813998-2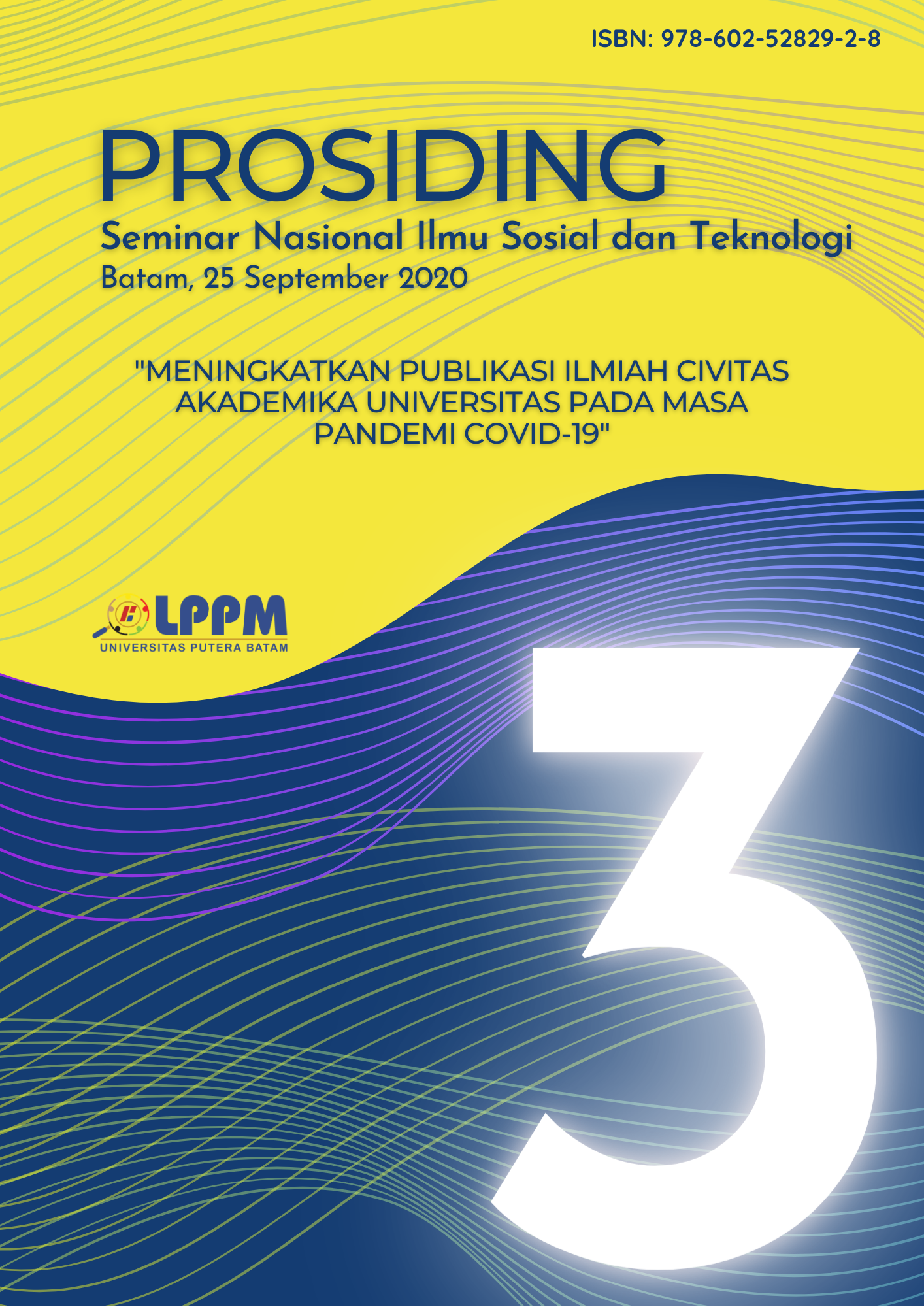 How to Cite
SITORUS, David Humala; LISMAYASARI, Lismayasari. Pendekatan Dimensional Wisata Berbasis Komunitas: Eksistensi Pemasaran Digital Pada Masyarakat Pesisir Provinsi Kepulauan Riau.
Prosiding Seminar Nasional Ilmu Sosial dan Teknologi (SNISTEK)
, [S.l.], n. 3, p. 31-36, jan. 2021. Available at: <
http://ejournal.upbatam.ac.id/index.php/prosiding/article/view/3609
>. Date accessed: 11 apr. 2021.
This work is licensed under a Creative Commons Attribution 4.0 International License.