ANALISIS PENGARUH CORPORATE SOCIAL RESPONSIBILITY (CSR) TERHADAP ECONOMIC VALUE ADDED (EVA) DAN MARKET VALUE ADDED (MVA) (STUDI KASUS PERUSAHAAN SUB SEKTOR INDUSTRI ROKOK YANG TERDAFTAR DI BURSA EFEK INDONESIA TAHUN 2012-2016)
Keywords:
Corporate Social Responsibility (CSR), Market Value Added (MVA), Economic Value (EVA)
Abstract
Many companies make Corporate Social Responsibility (CSR) programs only for marketing purposes. Moreover, the implementation of CSR programs by the cigarettes industry cannot overcome the effects that occur due to the business they do. Rather than doing something to prevent the after-effect, the cigarettes industry spend billions for marketing and sponsor purposes.
This study aims to determine the effect of CSR programs as measured by the Global Reporting Initiative G4 (GRI-G4) CSR Disclosure Index (CSRDI) on company values measured using Economic Value Added (EVA) and Market Value Added (MVA). The object of this study is Tobacco Industry companies listed on Indonesia Stock Exchange (BEI) in 2012-2016 which was selected by purposive sampling method with criteria of each company to consistently publish  annual reports on audit results for the period 2012-2016. Data analysis was performed using regression analysis of panel data. The results of this study are that CSR has a non-significant negative effect on EVA and CSR has a non-significant negative effect on MVA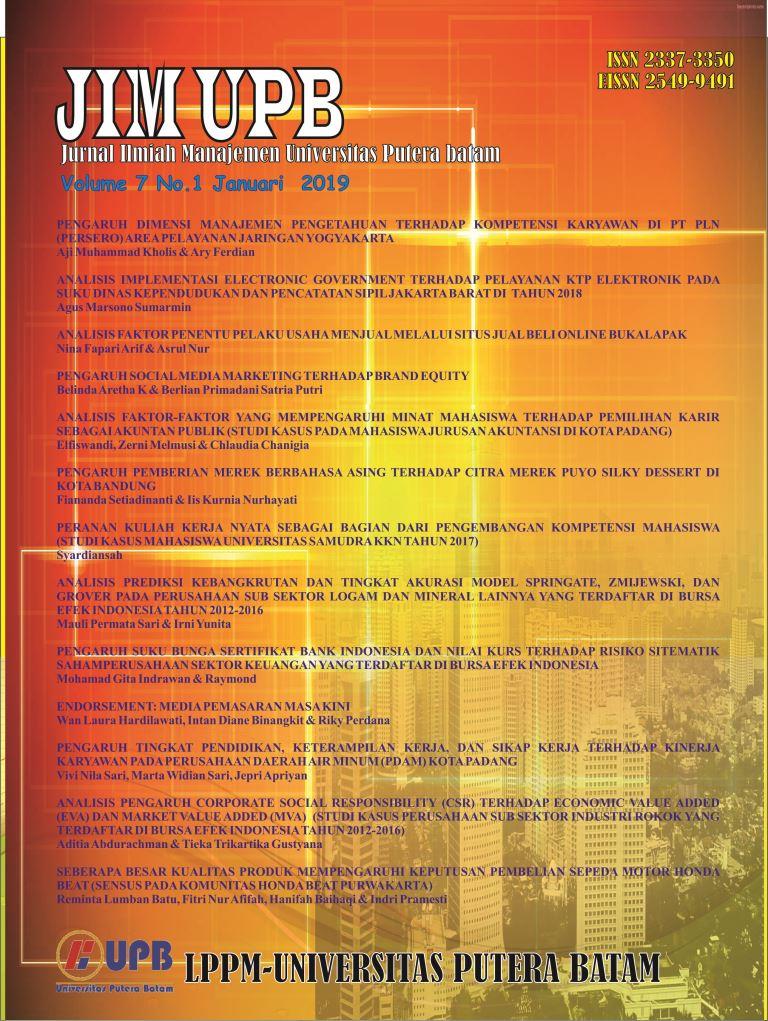 Downloads