Building Tourism Image of Batam City Through Instagram Content Analysis @Batampromotion
Keywords:
Batam, Content, Instagram, Image, New Media
Abstract
@batampromotion is a promotional information media in Batam on Instagram which had trusted by public to share information about tourism, property, automotive, culinary, and others in Batam. @batampromotion is quite active to updating content on Instagram that makes Instagram's user interested to follow. @batampromotion is one of the accounts that having a prominent profile on Instagram, as a content creator who creates things that interest the public according to trending topics. The purpose of this research is to find out how @batampromotion's Instagram builds the tourism image of Batam by content analysis. This research is a qualitative research using a descriptive method of content analysis approach with the object of research is content on @batampromotion's Instagram. The results of the research is @batampromotion is uses a communication strategy through New Media Instagram by focusing on the quality of an interesting content and a relaxed manner of communication so that is easily to be understood by followers and/or other Instagram's users. An image that built through @batampromotion's Instagram content, Batam is described as a tourism city that focuses on entertainment places. The form of communication used is verbal communication which makes it easier for followers to receive more detailed information by adding textual explanations to the content.
References
Ab, A. (2018). The influence of destination image on tourist revisit intention to south sulawesi destination in 2014. Sosiohumaniora, 20(3), 207–214. https://doi.org/10.24198/sosiohumaniora.v20i3.14050
Apriliyanti, E., Hudayah, S., Za, S. Z., Ekonomi, F., & Mulawarman, U. (2020). Pengaruh daya tarik wisata , citra destinasi dan sarana wisata terhadap kepuasan wisatawan citra niaga sebagai pusat cerminan budaya khas kota samarinda tourist satisfaction of commercial images as a center of cultural reflection typical of samarinda city. Jurnal Manajemen, 12(1), 145–153.
Budiman, I. T. R., Rondonuwu, D. M., & Tungka, A. E. (2018). Analisis Elemen-Elemen Pembentuk Citra Kota Di Kawasan Perkotaan Tahuna, Kabupaten Kepulauan Sangihe. Spasial, 5(2), 190–199.
Cindoswari, A. R., & Rorong, M. J. (2022). KOMPARASI MEDIA KONVENSIONAL DAN BARU DALAM PARTISIPASI MASYARAKAT PADA PEMBANGUNAN DI KOTA BATAM. Prosiding Seminar Nasional Ilmu Sosial Dan Teknologi (SNISTEK), 4, 78–86.
Dawani, Y., & Ahmadi, D. (2015). " City Branding " Bandung sebagai Kota Kreatif Studi Deskriptif Mengenai City Branding Bandung sebagai Kota Kreatif dalam Menarik Wasatawan Domestik ke Kota Bandung Bandung " City Branding " as Creative City Descriptive Study about Bandung City Branding as Creative City in Attracting. 523–529.
Dwi, E., & Watie, S. (2011). Komunikasi dan Media Sosial ( C ommunications and Social Media ). III, 69–75.
Feroza, C. S., & Misnawati, D. (2020). PENGGUNAAN MEDIA SOSIAL INSTAGRAM PADA AKUN @ YHOOPHII _ OFFICIAL SEBAGAI MEDIA KOMUNIKASI DENGAN PELANGGAN. 14(1), 32–41.
George, P. (2003). Self Development Module. 1–57.
Li, C. I., Kusuma, R. K., Djohnpetraacid, E., & Jokom, R. (2021). DESKRIPSI CITRA DESTINASI DI SOSIAL MEDIA MENGGUNA; #LABUANBAJO. Jurnal Hospitality Dan Manajemen Jasa, 9(2).
Luthfi, A., & Widyaningrat, A. I. (n.d.). KONSEP CITY BRANDING SEBUAH PENDEKATAN " THE CITY BRAND HEXAGON " PADA PEMBENTUKAN. (2013), 315–323.
Marliya, R. D. (2019). Strategi Komunikasi Pemasaran Produk Online "Grosir Kosmetik Karangjati". 13–24.
Maulida, S., & Fazri, A. (2022). Peran Dinas Pariwisata Dalam Meningkatkan City Branding Pada Promosi Wisata Kabupaten Aceh Selatan. 1(2), 44–50. https://doi.org/10.55123/toba.v1i2.366
Nasution, O. B., & Rohman, I. Z. (2022). PERAN AKUN MEDIA SOSIAL BERBASIS KONTEN PARIWISATA Pendahuluan. 8, 774–789.
Nugroho, T. A., Azzahra, F. C., & Yukka, M. (2022). PEMANFAATAN INSTAGRAM SEBAGAI MEDIA PROMOSI SOCIAL COMMERCE USAHA BRO . DO. 5(1), 136–149.
Nusantara, J. K. (2020). Pengelolaan Konten Media Sosial Korporat Pada Instagram Sebuah Pusat Perbelanjaan. 2(1), 1–9.
Ramadan, A., & Fatchiya, A. (2021). Efektivitas Instagram sebagai Media Promosi Produk " Rendang Uninam " The Effectiveness of Instagram as a Promotional Media of Products " Rendang Uninam ." 05(01), 64–82.
Ramadanty, S. (2014). PENGGUNAAN KOMUNIKASI FATIS DALAM PENGELOLAAN HUBUNGAN DI TEMPAT KERJA. Jurnal Ilmu Komunikasi, 5(1), 1–12.
Rorong, M. J., & Suci, D. (2020). REPRESENTASI MAKNA FEMINISME PADA SAMPUL MAJALAH VOGUE VERSI ARABIA EDISI JUNI 2018 (Analisis Semiotika dengan Perspektif Roland Barthes) (Vol. 13). Retrieved from http://journal.ubm.ac.id/
Sianturi, G. H. D., & Purwanti, A. (n.d.-a). Citra Kota Batam Sebagai Kota Pariwisata Menurut Wisatawan Yang Berkunjung Ke Kota Batam Kajian Teori.
Sianturi, G. H. D., & Purwanti, A. (n.d.-b). Citra Kota Batam Sebagai Kota Pariwisata Menurut Wisatawan Yang Berkunjung Ke Kota Batam Kajian Teori.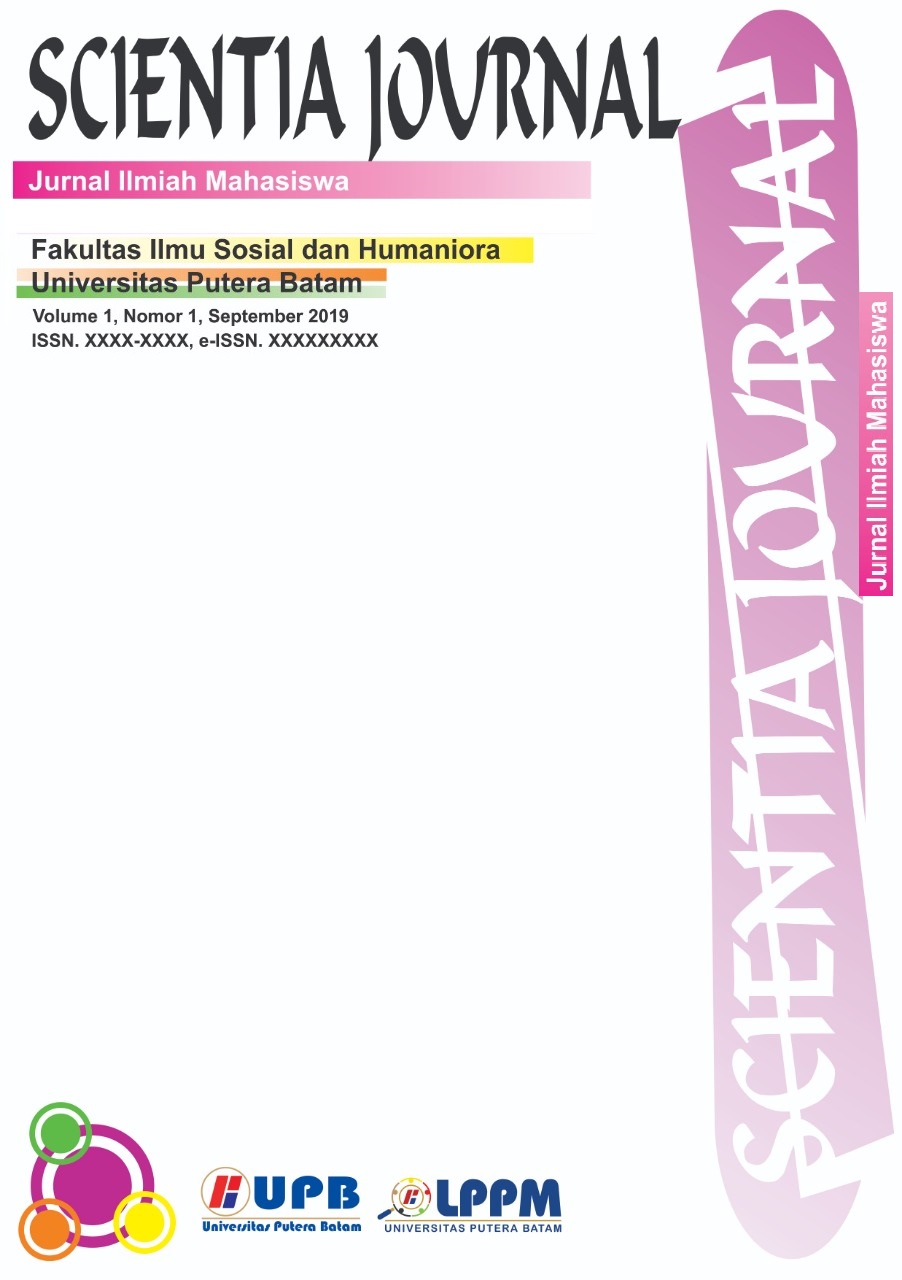 Downloads