EXPLORING INDONESIAN-ENGLISH TRANSLATION SHIFT IN JOKOWI'S IMF WORLD BANK 2018 SPEECH
Diana Fahrun Nisya'

Universitas Airlangga
Abstract
This paper investigated the Indonesia-English translation shift in Jokowi's Speech at the opening of the Annual Meeting Plenary of IMF-World Bank 2018. This study seek to examine the way translator applied translation shift in the process transferring message from SL to TL using Catford's translation shift and to what extent the effectiveness of its use. Accordingly, the frequency and typology were measured. This study utilized qualitative method which indicated words, phrases and sentences in describing the study. Jokowi's speech transcript at IMF-World Bank 2018 was the main subject of this study, where the Indonesia text was specifically retrieved from the official website of the Secretary Cabinet of Republic Indonesia and the English translation transcript was obtain from the Infopublik's website of Directorate General of Information and Public Communication. Initially, in the process of classification, Catford's translation shift theory (1995) was applied to rank and analyze the equivalence of Indonesia-English translation text. The result shows that all types of translation shift were found in English translation text with different number of frequency. However, the most dominant category appeared within the English translation text is class shift as much as 34 in a total, followed by unit shift 23 times and structural shift 17 times in a total. Those findings summarized that translation shift is inevitable in the case of translation process because every language has its own nature and variation that finally force the translator to deviate the language whenever she/he might transfer one language to another language and maintain the message of the source language.
References
Catford, J. C. (1965). A linguistic theory of translation: An Essay in Applied Linguistics. London: Oxford University Press.

Catford, J. C. (2000). A Linguistic Theory of Translation. In L. Venuti (Ed.), The Translation Studies Reader (1st Ed). New York: Routledge.

Falah, I. (2018). Remarks President Joko Widodo at the Opening of the Annual Meetings Plenary of IMF- WBG 2018_Unofficial English Translation. Portal Berita Info Publik. Retrieved from http://infopublik.id/kategori/am-imf-wbg-2018/303200/remarks-president-joko-widodo-at-the-opening-of-the-annual-meetings-plenary-of-imf-wbg-2018-unofficial-english-translation

Herman. (2014). Category Shifts In the English Translation of Harry Potter and the Philosopher's Stone Movie Subtitle into Indonesia (An Applied Linguistics Study). IOSR Journal Of Humanities And Social Science, 19(12), 31-38. DOI: 10.9790/0837-191253138

Hidayati, N. (2016). A Translation Analysis of Unit Shift in 'A Study in Scarlet Sherlock Holmes' Novel and Its Translation. (Publication Article, Universitas Muhammadiyah Surakarta, Surakarta, Indonesia). Retrieved from http://eprints.ums.ac.id/

Munday, J. (2016). Introducing Translation Studies: Theories and Applications (4th ed.). Oxon & New York: Routledge

Sekretariat Kabinet Republik Indonesia. (2018). Sambutan Presiden Joko Widodo pada Plenary Session IMF-World Bank Annual Meetings, 12 Oktober 2018, di Bali Nusa Dua Convention Center, Bali. Retrieved from https://setkab.go.id/sambutan-presiden-joko-widodo-pada-plenary-session-imf-world-bank-annual-meetings-12-oktober-2018-di-bali-nusa-dua-convention-center-bali/

Supatmiwati, D. (2016). Translation Shift of Verb and Sentence Style from English into Bahasa Indonesian. Proceedings of Research, The Fourth International Conference On Education And Language (4th Icel) 2016. (pp. 257-259). Bandar Lampung: Universitas Bandar Lampung, Indonesia.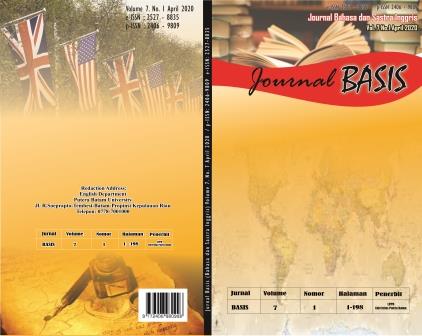 Section
BASIS VOLUME 7 NO 1 APRIL 2020