THE CORRELATION BETWEEN STUDENTS' READING ATTITUDES AND READING FREQUENCY: THE CASE STUDY OF SECOND GRADE STUDENTS OF SMPN 26 PERUM. RINDANG GARDEN KEC. BATU AJI BATAM
THE CASE STUDY OF SECOND GRADE STUDENTS OF SMPN 26 PERUM. RINDANG GARDEN KEC. BATU AJI BATAM Alpino Susanto, susanto.alpino40@gmail.com, Universitas Putera Batam
Abstract
ABSTRACT
This research explored the Junior High School Students second grade with regard to the correlation between reading attitude and reading frequency. Reading attitude composed of academic reading and recreational reading. The Elementary Reading Attitude Scale and the Frequency Questionnaire were administered to the students of SMPN 26 Batu Aji as the population of the study. The sample of the study is 37 students from 1 class of the second grade that questionnaire were taken. This study presents the correlation between reading attitude (X3) and reading frequency, as well as the correlation between academic reading (X1) and recreational reading (X2) with reading frequency (Y). The Pearson Corrrelation was used to measure the correlation by the r value. As the result, 34% of the variability in academic reading is attributable to difference in reading frequency. 28% of the variability in recreational reading is attributable to difference in reading frequency and 36% of the variability in reading attitude is attributable to difference in reading frequency.
References
Aaroutse, C., & van Leeuwe, J. (1998). Relation between
reading comprehension, vocabulary, reading pleasure, and
reading frequency. Educational Research and Evaluation.
Alexander, J., & Filler, R. (1976). Attitudes and reading.
Newark, DE: International Reading Association.
Anderson, M.A., Tollefson, N.A., & Gilbert, E.C. (1985).
Giftedness and reading: A crosssectional view of differences in reading attitudes and behaviors. Gifted Child Quarterly.
Brown, D. (2008). Why and how textbooks should encourage
extensive reading. ELT.
Chall, J. S., Jacobs, V. A., & Baldwin, L. E. (1990). The
reading crisis: Why poor children fall behind. Cambridge, MA: Harvard University Press.
Chapman, J. W., &Tunmer, W. E. (1995). Reading
difficulties, reading-related self-perceptions, and strategies for overcoming negative self-beliefs. Reading & Writing Quarterly, 19, 5-24.
Chard, D. J., & Kameenui, E. J. (2000). Struggling first-grade
112
readers: The frequency and progress of their reading. The Journal of Special Education, 34(1), 28-38.
Conlon, E. G., Zimmer-Bembeck, M. J., Creed, P. A., &
Tucker, M. (2006). Family history, selfperceptions, attitudes, and cognitive abilities are associated with early adolescent reading skills. Journal of Research in Reading, 29(1), 11-32. 58
Cox, K. E., & Guthrie, J. T. (2001). Motivational and
cognitive contributions to students' amount of reading. Contemporary Educational Psychology.
Daniels, H. (2002). Literature Circles: Voice & choice in book
clubs and reading groups. Portland, ME: Stenhouse Publishers.
Dreher, M. J. (2002). Motivating teachers to read. The
Reading Teacher, 56(4), 338–340.
Ford, M. E. (1992). Motivating humans. Newbury Park, CA:
Sage.
Gerber, P. J., Ginsberg, R., & Reiff, H. B. (1992). Identifying
alterable patterns in Employment success for highly
successful adults with learning disabilities. Journal of
Learning Disabilities, 25(8), 475-487.
Guthrie, J. T., Schafer, W., Wang, Y. Y., & Afflerbach, P.
(1995). Relationships of instruction to amount of reading: An exploration of social, cognitive, and instructional connections. Reading Research Quarterly, 30(1), 8-25.
Gutshall, A. (2009). 4th-grade readers . . . not too old to
snuggle. Teaching Upper
Elementary Students, 90(6), 435-437.
Hirsch, E. D. Jr. (2003). Reading comprehension requires
knowledge – of words and the world. American
Educator, 27(1), 10-29.
Kerby, M. (1986). Assessing student attitudes toward reading.
School Library Journal, 33(4), 43.
Kush, J. C., & Watkins, M. W. (1996). Long-term stability of
children's attitudes toward reading. The Journal of
Educational Research, 89(5), 315-319.
Lazarus, B. D., & Callahan, T. (2000). Attitudes toward
reading expressed by elementary school students diagnosed with learning disabilities. Reading Psychology.
McKenna, M. C., & Kear, D. J. (1990). Measuring attitude
toward reading: A new tool for teachers. The Reading
Teacher, 43(9), 626-639.
McKenna, M. C., Kear, D. J., & Ellsworth, R. A. (1995).
Children's attitudes toward reading: A national survey. Reading Research Quarterly, 30(1), 934-956.
Morgan, P. L., Farkas, G., & Hibel, J. (2008). Matthew Effects
for whom? Learning Disability Quarterly, 31(4), 187-
198.
Malhotra, N. K. (1999). Marketing Research. New Jersey:
Prentice Hall, Inc
Martinez, R. S., Aricak, O. T., & Jewell, J. (2008).
Influence of reading attitude on reading achievement: A test of the temporal-interaction
model. Psychology in the Schools.
Mertler, C. A. (2009). Action Research. CA: Sage
Publications, Inc.
Mori, S. (2002). Redefining Motivation to Read in a Foreign
Language. Kyoto: Kyoto Tachibana Women's University.
Nicole D. (2010). The fourth grade slump: the relationship
between reading attitudes and frequency of reading. Ohio: Bowling University
Naperville Community Unit School District. (2003). Literacy
Terms Dictionary.
Retrieved from http://www.naperville203.org/assets/literacydictionary.pdf.
Ogle, L. T., et al. (2003). International comparisons in fourth-
grade reading literacy: Findings from the Progress in
International Reading Literacy
Study of 2001. Washington, D.C.: National Center for
Education Statistics.
113
Pyrczak, F. (2006). Making sense of statistics (4th ed.).
Glendale, CA: Pyrczak Publishing.
Rosenblatt, L. (2005). Making meaning with texts: Selected
essays. Portsmouth, NH: Heinemann.
Samuels, C. A. (2007). Experts eye solutions to 4th grade
slump. Week, 27(3).
Scher, D., & Baker, L. (1994). Attitudes toward reading and
children's home Literacy environment. (Unpublished
Manuscript).
60 The Success for All Foundation. (2009). The success for all
foundation. Retrieved June 14, 2013, from The Success
for All.
Tyre, P., & Springen, K. (2007). Fourth-grade slump.
Newsweek.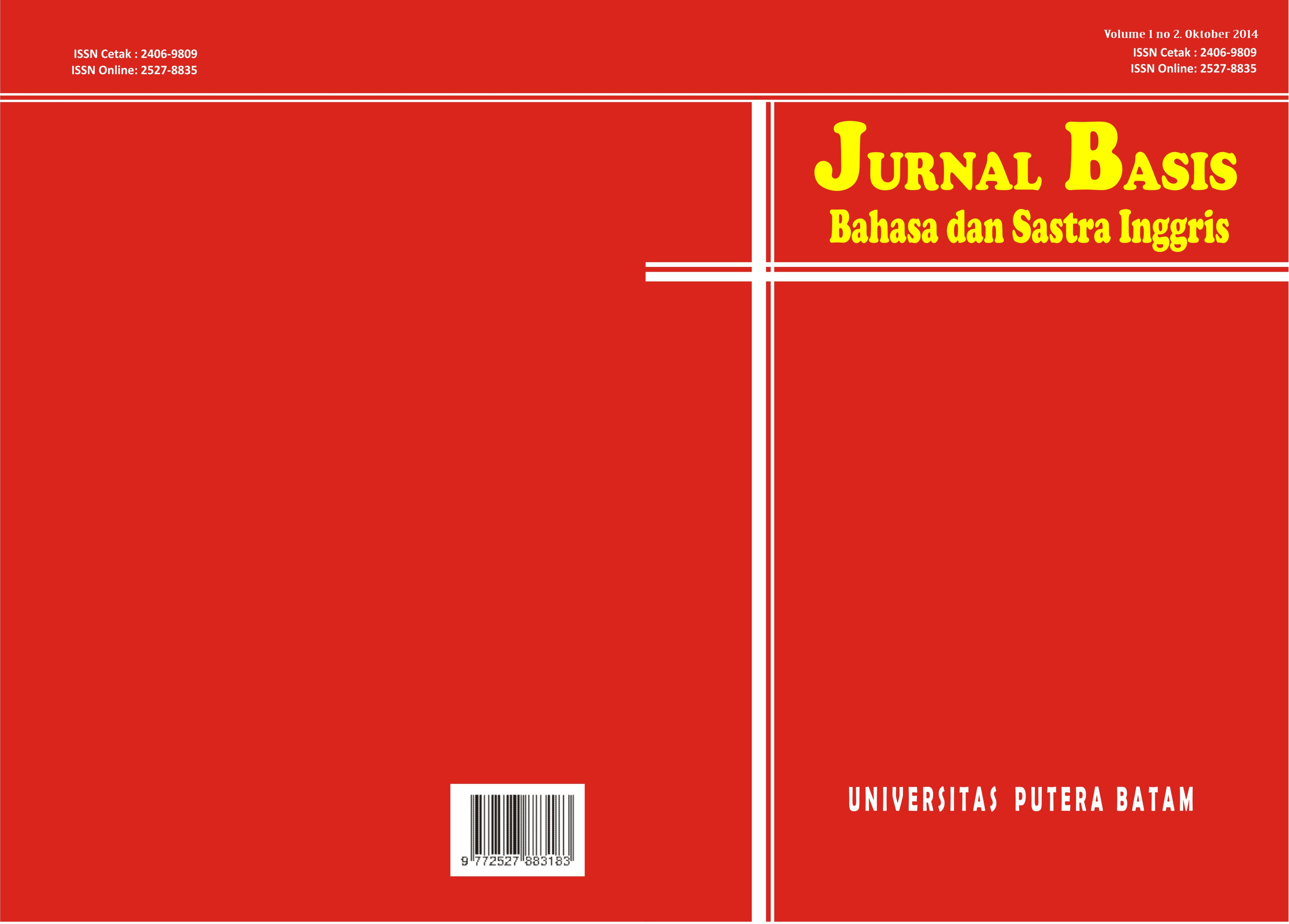 How to Cite
SUSANTO, alpino. THE CORRELATION BETWEEN STUDENTS' READING ATTITUDES AND READING FREQUENCY: THE CASE STUDY OF SECOND GRADE STUDENTS OF SMPN 26 PERUM. RINDANG GARDEN KEC. BATU AJI BATAM.
JURNAL BASIS
, [S.l.], v. 1, n. 2, p. 99-113, feb. 2018. ISSN 2527-8835. Available at: <
http://ejournal.upbatam.ac.id/index.php/basis/article/view/296
>. Date accessed: 02 oct. 2020.
Section
BASIS VOLUME 1 NO 2 OKTOBER 2014