THE INFLUENCES OF TEACHING METHODOLOGIES TO THE STUDENTS' GRADE POINT AVERAGE (GPA) OF ENGLISH DEPARTMENT OF UNIVERSITIES IN BATAM
ENGLISH DEPARTMENT OF UNIVERSITIES IN BATAM Eky Erlanda Edel, ekyedel@gmail.com, Universitas Putera Batam
Eky Erlanda Edel

universitas putera batam
Abstract
This thesis is is aimed to find out the influences of teaching methodologie; learner roles and lecturer roles to the students' Grade Point Average (GPA) in universities in Batam. It is important to analyze the teaching learning processes especially the teaching methods used by the lecturers. It is presumed that the effects of shift work system are becoming worse when the teaching methodologies used by the lecturer are not supported the students psychologically and physically. Thus, it is important to be understood by the lecturers that they are not teaching or lecturing the ordinary students which are workers and students at the same time. The subject of the study is the lecturers of English Department in Universities in Batam.
References
Brannen, J (1992). Mixing Methods: Qualitative
and Quantitative Research. Brookfield: Avebury
Delahunty, Gerald P & Garvey, James J. 2010.
The English Language from sound to sense. The
WAC Clearinghouse, parlor press, fort Collins,
Colorado
Endri. (2012). Peran Human Capital dalam
Meningkatkan Kinerja Perusahaan: Suatu
Tinjauan Teoritis dan Empiris. ABFI Institute
Perbanas/Universitas Bakrie.
Gay, L. R. (1987). Educational Research:
Competences for Analysis and Application (3rd
ed). Ohio: Meril Publishing Company.
Nur, A. S. (2002). Metode Peneliatian
Kuantitatif, Kualitative dan Gabungannya
sebagai Suatu Alternatif (makalah). Padang:
UniversitasNegeri Padang.
Sanjaya.W.(2006).StrategiPembelajaranBerorien
tasiStandar Proses Pendidikan. Jakarta:
KencanaPrenada Media Group.
Spradley, J. P. (1980). Participant Observation.
New York: Holt, Rine hart and Winston, Inc.
Richard, Jack. C and Theodore S Rodgers
(2001).Approaches and Method in Language
Teaching.Cambrige University Press.
Riduwan.(2004). Metode dan Teknik Menyusun
Tesis. Bandung: AlFabeta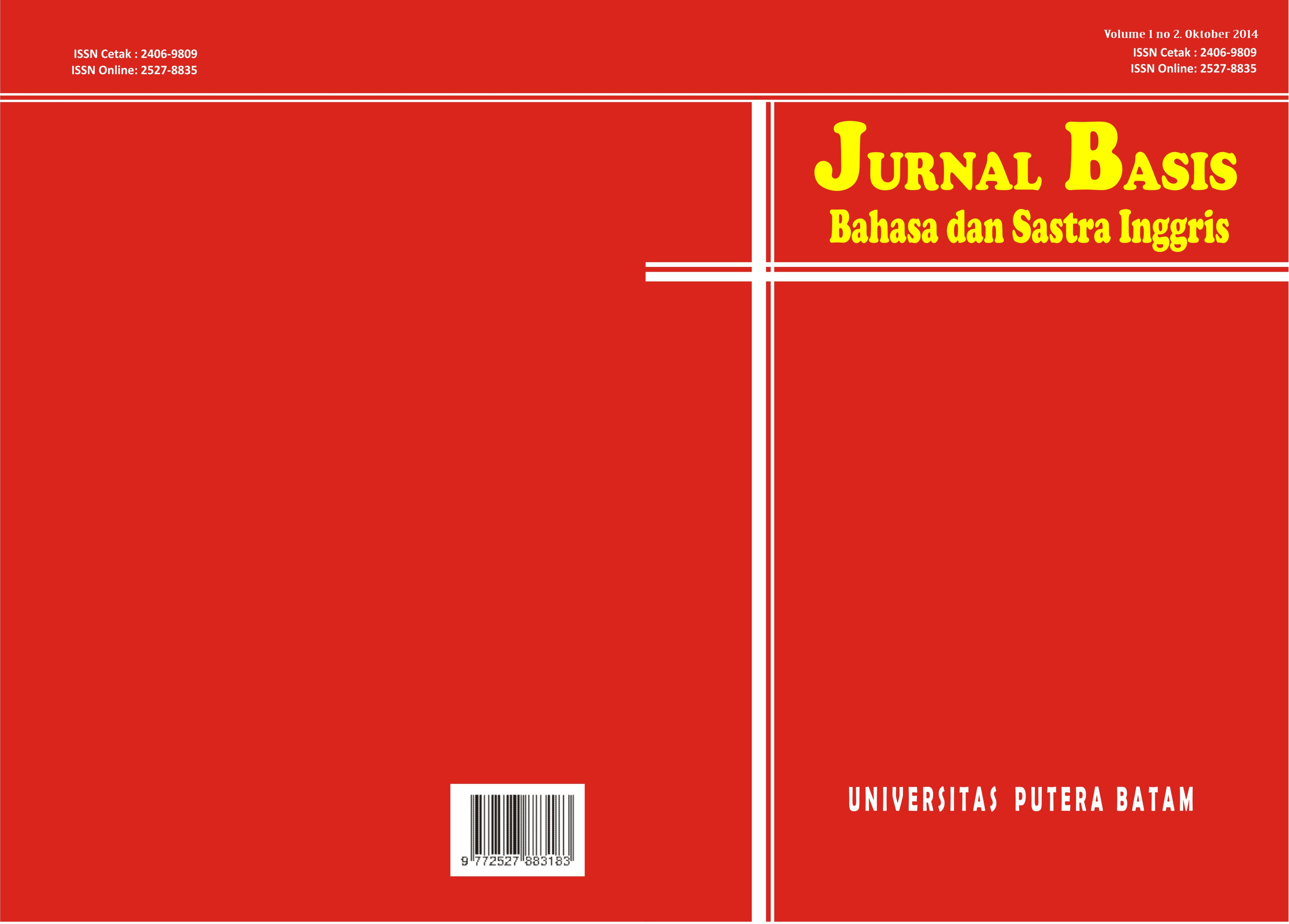 How to Cite
EDEL, Eky Erlanda. THE INFLUENCES OF TEACHING METHODOLOGIES TO THE STUDENTS' GRADE POINT AVERAGE (GPA) OF ENGLISH DEPARTMENT OF UNIVERSITIES IN BATAM.
JURNAL BASIS
, [S.l.], v. 1, n. 2, p. 127-137, feb. 2018. ISSN 2527-8835. Available at: <
http://ejournal.upbatam.ac.id/index.php/basis/article/view/299
>. Date accessed: 02 oct. 2020.
Section
BASIS VOLUME 1 NO 2 OKTOBER 2014