THE EFFECTIVENESS OF SELF COLLECTION STRATEGY AND MOTIVATION ON STUDENTS' ENGLISH VOCABULARY MASTERY
Abstract
This research purposed to prove whether Self Collection Strategy and Students' Motivation gives significant effect on the students' Vocabulary Mastery on English Subject. This research was quasi-experimental research by using the post test-only control group design. The population was the students at Economic Accountant Department Bung Hatta University in the academic year of 2016/2017. The writer used cluster random sampling to select the samples. To collect the data, the researcher used vocabulary test. The data analyzed by using t-test and SPSS 16.0. The findings of this research showed that the mean score of students who were taught by using Self Collection Strategy was 84. The mean score of students who were taught by using memory strategy was 76. It means that Self Collection Strategy gave significant effect toward their vocabulary mastery on English Subject. The elements of Self Collection Strategy such as heterogeneous group, individual accountability, and group reward are considered as the effort for the findings.
References
Antonacci& O' Callaghan. 2011. Promoting Literacy Development: 50 Research-Based Strategies for K-8 Learners (Online). Thousand Oaks : Sage Publications, Inc. (http://www.worldcat.org/title/promoting-literacy-development-50-research-based-strategies-for-k-8-learners/oclc/670478765, download at 19 April 2017).
Anhar. 2010. "Teaching Vocabulary through Vocabulary Self-Collection Strategy to the Second Year Students of SMPN 2 Kuta in Academic Year 2010/2011". Unpublished Thesis. Bali: Universitas Bali.
Arikunto, S. 2009. Dasar-dasar Evaluasi Pendidikan Edisi Revisi. Jakarta: Bumi Aksara.
Coelho. 2007. Vocabulary Self-Collection Strategy (Online), (http://www.docjax.com/document/view.shtml?id=323395&title=Vocabulary%20Self-Collection%20Strategy%20%28VSS%29%20The%20Alchemist%20by%20Paulo%20, download at 19 April 2012).
Gay, L, R and Peter Airasian. 2000. Educational Research: Competencies for Analysis and Application. New Jersey: Prentice Hall.
Hasan, Citra Diana. 2016. Orasai ilmiah "Masyarakat ekonomi Asean tantangan dan peluang bagi bangsa Indonesia melalui Bahasa Inggris"
Linguistik, K., Sastra, D., & Silitonga, F. (2017). THE TEENEGERS' CHARACTERISTICS IN GENDER WRITTEN TEXT BY DISCOURSE ANALYSIS AT BATAM. Kajian Linguistik Dan Sastra/ KLS, 2(1), 61–75. https://doi.org/https://doi.org/10.23917/kls.v2i1.5353
Richardson, et all. 2009. Reading to Learn in the Content Areas (Online). Canada: Wadsworth, Cengage Learning (Online), (http://books.google.co.id/books?id=F2Dj_NkpwOwC&pg=PT219&lpg=PT219&dq=vocabulary+selfcollection+strategy+in+teaching+vocabulary&source=bl&ots=AT5fbCyYkO&sig=oMDOIrgiiT6NSDBuNAMW7s0wmg&hl=id&sa=X&ei=TQG9T82dB47xrQejy_nGDQ&ved=0CGUQ6AEwBzgK#v=onepage&q=vocabulary%20selfcollection%20strategy%20in%20teaching%20vocabulary&f=false, download January 2017).
Ruddell, M.R., & Shearer, B.A. 2002. "Extraordinary," "tremendous," "exhilarating," "magnificent": Middle school at-risk students become avid word learners with the vocabulary self-collection strategy (VSS). Journal of Adolescent & Adult Literacy, 45, 352–363. http://www.readwritethink.org/classroom-resources/lesson-plans/choosing-chatting-collecting-vocabulary-296.html, download at 19 Januari 2017.
Readeance, Bean, & Baldwin. 2001. Literacy Strategy Vocabulary Self-Collection Strategy(Online),(http://www.google.co.id/search?q=vocabulary+self+collection+strategy&ie=utf-8&oe=utf-8&aq=t&rls=org.mozilla:en-US:official&client=firefox-beta&channel=fflb, download at 19 April 2012).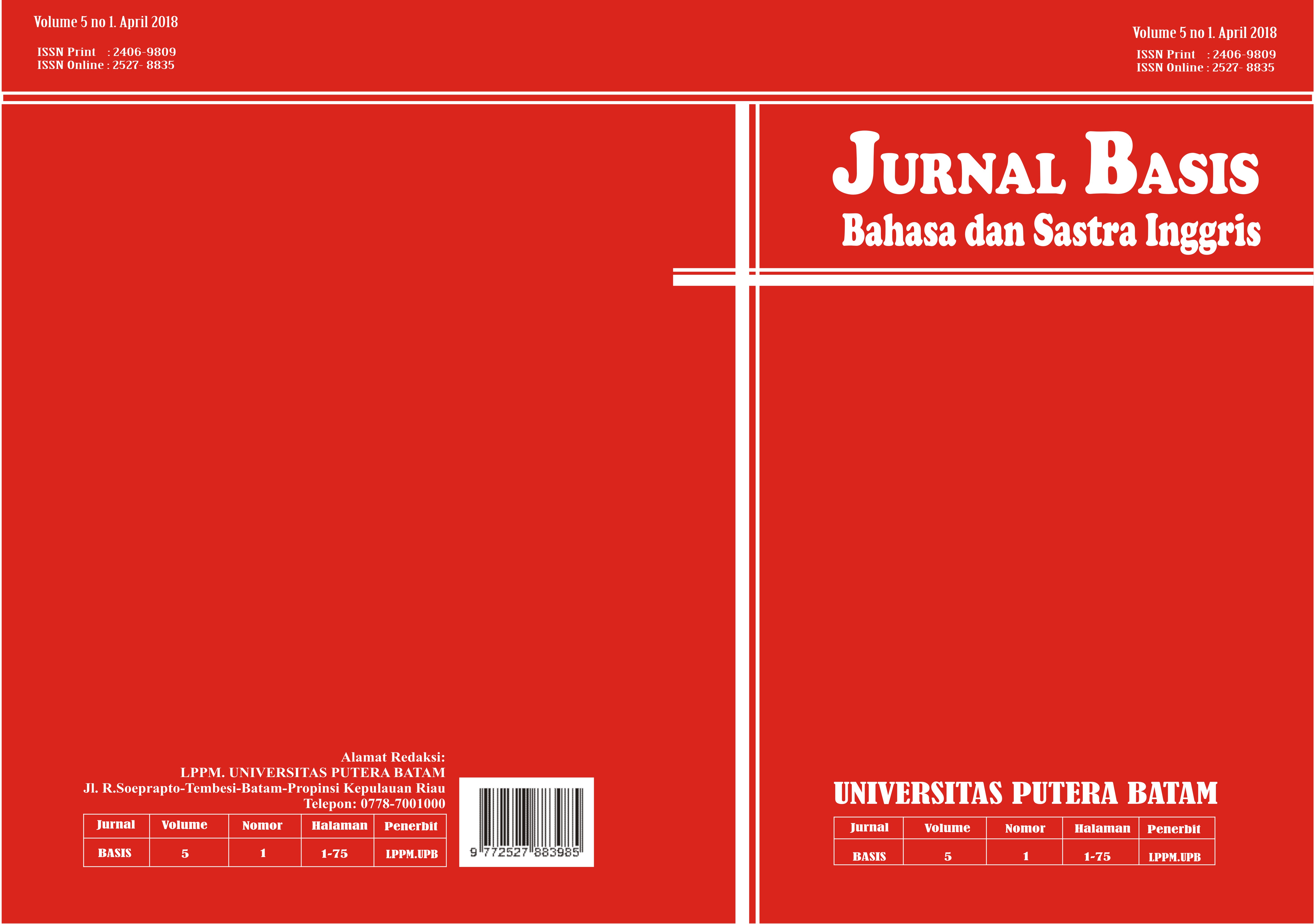 Section
BASIS VOLUME 5 NO 1 APRIL 2018