SOCIO-AFFECTIVE LEARNING STRATEGIES USED IN SPEAKING III BY THE ENGLISH DEPARTMENT STUDENTS OF STAIN BATUSANGKAR
SOCIO-AFFECTIVE LEARNING STRATEGIES USED IN SPEAKING
Afriana Ana

universitas putera batam
Abstract
Berbicara merupakan salah satu keterampilan bahasa Inggris yang harus dikuasai. Artinya, mahasiswa tidak hanya mengusai menulis, mendengar, dan membaca, tapi mereka juga harus bisa menyampaikannya dengan berbicara. Dimana, mahasiswa harus menemukan strategi untuk menghilangkan kecemasan ketika berbicara bahasa Inggris dan mengimplementasikannya dengan cara yang benar, khususnya mahasiswa di kelas Speaking III di Tadris bahasa Inggris STAIN Batusangkar. Mereka menggunakan strategi-strategi socio-afektif. Akan tetapi, pada kenyataannya, strategi-strategi yang mereka gunakan belum sukses di implementasikan secara benar. Artikel ini membahas tentang strategi-strategi socio-afektif yang digunakan oleh mahasiswa di Speaking III di Tadris bahasa Inggris STAIN Batusangkar. Selain itu, artikel ini juga membahas cara penerapan strategi-strategi socio-afektif tersebut
References
Cohen, Andrew D. et al. (1996). "The Impact of Strategies-Based Instruction on Speaking a Foreign Language. University of Minnesota". http://www.carla.umn.edu/about/profiles/CohenPapers/SBIimpact.pdf. Retrieved December 26, 2012.
Fedderholdt, Karen. (1997). "Using Diaries to Develop Language Learning Strategies" Retrieved December 29, 2012, from http://iteslj.org/Articles/Hismanoglu-Strategies.html.
Gay, R. L., & Airasian. (2000). Education Research, Competence for Analysis and Application, New Jersey: Prentice Hall.
Gallagher-Brett, A. (2007). "What do learners' beliefs about speaking reveal about their awareness of learning strategies?". Language Learning Journal 35(1), 37-49. Retrieved on August 5th 2012. From:http://mextesol.net/journal/index.php?
Harmer, J. (2001). The practice of English Language Teaching. Third Edition. Completely Revised and updated. London: Longman. Mayer, R. (1988). Learning strategies: An overview. Cited in Weinstein, C., E. Goetz, and P. Alexander (Eds.). Learning and Study Strategies: Issues in Assessment, Instruction, and Evaluation. New York: Academic Press.
Morris, C. (1980). "Spoken and Written Language": English Teaching Perspective. London: Longman.
O'Malley,et al. (1985a): "Learning Strategies Used by Beginning and Intermediate ESL Students." Language Learning 35, 21-46.. (1985b). Learning strategies used by beginning and intermediate ESL students. Language Learning, 35, 21-46.
Linguistik, K., Sastra, D., & Silitonga, F. (2017). THE TEENEGERS' CHARACTERISTICS IN GENDER WRITTEN TEXT BY DISCOURSE ANALYSIS AT BATAM. Kajian Linguistik Dan Sastra/ KLS, 2(1), 61–75. https://doi.org/https://doi.org/10.23917/kls.v2i1.5353
J.M and Chamot. (1990). Learning Strategies in Second Language Acquisition. New York: Cambridge University Press. Oxford, R. L. (1990). Language Learning Strategies: New York: Nwbury House Publisher.
Thornbury, Scott, (2005). How to Teach Speaking. San Fransisco: Pearson Education.
Vandergrift, et al. (2004). Language Learning, 56 (3), 431-462. Retrieved September 27, 2012, from http://www.ll.ac.uk/resources/gpg/56
MacMillan. Wilkins, D.A. (1976), National Syllabus. Oxford: Oxford University Press.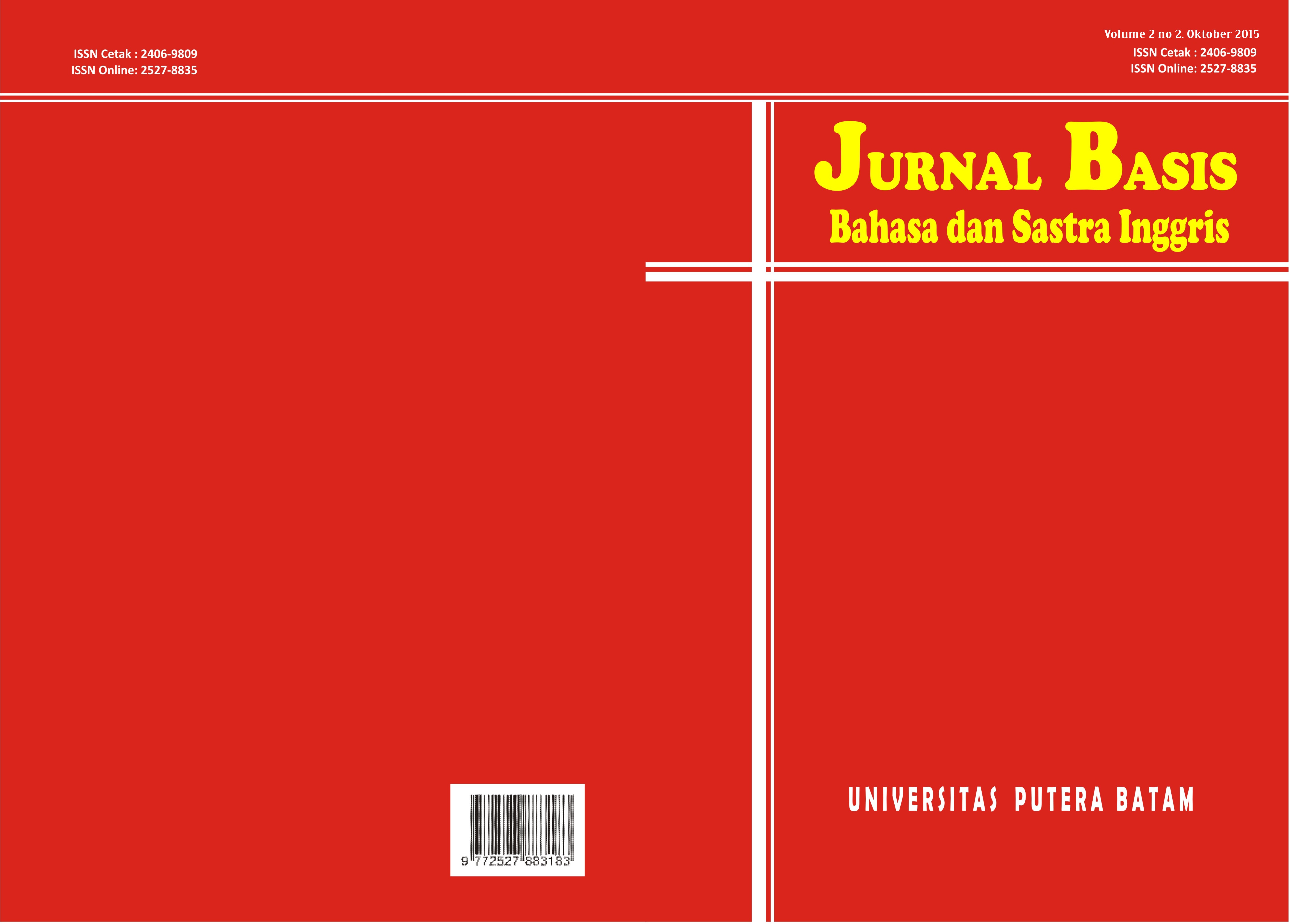 Section
BASIS VOLUME 2 NO 2 OKTOBER 2015