STRATEGI PERMINTAAN DALAM BAHASA MINANGKABAU: TINJAUAN DARI PERSPEKTIF JENDER
Melly Siska Suryani

Universitas Putera Batam
Abstract
 This study aims at describing request strategies based on gender perspective. The study  was conducted by collecting data, analyzing data dan presenting the result of analysis. The data were obtained by using observation, recording and note taking technique. They were 40 informants involved, 20 male and 20 female. Having collected the data, they were analyzed by using referential method, translational and pragmatic identity method. Futhermore, the result of analysis was presented in formal and informal method. The analysis indicated that  there were eight  forms used : direct utterance, indirect utterance, literal utterance, non literal utterance, direct literal utterance, indirect literal utterance, direct non literal utterance, and indirect non literal utterance
References
Asri, Kurniati Wahyu dan Azizah Laelah. 2007. "Bias Jender dalam Perbedaan Penggunaan Bahasa oleh Laki-laki dan Perempuan". Kumpulan Makalah Ringkas Kongres Linguistik Nasional XII. Jakarta: Universitas Sebelas Maret.
Coulmas, florian. 2005. Sociolinguistics: The Study of Speakers' Choices. Cambridge: Cambrige University Press.
Cutting, Joan. 2002. Pragmatics and Discourse. London and New York: Routledge.
Evizariza.2002. "Tindak Tutur Permintaan dalam Bahasa Indonesia: Studi Kasus Penutur Bahasa Melayu Riau pada Ranah Keluarga di Pekanbaru". Tesis. Medan: Universitas Sumatera Utara.
Fakih, Mansour. 2004. Analisis Gender dan Transformasi Sosial. Yogyakarta: Pustaka Pelajar.
Holmes. 2001. An Introduction to Sociolinguistics. England: Longman
Hymes, Dell. 1972. 'The Ethnography of Speaking'. Dalam Joshua A. Fishman. Readings in the Sociology of Language. Cetakan Ketiga. Paris:Mouton
Ibrahim. 2009. Tambo Alam Minangkabau: Tatanan Adat Warisan Nenek Moyang Orang Minang. Bukittinggi : Kristal Multimedia.
Katubi, 2001. " Tindak Tutur Meminta Maaf dalam Bahasa Indonesia di Kalangan Kelompok Etnis Minangkabau: Kajian Bahasa dari Perspektif Jender". Tesis. Depok: Universitas Indonesia.
Kendall, Shari and Deborah Tannen. 2001. "Discourse and Gender" dalam The Handbook of Discourse Analysis. Australia: Blackwell
Kuntjara, Esther. 2003. Gender, Bahasa dan Kekuasaan. Jakarta: Gunung Mulia
Manaf, Ngusman Abdul. 2003. "Kesantunan Berbahasa Kelompok Etnik Minangkabau dan Implikasinya Terhadap Kesetaraan Gender" dalam Kajian Sastra: Jurnal Kebahasaan, Kesusastraan dan Kebudayaan. Semarang: FS UNDIP.
Mesthrie, Rajend. 2000. Introducing Sociolinguistics. Edinburgh: Edinburgh University Press.
Oktavianus. 2006. Analisis Wacana Lintas Bahasa. Padang: Andalas University Press.
Pastika, I Wayan. 2008. "Bias Jender dalam Berbahasa: Interpretasi Tanda Linguistik Lintas Budaya" dalam Kumpulan Makalah Seminar Nasional Semiotika Budaya Etnik. Medan: Universitas Sumatera Utara dan Balai Bahasa Medan.
Revita, Ike. 2005. "Tindak Tutur Permintaan dalam Bahasa Minangkabau". Tesis. Yogyakarta: Universitas Gajah Mada.
Sudaryanyo.2015. Metode dan Aneka Teknik Analisis Bahasa. Yogyakarta: Duta Wacana University Press.
Wijana, I Dewa Putu. 1996. Dasar-dasar Pragmatik. Yogyakarta: Andi.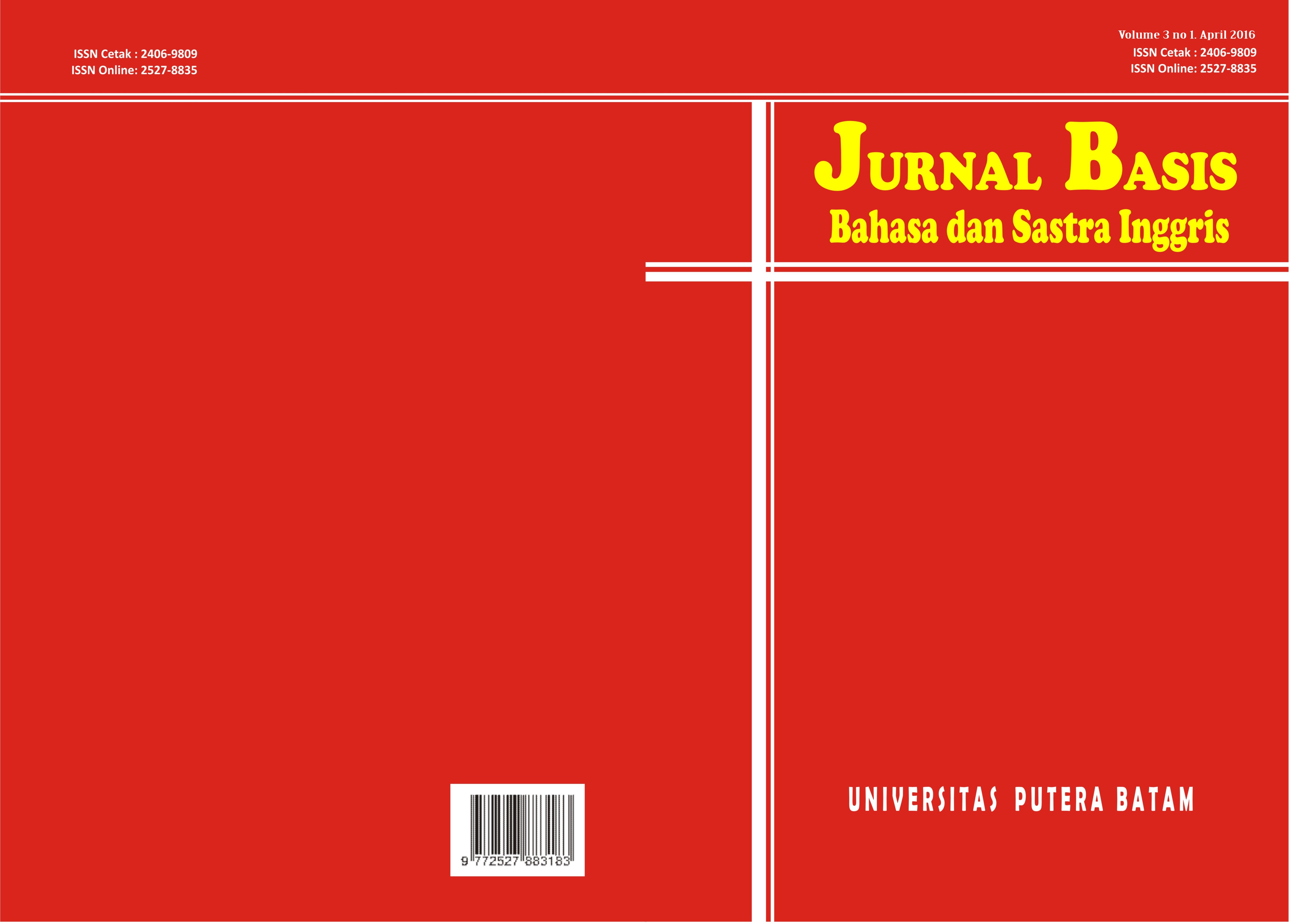 Section
BASIS VOLUME 3 NO 1 APRIL 2016