GANGGUAN HEMISFER KANAN PADA KOMENTATOR MEDIA SOSIAL FACEBOOK PADA JARINGAN MEDIA DISKUSI RAKYAT TERHADAP PEMERINTAHAN PRESIDEN JOKO WIDODO: Suatu Kajian Neuropragmatik
Mhd. Johan

universitas putera batam
Abstract
Penelitian ini adalah penelitian neuropragmatik di mana kajian yang menggabungkan interdisiplin ilmu antara neurolinguistik dan pragmatik. Penelitian ini bertujuan mencari Hemisfer yang terganggu pada komentator-komentator di Media Diskusi Rakyat yang terjadi pada jaringan Media Diskusi Rakyat yang diterbitkan di jaringan sosial facebook. Penelitian ini menggunakan metode pengumpulan data "baca dan teknik catat" yang dikemukakan oleh Sudaryanto. Kemudian untuk menganalisa data ini, penulis menggunakan metode kontribusi/agih dan dilanjutkan dengan teknik bagi unsur langsung. Selanjutnya penulis menemukan gangguan hemisfer kanan pada kommentator Media Diskusi Rakyat pada media sosial facebook.
References
Ahlsen, Elisabeth. 2006. Introduction to Neurolinguistics: Goteborg University.
Arifudin. 2010. Neuro Psiko Linguistik: Rajawali Pers.
Bambini, Valentina. 2008. "Neuropragmatics": a foreword. (diakses pada tanggal 12 April 2014).
Bara, Bruno G., 2010. Cognitive Pragmatics, the Mental Process of Communication. Milan: Bollati Boringhieri.
Bonvillian, Nancy, 1977. Language, Culture and Communication: The Meaning of Messages. New Jersey : Prentice-Hall, Inc.
Blumstein, Sheila E. 1994. Neurolinguistics: An Overview of Language Brain dalam Language: Psychological and Biological aspects, ed. F.J. Newmeyer, 210-36. Cambridge: Cambridge University Press.
Cambridge University Press. 2008. Cambridge Advanced Learner's Dictionary Version 3.0. Cambridge University Press by Armada.
Dharmaperwira-Prins, Reni. (2004). Gangguan-gangguan Komunikasi Hemisfer Kanan dan Pemeriksaan Komunikasi Hemisfer Kanan (PKHK). Jakarta: Djambatan.
Field, John. 2003. Psycholinguistics A Resource Book For Students: Simultaneously Published in the USA and Canada by Routledge.
Hadi, Sutrisno. 2004. Metodologi Research (jilid – 3). Yogyakarta: Andi.
Handoko. 2013. "Kompensasi Kebahasaan Mahasiswa Sastra Inggris Unand: Suatu Tinjauan Fungsi Komunikasi Hemisfer Kanan" Pascasarjana Universitas Andalas.
Hendri, Muhammad. 2012. "Makalah Bahasa dalam Konteks Sosial" (Peristiwa Tutur dan Tindak Tutur).
Indonesiaku, Citra. 2012. "Tindak Tutur Menurut Austin dan Searle" (Jurnal): (diakses pada 18 Juni 2013).
Ingram, J.C.L. 2007. Neurolinguistics: An Introduction to Spoken Language Processing and its Disorder. New York: Cambridge University Press.
Johan, Mhd. 2014. Gangguan Reseptif Mahasiswa Dalam Menjawab Soal-soal Listening: Suatu Kajian Neuropragmatik.
Kridalaksana, Harimurti. 1993. Kamus Linguistik. Jakarta:PT.Gramedia.
Nida, Eugene, 1949. Morphology,The Descriptive Analysis of Words. second edition, Ann Arbor: The University of Michigan Press.
Parera, J.D. 1991. Teori Semantik: Penerbit Erlangga. Jl. Kramat IV No. 11 Jakarta 10430 (Anggota IKAPI).
Putri, Gracia Hutami. 2010. "Gangguan Komunikasi". (jurnal): (diakses pada 13 Maret 2014).
Sastra, Gusdi, 2011, Neurolinguistik Suatu Pengatar. Alfabeta Bandung.
Sastra, Gusdi, 2014. Bahasa dan Strok. Andalas University Press.
Situmorang, Pasu Itin.2013. "Psysholinguistics A resources Book for Students". Terjemahan dari karya John Field: (diakses pada tanggal 5 Desember 2013).
Sudaryanto. 1993. Metode dan Aneka Teknik Analisis Bahasa, Pengantar Penelitian Wahana Kebudayaan Secara Linguistis.Yogyakarta. Penerbit Duta Wacana University Press.
Verschueren, Jef. 1998. Understanding Pragmatics. Oxford University Press Inc., New York.
48
Wolvin D. Andrew. 2010. Listening and Human Communication in the 21st Century: 2010 BlackWell Publishing Ltd.
Yasnur, Asri. 2012. "Pengertian, Sumber Kajian Pragmatik. Materi Kuliah Pragmatik Pertemuan 1 dan 2". (diakses tanggal 22 Desember 2013).
Yule, George. 1996. Pragmatics: Oxford Introductions to Language Study. Oxford New York. Oxford University Press.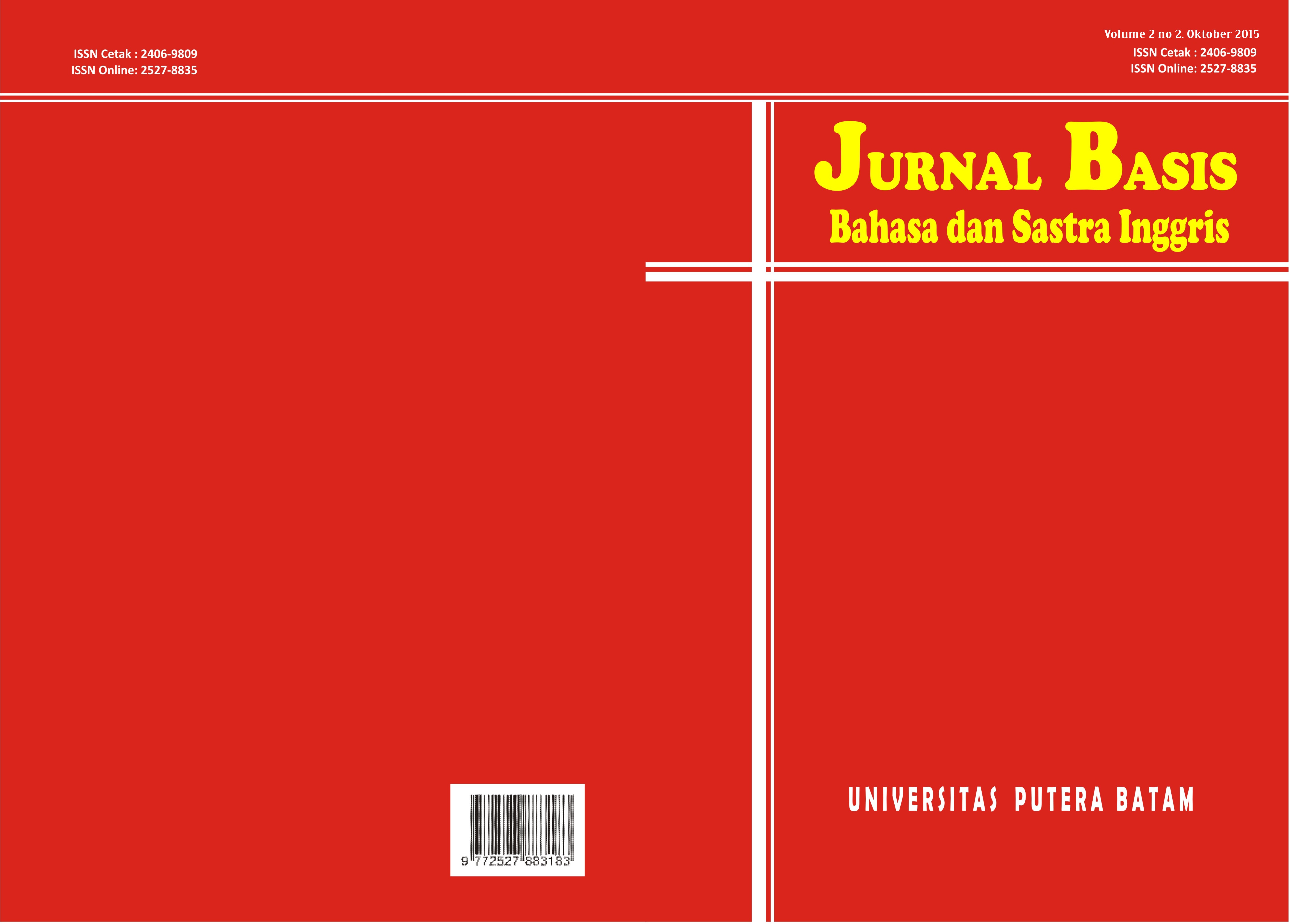 How to Cite
JOHAN, Mhd.. GANGGUAN HEMISFER KANAN PADA KOMENTATOR MEDIA SOSIAL FACEBOOK PADA JARINGAN MEDIA DISKUSI RAKYAT TERHADAP PEMERINTAHAN PRESIDEN JOKO WIDODO: Suatu Kajian Neuropragmatik.
JURNAL BASIS
, [S.l.], v. 2, n. 2, p. 41-48, oct. 2015. ISSN 2527-8835. Available at: <
http://ejournal.upbatam.ac.id/index.php/basis/article/view/554
>. Date accessed: 27 jan. 2020.
Section
BASIS VOLUME 2 NO 2 OKTOBER 2015