THE EFFECT OF USING FULL-ENGLISH AS LANGUAGE OF INSTRUCTION IN IMPROVING CHILDREN'S SPEAKING SKILL
NITA KANIADEWI

UHAMKA

WIDI SRIYANTO

UHAMKA
Abstract
This research was an attempt to prove the effectiveness of using full-English as a language of instruction in improving children's English-speaking skill. Treatments were given in 6 meetings for each of the control and experimental class. Two types of lesson plans were arranged, one used full-English as the language of instruction for the experiment class and the other used mixed language (a combination of English and mother tongue) for the control class. An experiment with a quasi-experimental design and an oral test were used as the method and instrument. Based on the calculation of Chi-square and Fisher tests, it was found that the data of both classes were homogeneous and normally distributed. After fulfilling the requirements, the hypothesis was tested by using the T-test at 0.05 significance level. The findings discovered that t-computation was higher than t-table (+3.25 > +1.67). It indicated that the mean of the experiment class was significantly higher than the control class. The findings above led to a conclusion that the use of full-English as language of instruction was effective in improving children's English-speaking skill. However, since the children were still beginners of English as a foreign language, then it was advisable to ensure that the English used by teachers be inside the children's zone of proximal development. It was also recommended for teachers to use broken instead of standard English and to accompany their language input with gestures in order deliver meaning easier.
References
Brown, H.D. (2007). Principles of Language Learning and Teaching. London: Longman.
Chaer, A. (2009). Psikolinguistik Kajian Teoretik. Jakarta: Rineka Cipta.
Chomsky, N. (2009). Cartesian Linguistics A Chapter in The History of Rationalist Thought (James McGilvray ed.). New York: Cambridge University Press.
Crain, S & Lilo-Martin, D. (1999). An Introduction to Linguistic Theory and Language Acquisition. Malden: Blackwell Publishing.
Dardjowidjojo, S. (2005). Psikolinguistik Pengantar Pemahaman Bahasa Manusia. Jakarta: Yayasan Obor Indonesia.
Harmer, J. (2007). How to Teach English. Essex: Pearson Education Limited.
Jarvis, P. (2006). Towrads a Compreensive Theory of Human Learning. New York: Routledge Publishers Inc.
Krashen, S.D. 2006. Principles and Practice in Second Language Acquisition. California: University of Southern California.
Nunan, D. (1991). Language Teaching Methodology: A Text Book for Teacher. Cambridge: Combridge University Press.
Reynolds, S. (2005). Learning is a Verb – The Psychology of Teaching and Learning (2nd ed.). New York: Routledge Publishers Inc.
Richard, J.C. & Schmidt, R. (2002). Longman Dictionary of Language Teaching and Applied Linguistics. London: Pearson Education Ltd.
Scott, W.A. & Ytreberg, L.H. (2000). Teaching English to Children. New York: Longman Group UK Ltd.
Salmona, M. (2014), The Use of First Language in the Second-Language Classroom: A Support for Second Language Acquisition. Gist Education and Learning Research Journal, No. 9 (July-December), pp. 50-66.
Skinner, B. F. (1957). Verbal Behavior. New York: Appleton-Century-Crofts. http://www.questia.com/library/book/verbal-behavior-by-b-fskinner.jsp
Witting, A. F. (1981). Psychology of Learning. Schaum's Out-line Series. New York: Mc. Grow Hill.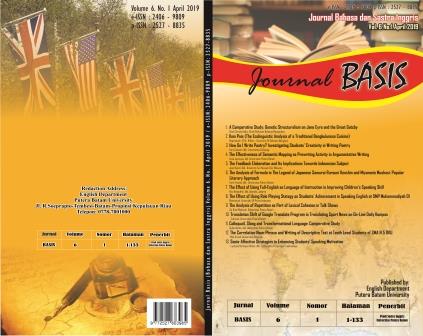 Section
BASIS VOLUME 6 NO 1 APRIL 2019