KEBIJAKAN PROGRAM PEMBINAAN PENYANDANG MASALAH KESEJAHTERAAN SOSIAL (PMKS) ANAK JALANAN (KAJIAN KASUS DI BEBERAPA DAERAH)
Riko Riyanda
Abstract
This paper is about street children's problem in some areas in Indonesia such as in Bandung, Makassar, Batam, and Jogjakarta. The problems of street children should be paid serious attention by the central government as well as local government. These problems are caused by inequality of access to economic and education. It will lead to poverty, urbanization, and unemployment. Therefore, some ways out are needed to run by government and social foundations or any community. Among four cities, each city has different problems and different way in handling the problems. Appropriate policies and guidance programs are some ways to overcome the problems which are implemented precisely and sustainable. However, social foundations and any community hands are also needed to solve the problem of street children.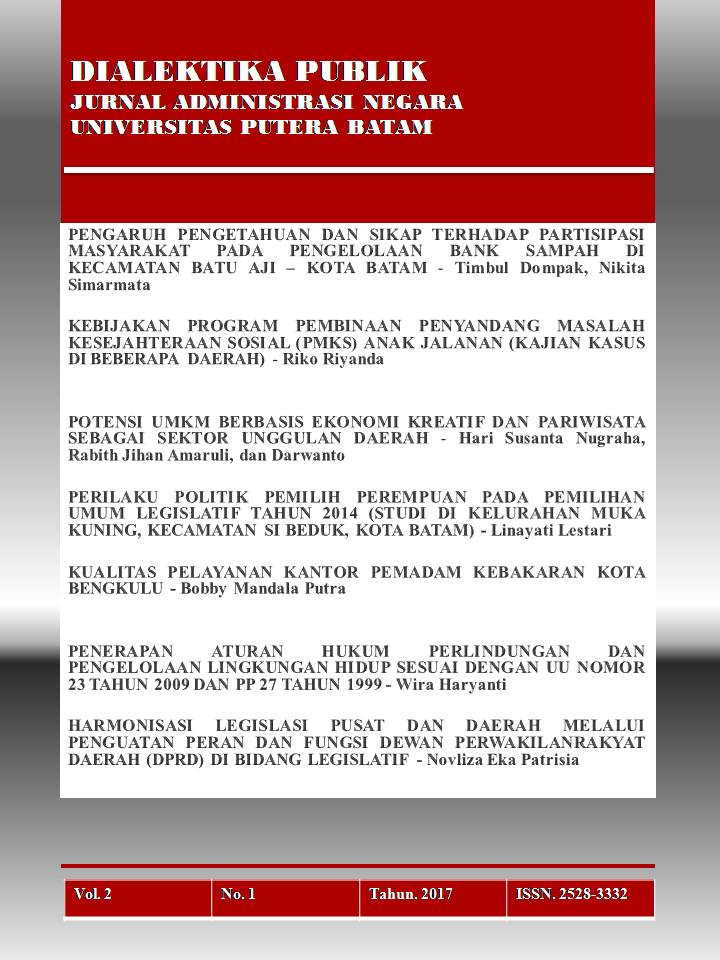 How to Cite
PUBLIK, Dialektika. KEBIJAKAN PROGRAM PEMBINAAN PENYANDANG MASALAH KESEJAHTERAAN SOSIAL (PMKS) ANAK JALANAN (KAJIAN KASUS DI BEBERAPA DAERAH).
Dialektika Publik : Jurnal Administrasi Negara Universitas Putera Batam
, [S.l.], v. 2, n. 1, p. 16-29, dec. 2017. ISSN 2621-2218. Available at: <
http://ejournal.upbatam.ac.id/index.php/dialektikapublik/article/view/224
>. Date accessed: 21 jan. 2020.