REPRESENTATION OF BANGKA BELITUNG'S WOMEN ON NOVELS WRITTEN BY BANGKA BELITUNG'S FEMALE AUTHORS: FEMINISIM STUDIES
Keywords:
Bangka Belitung, Female Authors, Feminism, Gender, Literacy
Abstract
The goal of this study was to break down gender issues and stereotypes towards women constructed in Bangka Belitung society from the perspective of female authors. In analyzing the data, researchers carried out a qualitative descriptive method with feminist theory. The researchers also conducted critical discourse analysis on writings that have been published by Bangka Belitung's female authors. The results showed that there were still gender inequality and inferiority of women in society. The identity crisis faced by women when they are not married since marriage is seen as an ideal as well as a complement to their life as real women in society. On the other hand, the picture of how women had no rights over themselves was demonstrated in a situation when matchmaking and marriage were performed one-sidedly and suddenly, women did not have enough power to question these, even refused them. Besides, how strong a patriarchal system and culture was shaped by women, their closest people and the community was proven in the novels of the Bangka Belitung's female authors.
References
Adi, I. R. (2011). Fiksi popular teori dan metode kajiannya. Yogyakarta: Pustaka Pelajar.
Barker, C. (2005). Cultural studies: Theory and practice. Australia: Sage Publications.
Beauvoir, S. De. (1956). The second sex. London: Lowe and Brydone (Printers) Ltd.
Budiati, A. C. (2010). Aktualisasi diri perempuan dalam sistem budaya jawa (Persepsi perempuan terhadap nilai-nilai budaya jawa dalam mengaktualisasikan diri). Jurnal Pamator, 3(1), 51-59.
Faruk. (2012). Metode penelitian sastra. Yogyakarta: Pustaka Pelajar.
Fi Bi, A. (2017). Kutemukan kamu di peradaban waktu. CV Syifah Group.
Nurgiyantoro, B. (1995). Teori pengkajian fiksi. Yogyakarta: Universitas Gadjah Mada.
Ratna, N. K. (2011). Teori, metode, dan teknik penelitian sastra dari strukturalisme hingga postrukturalisme perspektif wacana naratif. Yogyakarta: Pustaka Pelajar.
Ruthven, K. K. (1984). Feminist literary study: An introduction. Cambridge University Press.
Shine, L. (2017). Terpaksa menikah. Penerbit Hanami.
Shine, L. (2019). Mengejar jodoh. Penerbit Hanami.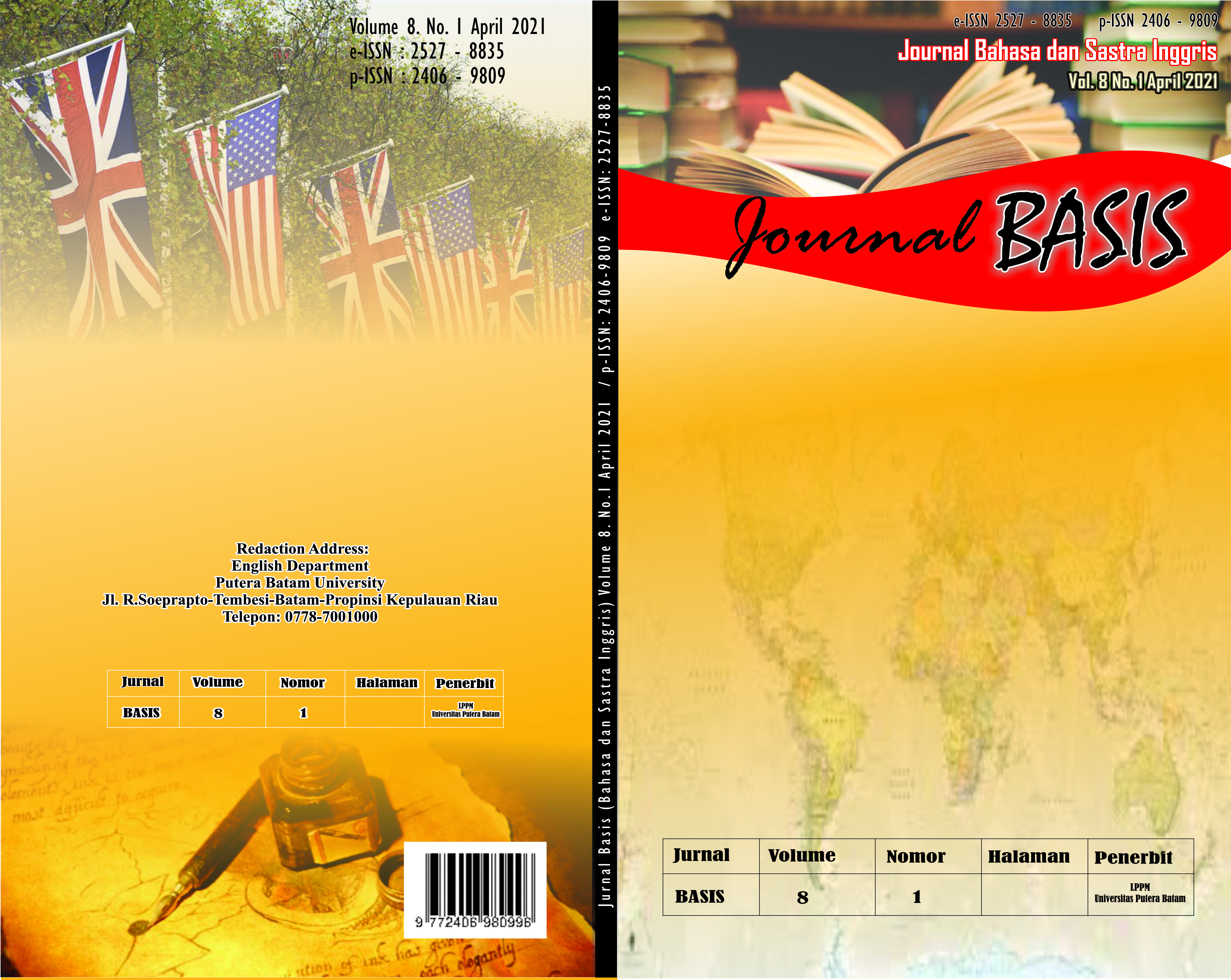 Downloads
Section
VOLUME 8 NO 1 APRIL 2021
License