CODE SWITCHING USED BY PUBLIC FIGURES IN DEDDY CORBUZIER'S PODCAST: SOCIOLINGUISTICS APPROACH
Keywords:
Bilingual, Code-Switching, Podcast, Sociolinguistics
Abstract
Sociolinguistics is a joint scientific discipline between sociology and linguistics which means the relationship between society and language. In this case, sociolinguistics is the relationship and mutual influence between language behavior and social behavior. A language is an object of study of the social structures in society as means of communication and group identity. The ability of each human being in the language is different. Some people use two languages in their daily life which is called bilingual. most people like to switch languages with their interlocutors as needed. In sociolinguistics, there is code-switching which is related to bilingualism. Code-switching refers to a kind of code to switch between two languages of the same language at the same time. Code-switching here is a necessary ability to build in an ever-evolving multicultural environment. From social media, people can learn many languages ​​and explore various languages ​​used by others. Almost everyone uses social media. One famous artist who has a YouTube channel with many subscribers is Deddy Corbuzier. In Deddy Corbuzier's podcast, Deddy Corbuzier tends to switch Indonesian English with the other public figures. Therefore, this research aims to describe the types of code-switching using in Deddy Corbuzier podcast. There are three types such as tag switching, intersentential switching, and intrasentential switching. The data was analyzed by using Stockwell (2002) theory. The researchers used descriptive qualitative research methods to research by using (Sudaryanto, 2015). The results of this research, researchers found 3 data for tag switching, 1 data for intersentential switching, and 5 data for intrasentential switching.
References
Adi, W. T. (2018). Code Switching in Critical Eleven Novel. Metathesis: Journal of English Language, Literature, and Teaching, 2(1), 39. https://doi.org/10.31002/metathesis.v2i1.514
Ameliza, T. C., & Ambalegin, A. (2020). Code Switching Analysis in English Literature Whatsapp Group. Jurnal Basis, 7(1), 141. https://doi.org/10.33884/basisupb.v7i1.1837
Corbuzier, D. (2019a). Agnez mo menjawab indonesia- exclusive! klarifikasi. Retrieved from 2019 website: https://www.youtube.com/watch?v=1o4hOpH54Kk&t=1496s
Corbuzier, D. (2019b). Reza arap, gue ga punya agama, ga punya bapak! Retrieved from 2019 website: https://www.youtube.com/watch?v=B4lU4SVqGjc&t=598s
Corbuzier, D. (2020). Chef juna - g4y? jahanam? silakan‼️. Retrieved from 2020 website: https://www.youtube.com/watch?v=BGuFbCnd-Xc&t=38s
Hoffman, C. (1991). An introduction to bilingualism (1st ed.). London: Longman.
Hymes, D. (1972). Models for the interaction of language and social life BT - Directions in sociolinguistics: The ethnography of communications. In Directions in sociolinguistics: The ethnography of communications (pp. 35–71). Retrieved from papers2://publication/uuid/A1E39564-C9D1-482B-90D0-305DBC0B7763
Kamariah, Ambalegin. (2019). An Analysis Of Using Code Switching In Instagram. Jurnal Basis, [S.L.], V. 6, N. 2, P. 259-266, Oct. 2019. Issn 2527-8835. Available At: <http://ejournal.upbatam.ac.id/index.php/basis/article/view/1431>
Marlina, L. (2017). Bilingualism and bilingual experiences: a case of two southeast asian female students at deakin university. Lingua Didaktika: Jurnal Bahasa Dan Pembelajaran Bahasa, 10(2), 182. https://doi.org/10.24036/ld.v10i2.7429
Stockwell, P. (2007). Sociolinguistics: a resource Book for Students (2nd ed.). Newyork: Routledge.
Sudaryanto. (2015). Metode dan aneka teknik analisis bahasa.Pengantarpenelitianwahanakebudayaan secara linguistik. In Journal of Chemical Information and Modeling.
Wardhaugh, R. (2006). An introduction to sociolinguistics (5th ed.). Oxford: Blackwell.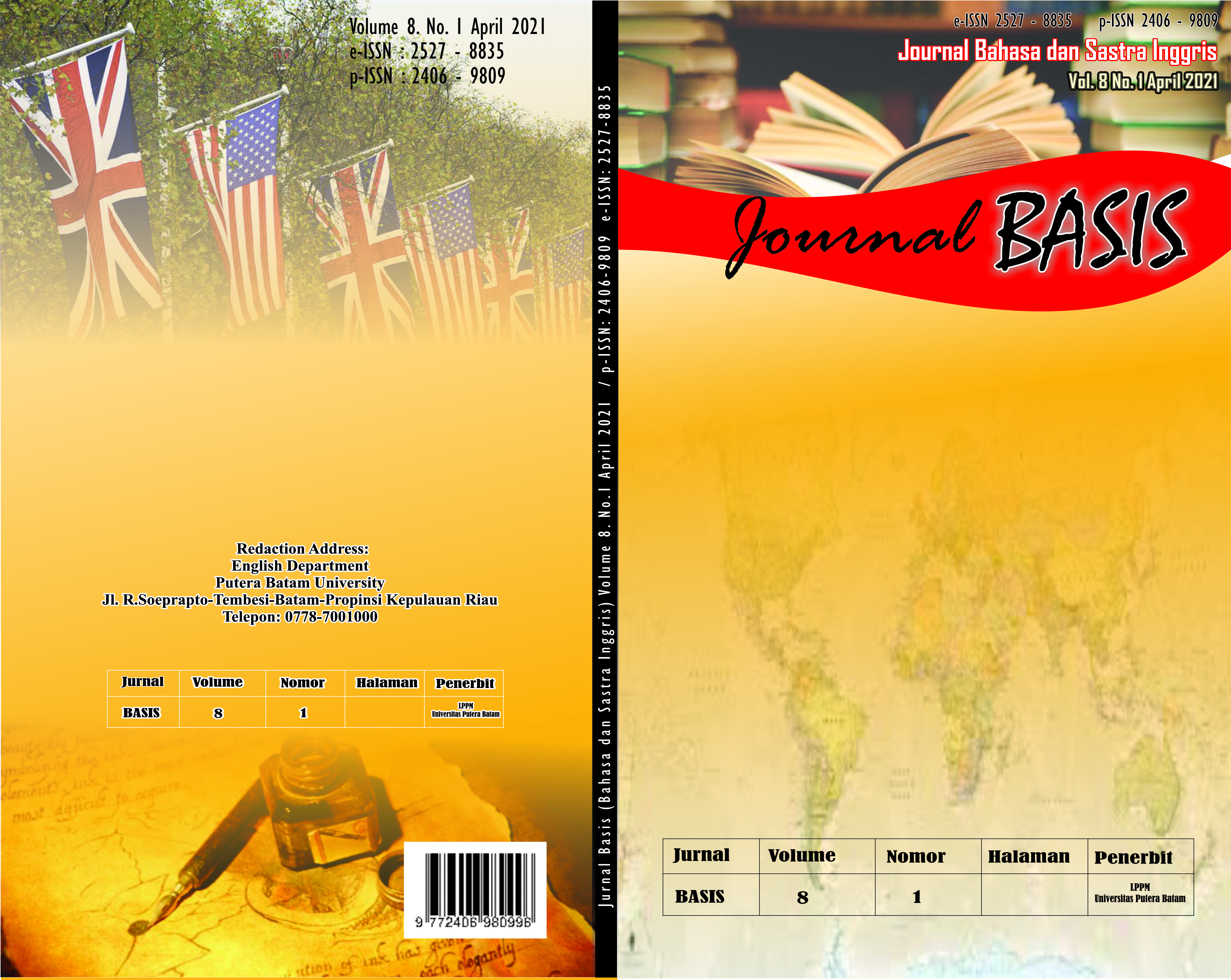 Downloads
Section
VOLUME 8 NO 1 APRIL 2021
License