GRAMMAR-NAZI ANALYSIS IN ENGLISH LEARNING PROCESS AMONG MILLENIALS IN INDONESIA
Keywords:
grammar, grammar-nazi, learning, English, millenial
Abstract
Social media, which was originally used to communicate with other people via online, has begun to be used to exchange knowledge so that it makes it easy for many people to learn more flexibly and without boundaries. Indonesian people are more motivated to learn and practice English through social media, considering that the ability to speak English is a special value when applying to job. However, the main function of social media itself, namely the freedom of expression and opinion, is also an inhibiting factor in learning English. Lots of social media users seem to be less wise in their opinions, especially on grammar issues and do not hesitate to criticize grammatical errors in English posts. The term grammar-nazi is usually attached to these people who tend to correct the grammar. This is the main focus of researchers to conduct grammar-nazi analysis in the process of learning English among millennials in Indonesia which is carried out online. Our research process includes data collection through observation, open coding techniques, axial coding, selective coding, synthesis of results, drawing conclusions, and providing suggestions. Some opinions such as Lauren & Connie (2005) and Mohd Amin et al.  (2016) in their research provides an overview of the responses of users who showed a positive  with this phenomenon. Meanwhile, research by James E. Carroll (2016) and Sherman & Jaroslav (2014) shows a negative response disagreeing with this phenomenon. The results of this study are expected to be able to provide a sufficient account on grammar-nazi phenomenon in the process of learning English among millennials in Indonesia.
References
Amin, Noraziah Mohd et al. (2016). 'The Practice of "Grammar Naziness" on Facebookin Relation to Generating Grammar Learning: A Motivation or Demotivation in Updating Statuses in English on Facebook' PASAA, Vol. 52, hh. 84.

Baladjay, Mary Anne Mae et al. (2014). 'The Thoughts Of Ab English Freshman Students that They Are Perceived As A Grammar Nazi; Its impact On Their Confidence And Benefits'. Philipines.

Bohm, A. (2004). Theoretical coding: text analysis in grounded theory in U. Flick, E. Kardorff & I. Steinke (Eds.), A Companion to Qualitative Research. London: SAGE Publications, pp. 270-275.

Boland, Queen R & JE. (2016). Influences reactions to written errors in email messages. Discover Magazine. https://www.discovermagazine.com/mind/responses-to-typos-and-personality-grammar-nazis-confirmed.

Caroll, James Edward. (2016). Grammar Nazis. Does the grammatical 'release the conceptual'?, Scholarly Journal. London.

Holloway, I. (1997). Basic concepts for qualitative research. Oxford: Blackwell Science Ltd.

Learn English or Starve, (2015). Grammar-Nazi-Origin. Diambil kembali dari https://learnenglishorstarve.wordpress.com/2015/05/10/grammar-nazi-origin/ https://english.stackexchange.com/questions/80162/what-is-the-origin-of-the-name-rammar-nazi

Musthafa, Bachrudin. (2002). Teaching English in Indonesia Status,Issues, and Challenges, ESL Magazine.

Saladana, J. (2012). The coding manual for qualitative researchers, Sage, ISBN 1446247376. London: SAGE Publications.

Sherman, Jaroslav Svelch. (2017). "I see your garbage": Participatory practices and literacy privilege on "Grammar Nazi" Facebook pages in different sociolinguistic contexts, Research Gate, 23 September 2020. https://www.researchgate.net/publication/318885359_I_see_your_garbage_Participatory_practices_and_literacy_privilege_on_Grammar_Nazi_Facebook_pages_in_different_sociolinguistic_contexts.

Sinclair, Short, Bruce, Graham G. (2014). 'It's Not What You Say, It's How You Say It: Language Use on Facebook Impacts Employability But Not Attractiveness', PubMed.

Strauss, A. & Corbin, J, (1990), Basics of qualitative research: grounded theory procedures and techniques, California: Sage Publications.

Suprayitno, (2019), 'The Role of Arsiparis as "Grammar Nazi" in Promoting the Love of Bahasa Indonesia', Prosiding, Universitas Airlangga, Surabaya.

Queen, R, Boland, J. E. (2016). Journal Plos, journals.plos.org/plosone/article?id=10.1371/journal.pone.0149885.

Varnhagen, Lauren Figueredo, (2005), Didn't You Run the Spell Checker? Effects of Type of Spelling Error and Use of a Spell Checker on Perceptions of the Author. Reading Psychology.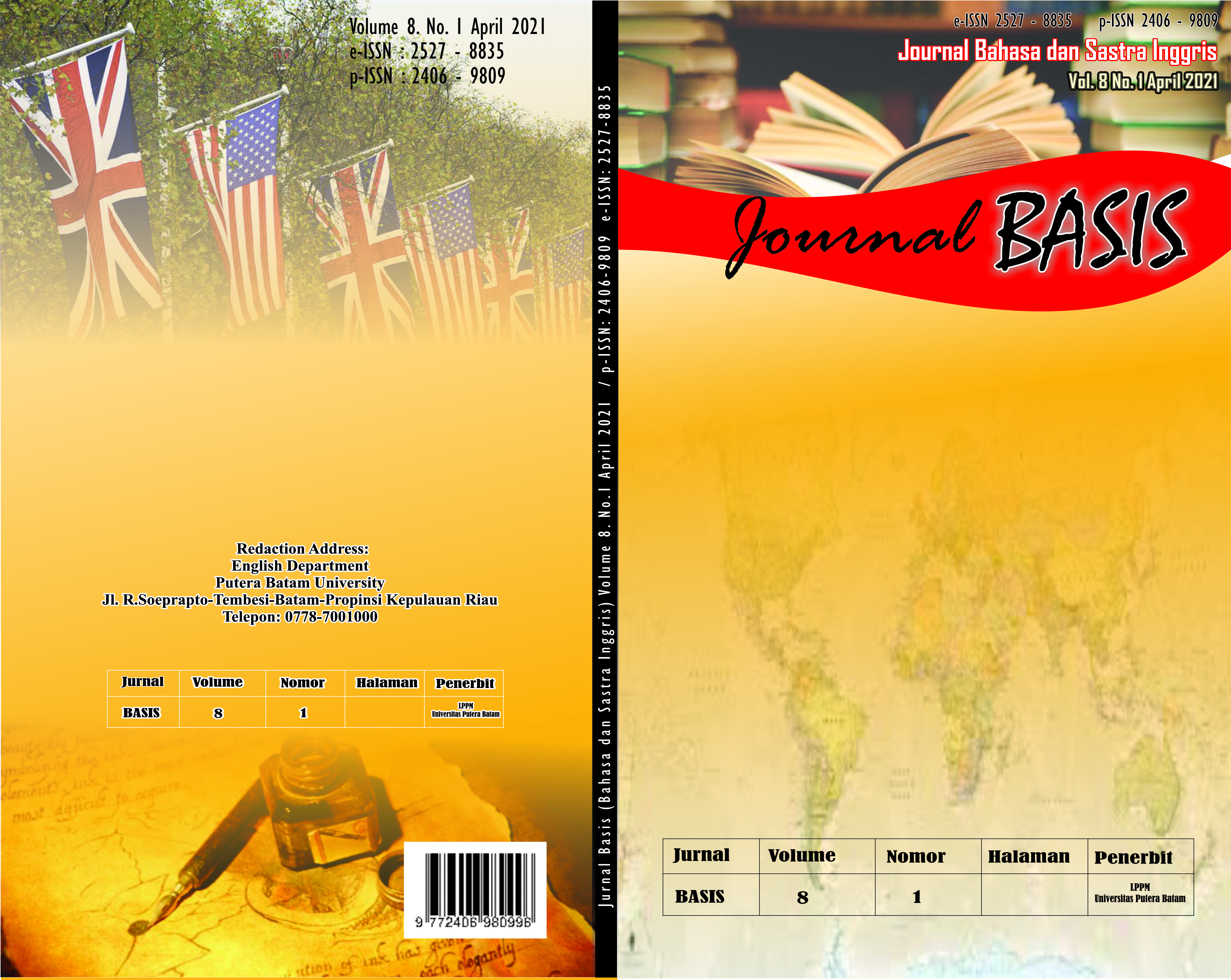 Downloads
Section
VOLUME 8 NO 1 APRIL 2021
License