THE IMPACT OF GRAMMATICAL COMPETENCE WITH DISCOURSE IN SPEAKING PROFICIENCY
DISCOURSE IN SPEAKING PROFICIENCY Frangky Silitonga, frangkyka@gmail.com
Keywords:
Grammar Orientation, Discourse, Speaking Proficiency, Impact
Abstract
ABSTRACT
Language is a mean of communication used in daily activities. There are aspects needed to be concerned in the use of language, especially foreign language. One of the most common foreig language used is English. In Indonesia, although, English is sound familiar by most of people, the ability of using English is still not maximal. In the use of English language, one of the most important aspects is grammar, for example grammar orientation—tenses, Simple past tense and simple present tense, these are two particular parts in grammar. Simple past tense indicates the past condition that has passed. Simple present tense is used to describe the habit or event happening now. The tendency of tenses use is usual in daily communication, for instance, everyone will interact through some ways, one of them verbal communication or speaking. There is a relationship between grammar and speaking proficiency. Simple past and simple present tense influence the speaking proficiency, thus by mastering those grammar aspects will make easier to understand communication each other. Therefore discourse has supporting power to make the second learners language easily to improve speaking skill. It thing become a basic need for some people who face the people using that foreign language, especially in the school or business process. In Batam, as an industrial region which next to the Singapore and Malaysia, a well speaking proficiency surely needed. Here, the writer conducts the research toward impact of grammatical orientation with discourse in speaking proficiency on students' primary school in Batam.
References
Azar, Betty Schramfer., Hagen, Stacy A. 2006. Basic English Grammar: Third
Edition. White Plains, NY: Pearson.
Azar, Betty Schramfer. 1999. Understanding and Using English Grammar: Third
Edition. White Plains, NY: Pearson.
Aziz, E. Aminudin.2001. Introduction to Linguistics. Jakarta: Pusat Penerbitan
Universitas Terbuka.
Chaer, Abdul. 2007. Linguistik Umum. Jakarta:Rineka Cipta.
Chamber's English Student Dictionary. 1997. Edin Burgh: British National Corpus.
Thorndike/Barnhart. 1979. Intermediate Dictionary. Illinois: Scott, Foresman and
Company.
Trudgill, Peter. 1995. Sociolinguistics: An introduction to language and society. London: Penguin Books.
Wardhaugh, Ronald. 1992. An introduction to sociolinguistics. Cambridge, MA: Blackwell.
Wolfram, Walt. 1991. Dialects and American English. Englewood Cliffs, NJ: Prentice Hall (to be reissued by Basil Blackwell in 1998 as American English: Dialects and variation).
Willis, Dave. 2009. Rules, Patterns and Words: Grammar and lexis in English
language Teaching. UK: Cambridge University Press.
Websites:
Tense3.http://ardictionary.com/Tense/1783.Online:06 May 2012; 09:50p.m.
What is Tense?. http://www.englishclub.com/grammar/verb-tenses_sys-what.htm.
Online:06 May 2012; 09:57p.m.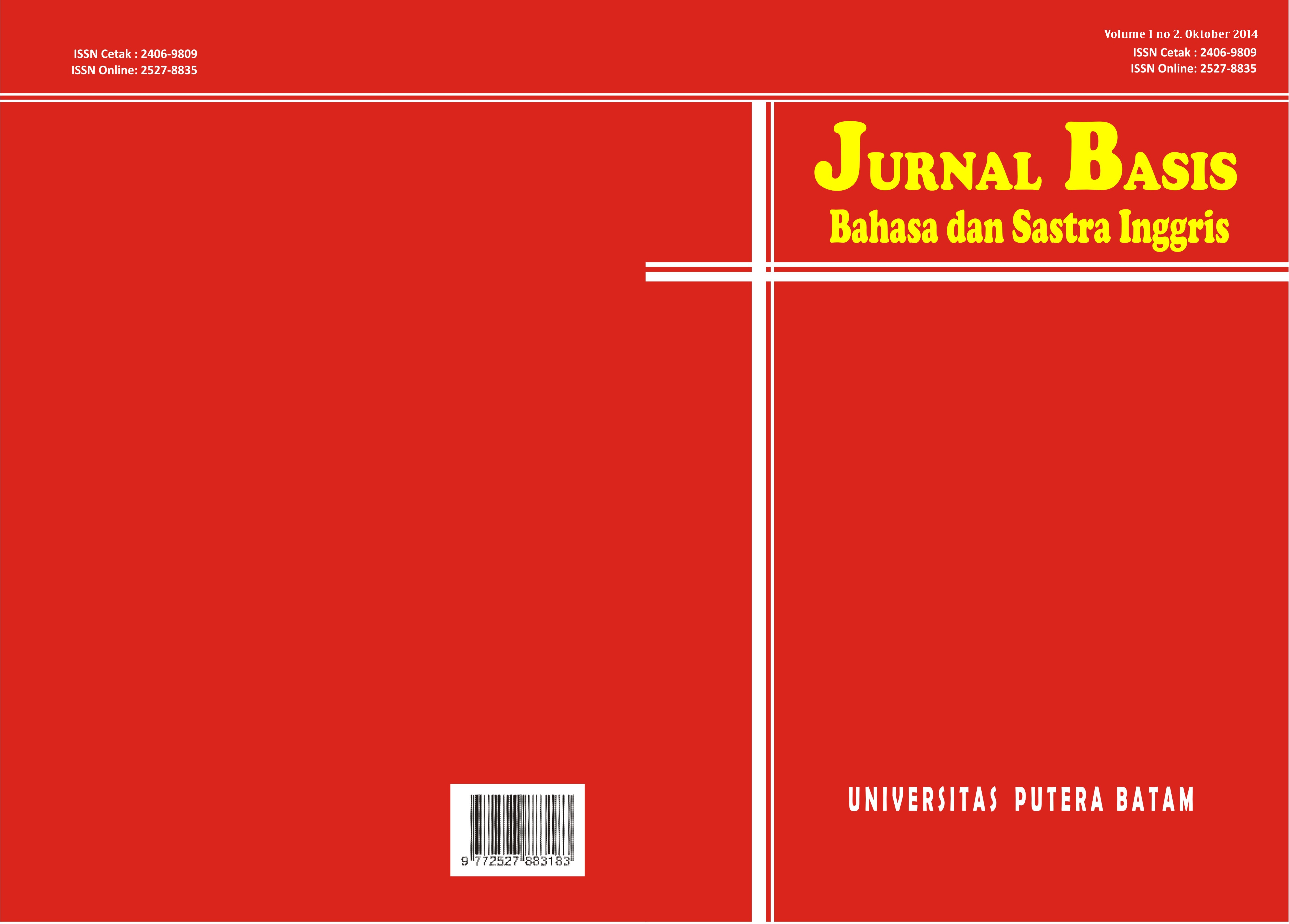 Section
BASIS VOLUME 1 NO 2 OKTOBER 2014
License