ANALYSIS OF PROBLEMS FACED BY THE STUDENTS IN COMPREHENDING ENGLISH EXPOSITION TEXTS AT SMA PGRI OF TEMBILAHAN – RIAU
COMPREHENDING ENGLISH EXPOSITION TEXTS AT SMA PGRI OF TEMBILAHAN – RIAU Nurma Dhona Handayani, nurmandhona@gmail.com, Universitas Putera Batam
Keywords:
Students' problems, reading comprehension, exposition texts
Abstract
Artikel ini ditulis untuk mendeskripsikan kemampuan siswa dalam memahami bacaan berbentuk teks eksposisi, dan menjabarkan masalah-masalah yang dihadapi oleh para siswa dalam memahami teks exposisi berbahasa Inggris. Subjek dalam penelitian ini adalah siswa kelas XII di SMA PGRI Tembilahan, tahun ajaran 2011-2012. Untuk memperoleh data, alat pengumpul data yang digunakan berupa tes memahami bacaan dan wawancara terhadap siswa beserta guru. Hasil yang diperoleh dari penelitian ini memperlihatkan bahwa kemampuan siswa dalam memahami bacaan atau teks eksposisi berbahasa Inggris sangat rendah. Selain itu, hasil penelitian ini juga memperlihatkan bahwa siswa masih memiliki kendala dalam memahami bacaan yang dapat dijadikan sebagai evaluasi terhadap pencapaian hasil belajar siswa dalam mata pelajaran bahasa Inggris.
References
Arikunto, S. 2010. Dasar-dasar Evaluasi Pendidikan. Jakarta. Bumi Aksara.
Bustamam, E. 2009. "Students' Problems in Comprehending English Descriptive Texts at the Second Grade of SMA I Padang". Unpublished Thesis. Padang: Pascasarjana UNP.
Duke, N. K. 2003. Comprehension Difficulties. Michigan State University. Center for the Improvement Early Reading Achievement (CIERA). Retrieved on July 25, 2012 from http://www.ciera.org/library/presos/2003/2003csi/nduke/03nduke.pdf
Fitzgerald, K. R and J. M. Smith. 1991. The Student Writing. New York: Harper Collins Publishers Co.
Gay, L. RI and P. Airisian. 2009. Educational Research: Competences for Analysis and Application, (9th Ed). New Jersey: Pearson.
Gerot, L. and P. Wignell. 1995. Making sense of Functional Grammar. Sydney: Antipodean Educational Enterprise.
Grabe, W. 1991. "Current Developments in Second Language Reading Research". TESOL, Vol. 25, No. 3. Retrieved on January 20 2011 from http://203.72.145.166/TESOL/TQD/VOL_25_3.pdf
Grellet, F. 1990. Developing Reading Skill: A Practical Guide to Reading Comprehension. New York: Cambrige University Press.
Harmer, J. 2004. How to Teach English: An Introduction to the Practice of English Language Teaching. Penang: Longman.
Hardy, J. and D, Klarwein. 1990. Written Genres in the secondary school. Queensland: Cains Educaional Center.
Hyland, K. 2004. Genre and Second Language Writing. Michigan: The University of Michigan Press.
Klingner, J. K, S. Vaughn, and A. Boardman. 2007. Teaching Reading Comprehension to Students with Learning Difficulties. New York: Guilford Press.
Kurniaman, O. 2008. "Peningkatan Kemampuan Memahami Dongeng Melalui Strategi Direct Reading Thinking Activity (DRTA) di Kelas V Sekolah Dasar. Pendidikan Bahasa Indonesia". Unpublished Thesis. Bandung: Universitas Pendidikan Indonesia.
Kustaryo, S. 1988. Reading Technique for College Students. Jakarta: DepDikBud-P2LPTK. Retrieved on February 2nd, 2011. From http://library.um.ac.id/Reading_Comprehension_Teaching.pdf
Nostrand, A. D. et al. 1997. Functional Writing. Washington, D.C: Houghton Muffin Company.
NSW Department of Education and Training. 2010. Comprehension involves responding to, interpreting, analyzing and evaluating texts. Retrieved on July 15, 2012 from
http://www.curriculumsupport.education.nsw.gov.au/literacy/assets/pdf.
Martin, J. R. 1986. "English Language Teaching and Research Article". ASIAN EFL Journal. Retrieved on Mei 14, 2012. From
http://www.Asian-EFL-Journal.com
Nunan, D. 2003. Practical English Language Teaching. Singapore: McGraw-Hill.
O'Malley, J. M, and L. V. Pierce. 1996. Authentic Assessment. Practical Approaches for Teachers. New York: Addison-Wesley.
Pardiyono. 2007. Pasti Bisa: Teaching Genre-Based Writing . Yogyakarta: ANDI Offset.
Purwati, M and M. Yuliani. 2005. English for Better Life. English for Science and Social Study Students. Bandung: Pakar Karya.
Richard & Renandya. 2005. Methodology in Language Teaching. London: Cambridge University.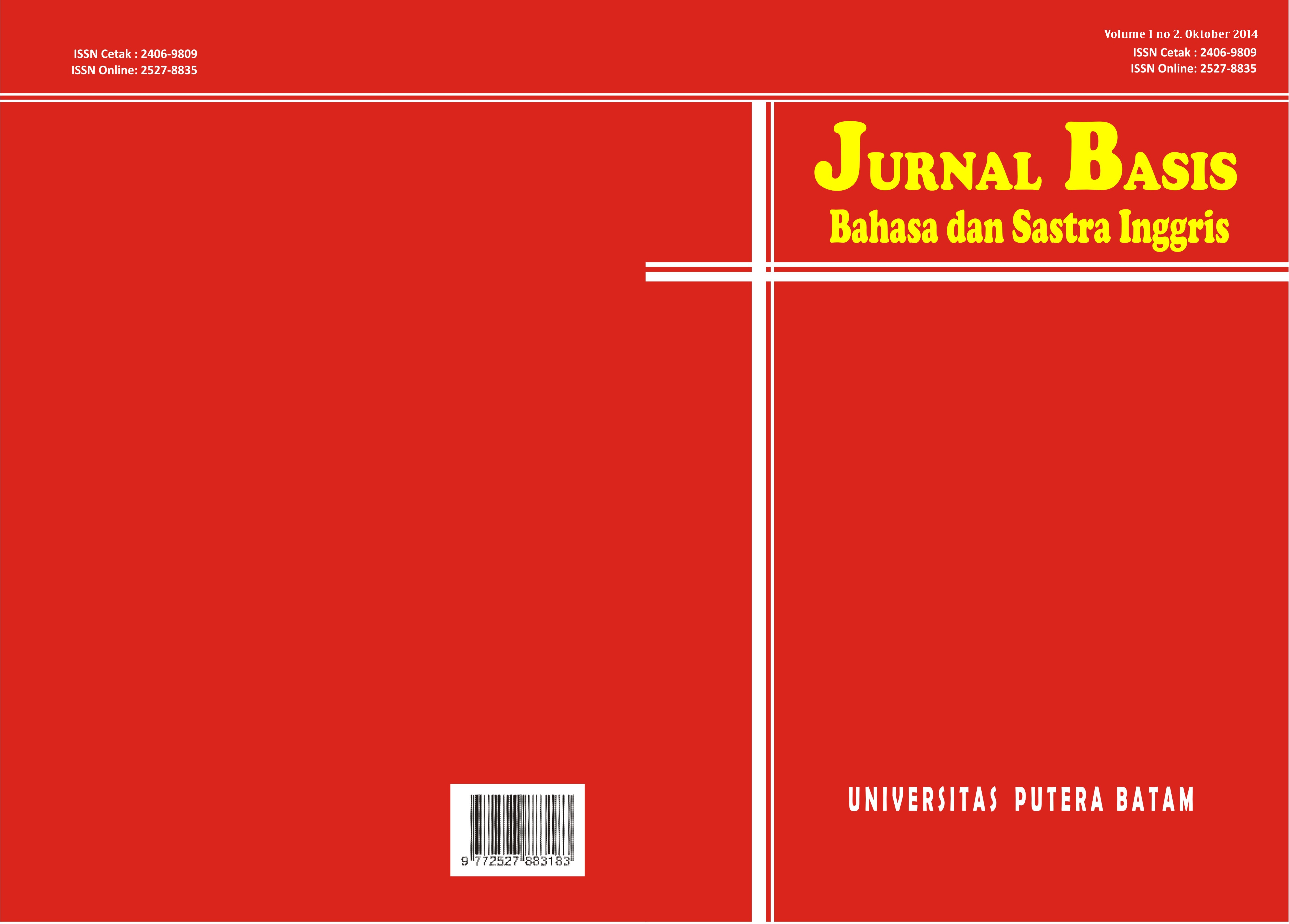 Downloads
Section
BASIS VOLUME 1 NO 2 OKTOBER 2014
License