THE EFFECTIVENESS OF THIEVES STRATEGY TOWARDS STUDENTS' READING COMPREHENSION AT THE ELEVENTH GRADE OF SMAN 19 TEBO
Keywords:
THIEVES Strategy, Reading Comprehension, Report text.
Abstract
This research explore the Effectiveness of "thieves" Strategy Towards Students' Reading Comprehension at the Eleventh Grade of SMAN 19 Tebo. The problems of this research are students lack of vocabulary, students did not have good motivation in reading text and the students have difficulty in comprehending texts. The purpose of the research is to know the effectiveness of THIEVES strategy towards students' reading comprehension at the eleventh grade of SMAN 19 Tebo. This research focus on the quantitative research. The population in this study all 11 grades at SMAN 19 Tebo. In this study, the total population is 29, consist of class 11 IPS and 11 MIPA. Then, the sample in this study 11 IPS and II MIPA. Based on practical teaching English at SMAN 19 Tebo, the researcher find some problems in the class. Therefore the researcher applies strategy in reading, with this strategy students learn the THIEVES strategy before students read the text. The research findings indicate that the use of THIEVES strategy was able to improve the students' reading comprehension. The conclusions of this research is supported by the post-test results of students' reading comprehension at the eleventh grade students of SMAN 19 Tebo. The mean post-test experimental class is 78.75 and in the control class is 71.69. The differerence score between experimental class and control class was 7.06. The researcher find a positive impact on the experimental class. It means that students' reading comprehension in experimental class was significantly improve and there is significantly different effect between experimental class and control class which teach by using THIEVES and without THIEVES. It indicates that the null hypothesis (H0) is rejected and the alternative hypothesis (Ha) is accepted. It presents that the THIEVES strategy give a significant effect on students' reading comprehension of report text.
References
Afriana, afriana. Analysis of Students' Reading Strategies At Riau Kepulauan University. Jurnal Basis, [s.l.], v. 2, n. 1, p. 9-24, apr. 2015. issn 2527-8835. http://ejournal.upbatam.ac.id/index.php/basis/article/view/2756
Al-Faki, & Siddiek, (2013). The Role of Background Knowledge in Teahcing Reading Comprehension. World Journal of English Language, 3(4). https://doi.org/10.5430/wjel.v3n4p42
Collingwood, (2015). Understanding and teaching reading comprehension. A handbook.
In Educational Psychology in Practice (Vol. 31, Issue 3). https://doi.org/10.1080/02667363.2015.1052233
Della, (2019). Let : Linguistics , Literature And English Teaching Journal The Effectiveness Of " Thieves " Teaching Strategy In Teaching Reading Comprehension At The Second Grade Of Ma Nipi Rakha In The Academic Year Of 2018 / 2019. 9(2), 265–275.
Khataee, (2019). The Effect of THIEVES Strategy on EFL Learners' Reading Comprehension. International Journal of Instruction.
Khataee, (2019). The effect of THIEVES strategy on EFL learners' reading comprehension. International Journal of Instruction, 12(2), 667–682. https://doi.org/10.29333/iji.2019.12242a
Koonce, (2018). Encyclopedia of Clinical Neuropsychology. Encyclopedia of Clinical Neuropsychology, 2002, 56782. https://doi.org/10.1007/978-3-319-56782-2
Manz, (2002). A strategy for previewing textbooks: Teaching readers to become THIEVES. Reading Teacher, 55(5), 434–435.
Nanda, (2019). Improving Students' Reading Comprehension In Descriptive Text Through Thieves (Title, Heading, Introduction, Every First Sentence, Visual/Vocabulary, End Of The Text, And Summary) Strategy At Vii Grade Students Mts Negeri 2 Labuhanbatu Utara Skripsi (Vol. 87, Issue 1,2). UIN Sumatera Utara.
Novia, (2013). Teaching Reading Narrative Text By Using. 21–29.
Pamuji, (2015). The Correlation Among Attitude, Reading Comprehension, And Writing Achievement Of English Education Study Program Students Of Sriwijaya University. Jurnal Adminika, 1(1), 17–28.
Riadil, I. G., & Romadhon, F. (2020). The Digital Native Students' Preference In Using Newsela As The Media Of Digital Literacy To Enrich Students Vocabulary. IdeBahasa, 2(1), 39-48.
Shahzad, (2019). The Effectiviness Of Thieves Strategy Towards Students Motivation In Reading Comprehension. E-Jurnal Manajemen Universitas Udayana, 4(3), 1– 21.
Sidiq, (2018). The Use of Thieves Strategy to Increase Students Reading Tarbiyah and Teacher Training Faculty English Education Department State Islamic Institute of Metro 1439 H / 2018 An Undergraduate Thesis. State Islamic Institute Of Metro.
Soemantri, (2011). Reading Comprehension Problems Encounted By the Students of Higher Education. Jurnal Computech & Bisnis, 5(2), 74–80. http://jurnal.stmikmi.ac.id/index.php/jcb/article/view/69.
Sugiyono. (2017). Metode Penelitian Kuantitaif, Kualitatif, dan RND. Alfabeta, cv.
Udin, (2018). Reading Comprehension: A Study on the Correlation between Grammar and Logic. Langua-Journal of Linguistics, Literature, and Language Education, 1(1), 62–72. https://doi.org/https://doi.org/10.5281/zenodo.1415299
Zwiers, (2018). Building Reading Comprehension Habits In Grades 6-12. In Journal of Materials Processing Technology (Vol. 1, Issue 1).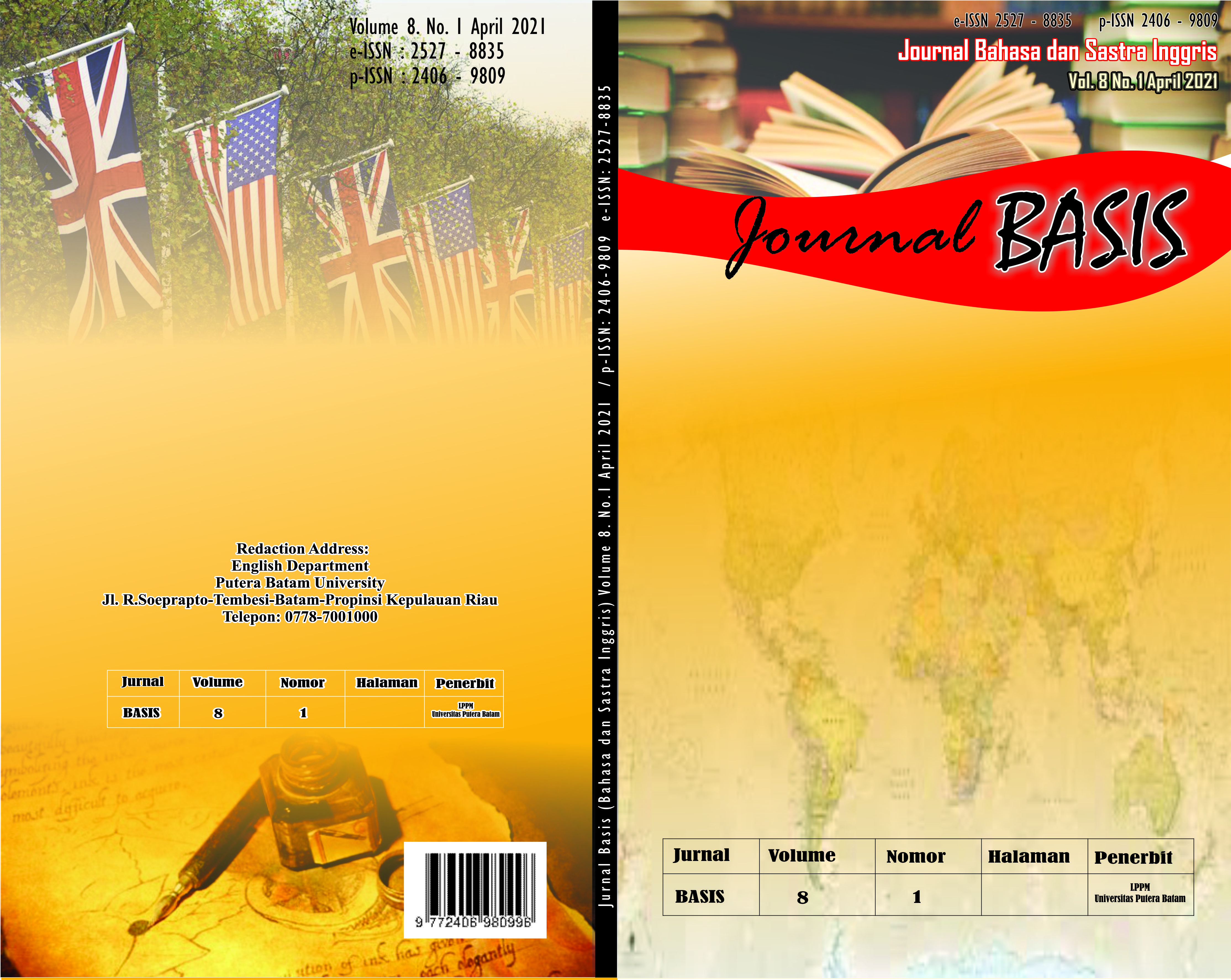 Downloads
Section
BASIS VOLUME 8 NO 2 OCTOBER 2021
License