PLATFORMS, PROBLEMS AND SOLUTIONS OF ONLINE ENGLISH LANGUAGE TEACHING AT VOCATIONAL HIGH SCHOOL
Keywords:
Online English Language Teaching, Vocational High School, Platforms Used, Problems, Solutions
Abstract
The study aimed to discover and to describe online learning platforms used, the problems faced and the solutions that offered by the English teacher in Vocational High School. The descriptive qualitative research was used as the research design in order to describe in detail the issues which had been discovered. The researcher selected 7 English teachers from each state vocational high school of Bengkulu city as the representative sample for this research. The instrument of this research was the interview guideline and data were collected by using the interview. After collecting the data, the researcher analyzed the data by using descriptive analysis. The result Google classroom and WhatsApp were effective platforms to have online English language teaching in the pandemic era, especially, for the students at the vocational high school. The problems of using the platforms were the internet connection, lack of students' motivation, lack of students' understanding, and inefficient teaching time. While the problems of teaching language skills through the use of platforms were miss understanding and lack motivation, in adequate time, lack of interaction, and overload the use of data plan. The solution that the teacher used for solving the use of platform were providing the extended time and offline module or having face to face class. However for solving the problems of teaching language skills, the teachers did Whatsapp discussion, peer feedback and having question and answer session in Whatsapp, decreasing listening activity and providing additional time for writing.
References
Adara, R. A., & Najmudin, O. (2020). Analysis on the Differences in EFL Learners' Demotivating Factors After Covid 19 Pandemic. Ta'dib, 23(2), 225. https://doi.org/10.31958/jt.v23i2.2373
Al-seghayer, K. (2017). The Central Characteristics of Successful ESL / EFL Teachers. Journal of Language Teaching and Research, 8(5), 881–890. https://doi.org/http://dx.doi.org/10.17507/jltr.0805.06
Atmojo, A. E. P., & Nugroho, A. (2020). EFL Classes Must Go Online! Teaching Activities and Challenges during COVID-19 Pandemic in Indonesia. Register Journal, 13(1), 49–76. https://doi.org/10.18326/rgt.v13i1.49-76
Çelik, S., Stavicka, A., & Odina, I. (2018). Are We Really Teaching English for Specific Purposes , or Basic English Skills ? The Cases of Turkey and Latvia. Springer International Publishing Switzerland, 243–264.
Cheung, A. (2021). Language Teaching during a Pandemic: A Case Study of Zoom Use by a Secondary ESL Teacher in Hong Kong. RELC Journal. https://doi.org/10.1177/0033688220981784
Devi, P., Virgiana, B., & Auli, M. (2020). Instagram: How Do Students View on It in Speaking Classroom. Jurnal Basis, 7(2), 351. https://doi.org/10.33884/basisupb.v7i2.2435
Erarslan, A. (2020). Online Learning Experiences of University Students in ELT and the Effects of Online Learning on their Learning Practices Language and Technology, 2(April), 44–58.
Famulasih, S. (2020). Students ' Experiences in Using Online Learning Applications Due to COVID-19 in English Classroom. Studies in Learninng and Teaching, 1(2), 112–121. https://doi.org/https://doi.org/10.46627/silet INTRODUCTION
Gillett-Swan, J. (2017). The Challenges of Online Learning: Supporting and Engaging the Isolated Learner. Journal of Learning Design, 10(1), 20. https://doi.org/10.5204/jld.v9i3.293
Gunawan, Suranti, Y., & Fathoroni. (2020). Variations of Models and Learning Platform for Prosepective Teachers During the Covid -19 Pandemic Period. Indonesian Journal of Teacher Education, 1(2), 61–70.
Hamzah, A., Januarty, R., & Wira, A. (2020). Digital Content for Millennial Gemerations: Teaching the English Foreign Language Learner on Covid-19 Pandemic. Journal of Southwest Jiatong University, 55(3), 1–12. https://doi.org/DOI: https://doi.org/10.1017/S0266078416000407
Huriyah, S., & Contessa, E. (2020). Podcast With Peer Assisted Learning To Develop Efl Learners Listening Comprehension and Motivation. Jurnal Basis, 7(2), 363. https://doi.org/10.33884/basisupb.v7i2.2476
Karuppannan, S., & Mohammed, L. A. (2020). Predictive Factors Associated with Online Learning during Covid-19 Pandemic in Malaysia : A conceptual Framework. 4(4), 19–29.
Kaur, C., Singh, S., Abdullah, N. Y., Moneyam, S., Of, V., & Scaffolding, T. (2020). R, Rethinking English Language Teaching Through Telegram,Whatsapp,Google. September.
Lau, E., Yen, Y., & Mohamad, M. (2020). Utilising E-Learning to Assist Primary School ESL Pupils in Learning to Spell during COVID-19 Pandemic : A Literature Review. 1223–1230. https://doi.org/10.4236/ce.2020.118091
Mardiah, H. (2020). The Use of E-Learning to Teach English in the Time of the Covid-19 Pandemic. 1(2), 49–55.
Muhtia, Anggri, Suparno, S. (2018). Blended Learning Using Schoology as An Online Learning Platform. 2nd English Language and Literature International Conference ( ELLiC), 2, 171–175.
Niu, J. (2020). Exploration Into College English Teaching Practice During the Period of Pandemic Prevention and Control. 480(Mmet), 575–578.
Noah, O., & Gbemisola, O. (2020). Impact of Google Classroom as an Online Learning Delivery during COVID-19 Pandemic : The Case of a Secondary School in Nigeria. 33(9), 53–61. https://doi.org/10.9734/JESBS/2020/v33i930259
Nuraeni, C., & Nurmalia, L. (2020). Utilizing WhatsApp Application in English Language Learning Classroom. Metathesis: Journal of English Language, Literature, and Teaching, 4(1), 89. https://doi.org/10.31002/metathesis.v4i1.2289
Prastiyo, W., Djohar, A., & Purnawan, P. (2018). Development of Youtube integrated google classroom based e-learning media for the light-weight vehicle engineering vocational high school. Jurnal Pendidikan Vokasi, 8(1), 53. https://doi.org/10.21831/jpv.v8i1.17356
Riwayatiningsih, R., & Sulistyani, S. (2020). the Implementation of Synchronous and Asynchronous E- Language Learning in Efl Setting: a Case Study. Jurnal Basis, 7(2), 309. https://doi.org/10.33884/basisupb.v7i2.2484
Tamin, N. H., & Mohamad, M. (2020). Google Classroom for Teaching and Learning in Malaysia Primary School during Movement Control Order ( MCO ) due to Covid - 19 Pandemic : A Literature Review. 3(5), 34–37.
Ulker, U. (2019). Reading Activities in Blended Learning : Recommendations for University Language Preparatory Course Teachers. International Journal of Social Sciences & Educational Studies, 5(3), 83–94. https://doi.org/10.23918/ijsses.v5i3p83
Utomo, S., Kusmaryati, S. E., & Sulistyowati, T. (2019). The Challenges and Difficulties in Teaching Listening: An Exploratory Research in a Junior High School in Kudus. Language Circle: Journal of Language and Literature, 14(1), 27–38. https://doi.org/10.15294/lc.v14i1.19471
Wright, B. M. (2017). Blended Learning: Students Perception of Face to Face and Online EFL Lessons. International Journal of Applied Linguistics, 7(1), 64–71. https://doi.org/dx.doi.org/10.17509/ijal.v7i1.6859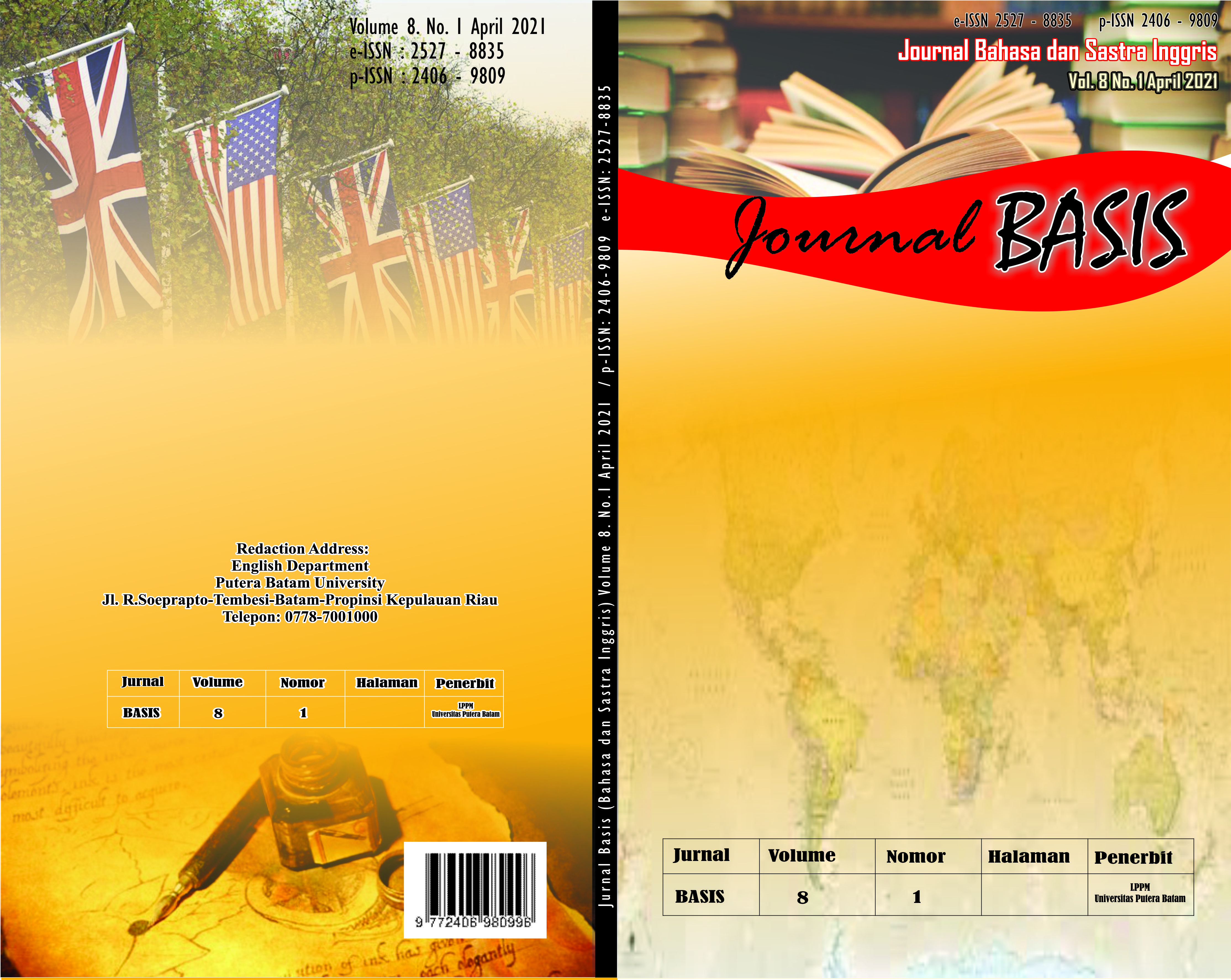 Section
BASIS VOLUME 8 NO 2 OCTOBER 2021
License