LANGUAGE CONTEXT NAMING SYSTEM BATAK TOBA CULTURE
Keywords:
naming system, culture, Batak Toba
Abstract
A name as part of a language used as a marker of a person's identity. The name will also show the culture of the owner of the name. For example, if you hear the names Johannes, Markus, Samsul, Pardomuan, Rumondang, Sujono and Paijo, it will at least give us an idea of the religion or ethnicity of the owners of these names. In this case, the author will try to uncover the naming system on the Batak Toba ethnic group. In Batak Toba culture itself the naming system is given to a person more than once according to the status of the individual. From birth to death, a person will get several names. The purpose of this study is to describe or describe the Batak Toba ethnic naming system. Data collection is done by capable methods, notes, and records.  The capable method of fishing technique is used to dig up data from informants. The data that has been obtained is recorded and simultaneously recorded. For this method of ability the author selected two informants who were 62 years old. The naming system in batak toba culture is (1) naming in the period before acquiring offspring; (2) Giving a name before being given the real name (prename), (3) Goar Sihadakdanahon (real name / since birth). In goar sihadakdanahon there are several examples of naming taken from the names of the week found in huria Christian Batak Protestant, especially for those who adhere to Christianity. The names are Trinitatis, Letare, Judika, Rogate, Advent, Exaudi, Sebtu Egatima, Seksagesima, Estomihi, Invokatif, Renimiscere, Okuli, Palmarum, Quatimodogenic, Nisericordiasdomini, Jubilate, Kantate, Ephipanias, and Pentekosta, (4) Panggoaran (name of the eldest child/grandson), (5) Goar-goar (nickname), (6) Marga (family name/relative) (7) Naming by Origin or place of birth.
References
Kamus Besar Bahasa Indonesia: Edisi Revisi. Jakarta: Depdikbud
Keraf, Goris. 1985. Diksi dan Gaya Bahasa. Jakarta: Gramedia
Kridalaksana, Harimurti. 1983. Kamus Lingustik. Jakarta: Gramedia
Sibarani, Robert. 2004. Antropolinguistik. Medan: Penerbit Poda
Siregar, dkk. (1998). Pemertahanan Bahasa dan Sikap Bahasa: Kasus Masyarakat Bilingual di Medan. Jakarta: Pusat Pembinaan dan Pengembangan Bahasa Departemen Pendidikan dan Kebudayaan
Simanjuntak, D. S. R. (2015). Penerapan Teori Antropolinguistik Modern (Competence, Performance, Indexicality, & Partisipation) Dalam Umpasa Budaya Batak Toba. Jurnal Basis, 2(2), 71–78. http://ejournal.upbatam.ac.id/index.php/basis/article/view/407/265
Simanjuntak, D. S. R., Widayati, D., & Sinar, T. S. (2020). The Understanding of Urug Gedang Village Community toward 'Kayu' Lexicon of Pakpakdairi Language. Icels 2019, 115–118. https://doi.org/10.5220/0008994601150118
Wijana, I.D.P. (2014). "Bahasa, Kekuasaan, dan Resistensinya: Studi Tentang Nama-Nama BadanUsaha di Daerah Istimewa Yogyakarta. Humaniora, 26(1), 56-64.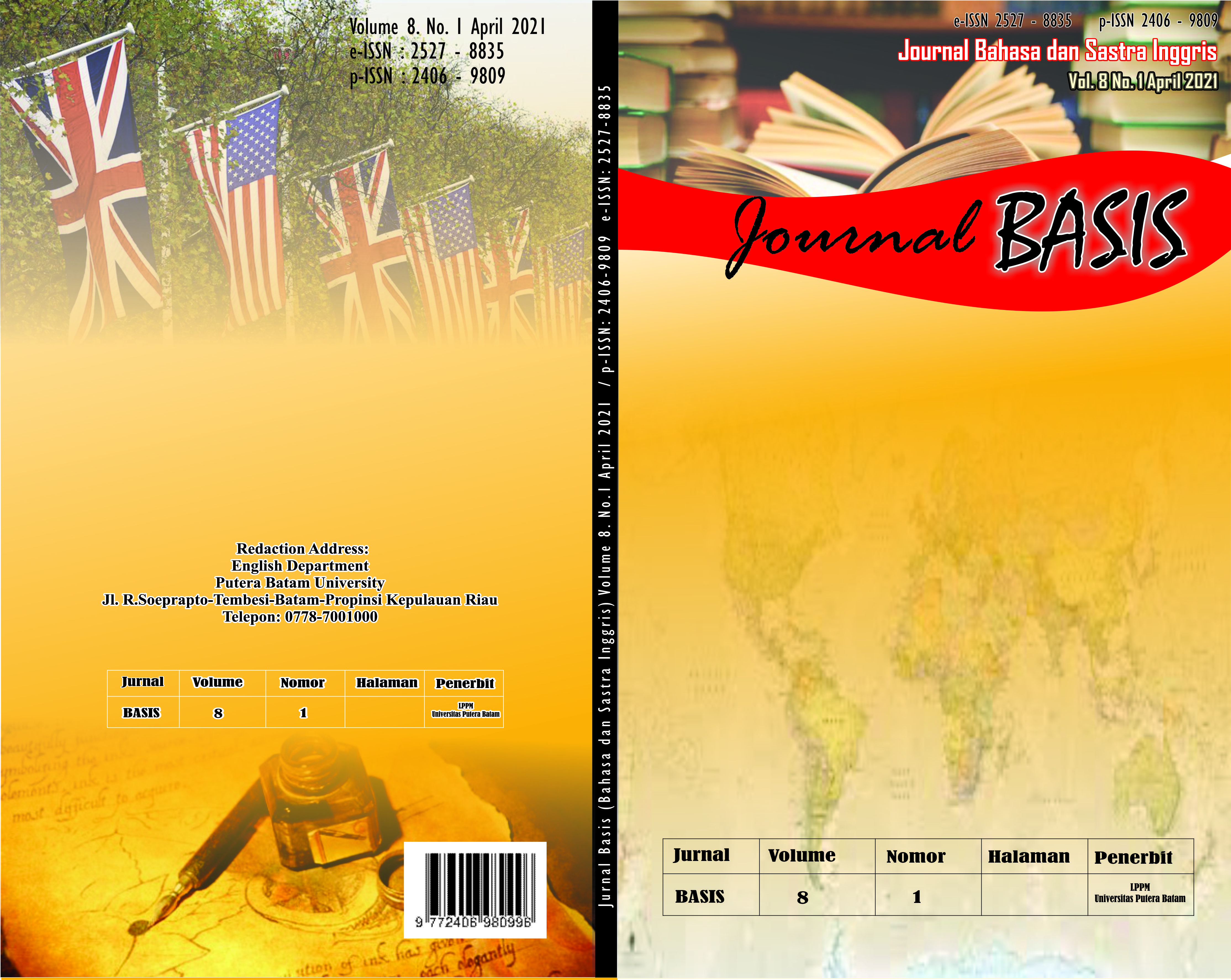 Downloads
Section
BASIS VOLUME 8 NO 2 OCTOBER 2021
License