RELIGIOSITY OF THE MALAY BATUBARA TROUGH ANTHROPOLOGICAL AND HISTORICAL APPROACH
Keywords:
Religiosity, Malay Batu Bara, Anthropological
Abstract
This research is talked about the Islamic Religious Discourse of Malay Batu Bara. In this case, the researchers took the historic sites in Batu Bara as a support in the Islamic religion of Malay Batu Bara. Background with many historic sites Batu Bara which is considered by some people to have high noble values and touched to religious part of the community and make researcher interested to explore this anthropology history approach which found the contribution about various aspects of human life, society and culture but also showed  the procedure, technique and process. That is systematically arranged in disciplinary research to develop knowledge and obtain the object study. To implement this research the writer uses the methodology with a qualitative approach which results in descriptive data and the object under study is the Islamic religious of Malay Batu Bara. In collecting data researchers use the power of primary and secondary data. In analyzing the data researchers use data reduction, data presentation, and concluding that do data verification. Then in the validity of the data the researcher uses the degree of trustworthiness, dependability, and certainty. In the scientific , researchers use anthropology  history. Researchers found many historic sites in Batu Bara which are very close. They are Kubah Datok Batu Bara, Sumur Istana Niat Lima Laras and Meriam Bogak. From the three historic sites, the researcher found a theoretical component from religion as said by C.Y.Glock and R. Stark that is the dimension of faith, dimension ritualistic, dimension experiential, dimension consequential, and dimension intellectual. Besides that researchers also found religious Malay Batu Bara community also influenced by beliefs in occult things such as witchcraft, rituals rejecting reinforcements, sea spells, and also related to beliefs in traditions or customs such as abstinence forbids, tapai party and balimau bathing.
References
Ahmad Zamroni. (2011). Konsep Pendidikan Islam Menurut H.A Mukti Ali. Al Falah, 11, 265–308.
Aminudin, A. (2016). Konsep Dasar Dakwah. Al-Munzir, 9, 29–46.
Bahasa, B., & Sumatera, P. (2015). Cerita Rakyat Batu Bara.
Faishal, M. (n.d.). Trust on Tradition / Customs of Batu Bara Community in the 19 th Century.
Hasbullah, H., Toyo, T., & Awang Pawi, A. A. (2017). Ritual Tolak Bala Pada Masyarakat Melayu (Kajian Pada Masyarakat Petalangan Kecamatan Pangkalan Kuras Kabupaten Pelalawan). Jurnal Ushuluddin, 25, 83.
Hidayaturrahman, M., & Kusumawati, I. R. (2021). Integrating Science and Religion at Malaysian and Indonesian Higher Education. Al-Ta Lim Journal, 28, 55–66.
Hyman, S. E. (1953). The Anthropological Approach. The Journal of American Folklore, 66, 237.
Iii, B. A. B., & Penelitian, A. M. (1995). Metodologi Penelitian. Kualitat1Y, Remaja Rosda Karya, Bandung, 1–12.
Irwansyah. (2017). Konservasi Bangunan Bersejarah " Studi Kasus : Istana Niat Lima Laras Batubara ." Jurnal Proporsi, 2, 131–142.
Khairuddin, & Azhari, I. (2017). Identitas Etnik Melayu Batubara. Jurnal Antropologi Sumatera, 15, 241–251.
Kobis, D. C. (2019). A Comparative Study : Genetic Structuralism On Jane Eyre And The Great Gatsby proposes that comparative literature engages a. Jurnal Basis, 6, 1–12. Link: https://ejournal.upbatam.ac.id/index.php/basis/article/view/1054
Prof.Dr Syahrin Harahap, M. . (2015). Islam dan Modernitas. Prenada Media Group.
Qorib, M. (2015). Islam and Local Wisdom of Malay Society in Maintaining the Harmony Between Religious and Cultural Plurality (a Case Study of Batubara's Malay Society). Proceeding Of The International Seminar and Conference on Global Issues, 1, 55–60.
Rapport, N. (2014). Social and cultural anthropology: The key concepts. In Social and Cultural Anthropology: The Key Concepts. https://doi.org/10.4324/9781315766560
Roza, E. (2014). Internalisasi Nilai Islam Dan Tamadun Melayu Terhadap Perilaku Sosial Orang Melayu Riau. TOLERANSI: Media Ilmiah Komunikasi Umat Beragama, 6, 16–35.
Stieglitz, S., Mirbabaie, M., Ross, B., & Neuberger, C. (2018). Social media analytics – Challenges in topic discovery, data collection, and data preparation. International Journal of Information Management, 39, 156–168.
Studi, P., Melayu, S., Budaya, F. I., & Utara, U. S. (2018). Tradisi Pesta Tapai Masyarakat Melayu Talawi Batu Bara : Kajian Folklor.
The embedment of islamic cultures: an analysis of islamic, cultural, and political practices in malaysia wan norshira binti wan mohd ghazali. (2016).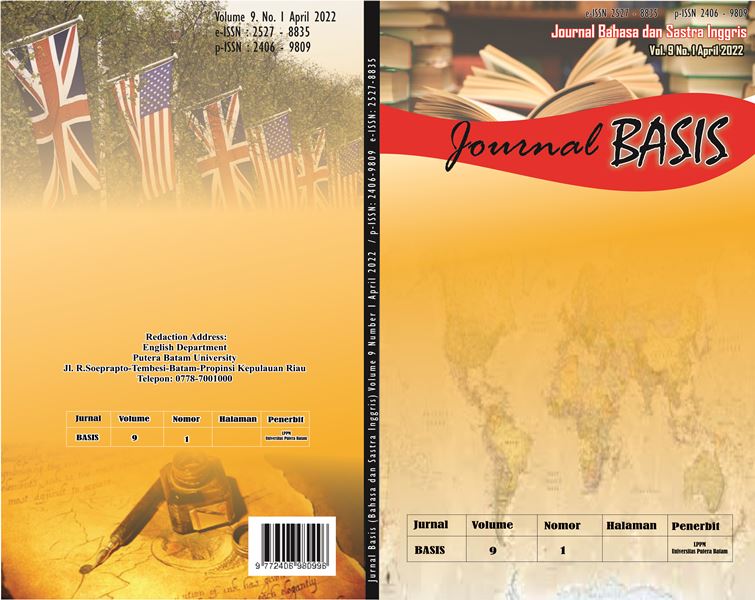 Downloads
Section
BASIS VOLUME 9 NO 1 APRIL 2022
License