THE INTERPLAY OF PERSONALITY FACTORS AND LANGUAGE LEARNING STRATEGIES IN DEVELOPING SPEAKING SKILL
Keywords:
Language Learning Strategies, Personality Factors, Speaking Skills
Abstract
Speaking skill was one of essential parts in language learning and needed to be mastered by every student for a better foreign language communication. The aims of this research were (1) to find out the language learning strategies used by the students based on their personality factors (2) to observe the extent to which the personality factors and language learning strategies correlate with speaking skill, (3) to elaborate the interplay of personality factors and language learning strategies in developing students' speaking skill. 25 students in the fourth semester of 2015/2016 class of English Education Department at Sekolah Tinggi Keguruan dan Ilmu Pendidikan (STKIP) Muhammadiyah Bone were selected by purposive sampling. The research employed mixed method of descriptive quantitative (correlation) and descriptive qualitative analysis. Quantitative data were collected first from questionnaires and speaking test and qualitative data from interview. The results of the research indicated that most of extrovert students prefer to use indirect learning strategies (69%) while introvert students prefer to use direct learning strategies (89%). The correlation of personality factors and speaking skills was low (r=0.08), whereas the correlation of language learning strategies and speaking skill was strong (r=0.6). Therefore, the interplay of personality factors and language learning strategies showed that personality factors contribute to important roles in choosing the appropriate language learning strategies in developing speaking skill.
References
Aziz, Rebin, A. (2010). Extraversion-Introversion and The Oral Performance of Koya University EFL Students. Unpublished Thesis, Bilkent University.
Brown, H. Douglas (1994). Principles of Language Learning and Teaching. Prentice Hall inc.
Clark, H. H. and E. V. Clark. (1977). Psychology and Language Introduction to Psycholinguistics. Harcourt Brace Jovanovich.
Dewaele J-M. & Furnham A. (2000). Personality and speech production: A pilot study of second language learners. Personality and Individual Differences, 28: 355–365
Ehrman M., & Oxford R. (1995). Cognition plus: Correlates of language learning success. The Modern Language Journal, 79(1): 67–89.
Ellis R. (1994). The Study of Second Language Acquisition. Oxford University Press
Ely CM. (1986). An analysis of discomfort, risk taking,sociability, and motivation in the L2 classroom. Language Learning, 36(1): 1-25.
Eysenck, H. & Eysenck, S. (1975). Persian Version of the Manual of Eysenck Personality Questionnaire. Hodder & Stoughton.
Gay L R. (2006). Education Research, Competencies for Analysis and Application. Merril Publishing.
Griffiths C. (2004). Using Reading as a Strategy for Teaching and Learning Language. Paper presented at the International Conference on First and Second Literacy Strategies. College Park.
Housen, A., & Kuiken, F. (2009). Complexity, accuracy, and fluency in second language acquisition. Appl. Linguist., 30(4), 461-473.
Ibrahimoglu, N, et al (2013). The Relationship between Personality Traits and Learning Styles: A Cluster Analysis. Journal of Education and Practice, (93-108)
Jung, C. G. (1971). Personality types. The portable Jung
Khan, Sarah. (2010). Strategies and Spoken Production on Three Oral Communication Tasks: A Study of High and Low Proficiency EFL Learners. Doctoral Thesis: Universitat Autònoma de Barcelona
Khany, R., & Ghoreyshi, M. (2013). The nexus between Iranian EFL students' Big Five personality traits and foreign language speaking confidence. European Online Journal of Natural and Social Sciences, 2(2s), pp-601.
Liang, H. Y., & Kelsen, B. (2018). Influence of personality and motivation on oral presentation performance. Journal of psycholinguistic research, 47(4), 755-776.
Lightbown P. & Spada N. (1993). How languages are learned. Oxford University Press.
MacIntyre P.D. & Charos C. (1996). Personality, attitudes, and affect as predictors of second language communication. Journal of Language and Social Psychology, 15: 3-26.
O'Mallay JM & Chamot AU. (1990) Learning Strategies in Second Language Acquisition. Cambridge University Press
Oxford, R. (1990). Language Learning Strategies: What Every Teacher Should Know. Newbury House Publisher.
Rahman, Abd. (2007). Improving Speaking Skill by Using Jigsaw Technique. Unpublished Thesis : UIN Alauddin.
Reiss MA. (1983). Helping the Unsuccessful Language Learner. Canadian Modern Language Review, 39(2), 257-266.
Richard, J. C, and W.A. Renandya. (2002). Methodology in Language Teaching: An Anthology of Currect Practice. Cambridge University.
Simon and Schuster. (1979). Webster's New Twentieth Century Dictionary Unabridged (Second Edition). New World Dictionaries.
Sato, T. (2005). The Eysenck personality questionnaire brief version: Factor structure and reliability. The Journal of psychology, 139(6), 545-552.
Spratt M.., Pulverness A & William M. (2005). The TKT (Teaching Knowledge Test) Course. Cambridge University Press
Skehan P. (1989). Individual differences in second-language learning. Edward Arnold.
Strong M. (1983). Social Styles and The Second Language Acquisition of SPANISH Speaking Kindergartners. TEOSL-Quarterly, 17(2), 241-258.
Swain M. (1993). The output hypothesis: Just speaking and writing aren't enough. TheCanadian Modern Language Review, 50(1), 158-164.
Van Daele S. Housen, A., Pierrard, M., & Debruyn, L. (2006). The effect of extroversion on oral L2 proficiency. EUROSLA Yearbook, 6, 213–236.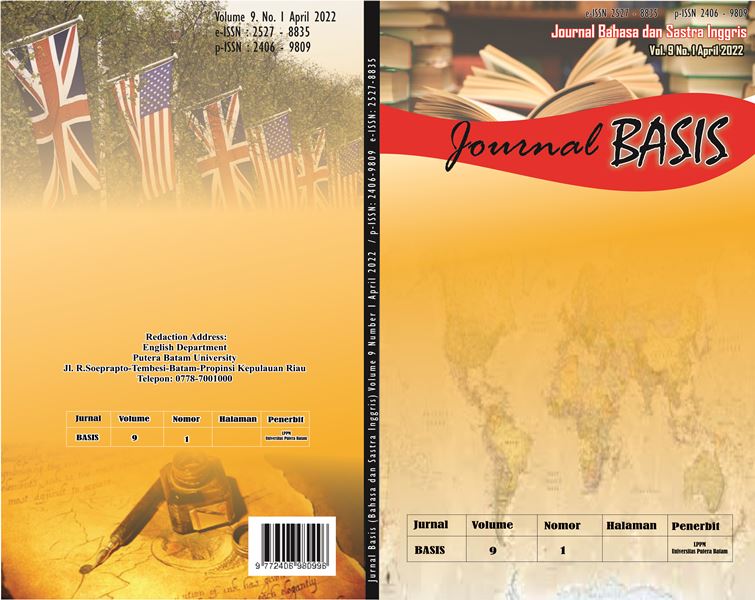 Downloads
Section
BASIS VOLUME 9 NO 1 APRIL 2022
License