THE UNIQUE OF SPEECH ACTS USED IN SONG LYRICS OF TAYLOR SWIFT IN THE THEME OF LIFE LESSONS
Abstract
Illocutionary act is performed by saying something and includes acts such as betting, promising, denying, stating, apologizing, threatening, predicting, ordering, and requesting. This study aimed to analyze the illocutionary act and function of the illocutionary act in the three-song lyric by Taylor Swift that has the same theme, that is life lessons. After the data is being collected, the data is analyzed based on the theory of illocutionary acts by Searle (1996) and the function of illocutionary acts by Leech (1983). The study shows that there are four categories of illocutionary acts found in the three songs by Taylor Swift. Those are representatives, directives, commisives and expressives. The representative act was found as the most dominant category of illocutionary act with 67 data (70,52%), followed by directives with 16 data (16,84%), commissions with 10 data (10,52%), and expressives with 2 data (2,1%). Moreover, there are four types of functions of illocutionary acts found in the song lyrics of Taylor Swift. There are Collaborative, conflictive, competitive, and convivial. Collaborative was the most dominant functions of illocutionary act with 16 data (69,56%) followed by conflictive with 5 data (21,73%), competitive with 1 data(4,34%) and convivial with 1 data (4,34%). Lastly, the speech act used in ELT has some implications for the students' skill.
References
Creswell, J. (2014). Research Design: Qualitative, Quantitative, and Mixed Methods Approaches. In (Vol. 59).
Hutajulu, F. S. L., & Herman, H. (2019). Analysis of Illocutionary Act in the Movie "You Are My Home" English Subtitle. JEES: Journal of English Educational Study, 2(1), 29–36. https://doi.org/10.31932/jees.v2i1.371
Ihsan, D. (2011). Pragmatik, analisis wacana, dan guru bahasa.
Leech, G. (1983). Principles of pragmatics. Longman.
Pardede, H., & Herman. (2020). a Study of Speech Act Between Seller and Buyers in 'Sinaga Shop.' Wiralodra English Journal, 4(1), 65–81. https://doi.org/10.31943/wej.v4i1.87
Renkema, J. (2004). Introduction to Discourse Studies. Introduction to Discourse Studies. https://doi.org/10.1075/z.124
Sembiring, W. A., & Ambalegin, A. (2019). Illocutionary Acts on Aladdin Movie 2019. Jurnal Basis, 6(2), 279. https://doi.org/10.33884/basisupb.v6i2.1419
Wardhaugh, Ronald Fuller M, J. (2015). An Introduction To Sociolinguistics. In (Vol. 59). BlackWell.
Wulandari, S. (2014). Speech Act Analysis on Facebook Statuses Used By Students of Muhammadiyah University of Surakarta Submitted as a Partial Fulfillment of the Requirements for Getting Bachelor Degree of Education in English Department.
Yule, G. (1996). Pragmatics. In Areal Features Of The Anglophone World. 138.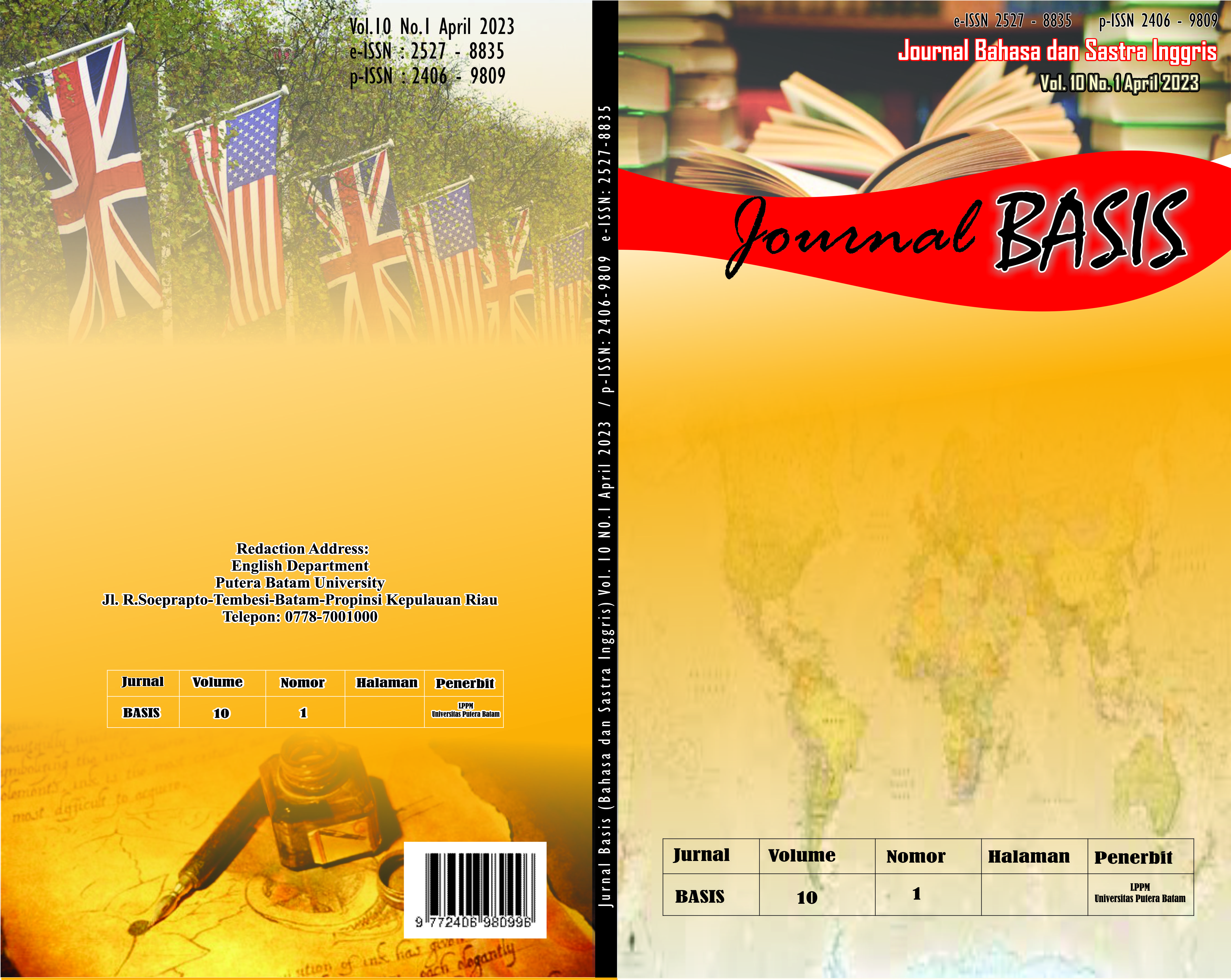 Downloads
Section
BASIS VOLUME 10 NO 1 APRIL 2023
License