DECONSTRUCTION OF DEATH IN ALFRED LORD TENNYSON'S IN MEMORIAM
Abstract
This study discusses the deconstruction of death in "In Memoriam" written by Alfred Lord Tennyson. This study tries to challenge the centralized meaning of the book of poetry "In Memoriam", death is a scary experience for human. The author uses the deconstruction theory developed by Derrida. This deconstruction theory tries to replace the centralized-meaning contained in a literary work. There are three stages to apply the theory of deconstruction in this research. The stages are the reconstruction stage, the deconstruction stage, and the reinscription stage. The method used in this research is a qualitative method. The data that has been found comes from quotation in the poetry book "In Memoriam". The result of the deconstruction reading is the discovery of "another meaning", the author finds death is the beginning of immortality. This "another meaning" succeeded in refuting the position of centralized meaning in "In Memoriam".
References
Al-Jumaily, A. S. H. (2017). A Deconstructive Study in Robert Frost's Poem: The Road Not Taken. Journal of Literature, Language, and Linguistics, 33, 16-22. https://iiste.org/Journals/index.php/JLLL/article/view/36633
Aprilia, C. & Arianto, T. (2021). Binary Oppositions as The Result of Deconstruction Analysis in The Goldfinch Novel by Donna Tart. Journal Basis: Jurnal Bahasa dan Sastra Inggris Universitas Putera Batam, 8(1), 65 – 74. https://doi.org/10.33884/basisupb.v8i1.2812
Bodgan, R. C. & Sari, B. K. (2007). Qualitative Research for Education. Allyn and Bacon, Inc.
Bowta, F. & Puluhulawa, Y. (2018). Deconstructive Analysis of Main Character in
Frankenstein Novel by Mery Shelley. British: Journal Bahasa dan Sastra Inggris, 8(2), 60 – 71. https://dx.doi.org/10.31314/british.7.1.60-71.2018
Bradley, A. (2008). Derrida's Of Grammatology: An Edinburgh Philosophical Guide. Edinburgh University Press.
Derrida, J. (1976). Of Grammatology. The John Hopkins University Press.
Hill, L. (2007). The Cambridge Introduction to Jacques Derrida. Cambridge University Press.
Howard, J. (2010). Tennyson's In Memoriam. The Explicator, 68(4), 231-234. https://doi.org/10.1080/00144940.1954.11481736
Royle, N. (2003). Jacques Derrida. Routledge.
Taylor, M. M. (1971). Symbol and Mood in Tennyson's Nature Poetry. Master Thesis, University of Richmond.
Shrivastwa, B. K. (2020). Deconstructive Reading of Dylan Thomas's Poems Contemporary Literary Review India, 7(2), 81-89. https://doi.org:10.201411/clri.v7i4.514
Tennyson, A. L. (1850). In Memoriam. The Riverside Press Cambridge
Ungkang, M. (2013). Dekonstruksi Jaques Derrida sebagai Strategi Pembacaan Teks Sastra. Jurnal Pendidikan Humaniora, 1(1), 30-37.http://journal.um.ac.id/index.php/jph/article/view/3919
Widyahening, C. E. T., & Wardhani, N. E. (2021). Deconstruction of maleficent characters in the movie titled 'Maleficent'. Linguistics and Culture Review, 5(S3), 1453-1467.https://doi.org/10.21744/lingcure.v5nS3.1681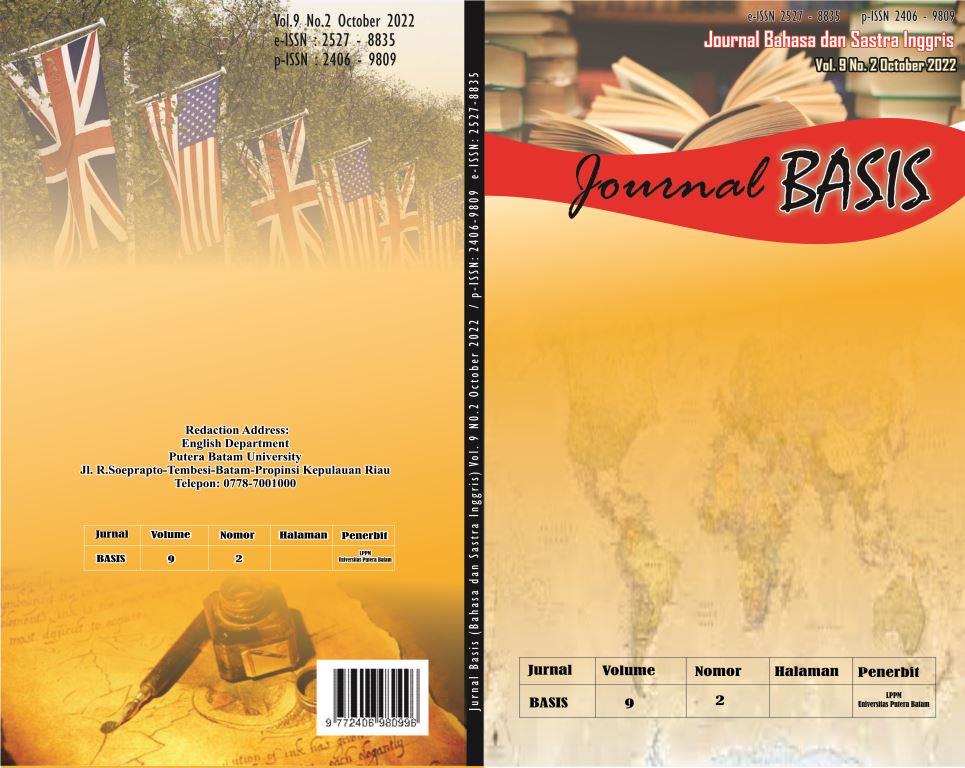 Downloads
Section
BASIS VOLUME 9 NO 2 OCTOBER 2022
License