CATEGORY SHIFTS AND ITS QUALITY IN "TO ALL THE BOYS: ALWAYS AND FOREVER" MOVIE SUBTITLES
Keywords:
translation shifts, category shifts, quality of translation, movie subtitles
Abstract
This research aimed to analyze Category shifts; Structure-shift, Class-shift, Unit shift, and Intra-system by Catford (1965) in female-lead utterances in To All The Boys: Always and Forever (2021) movie subtitles, to identify the most dominant shift and the quality of translation used quality assessment of translation theory by Nababan (2012). The descriptive-qualitative method is applied to analyze the data. The data was obtained by the English and Indonesian subtitles. The analysis identified 317 shifts in the data which were then divided according to 4 types of Category shifts. The results showed all of the Category shits were found in the data with the unit shift as the most dominant category shift with a total of 165 data (52%), structure shift with 64 data (20%), intra-system shift with 51 (16%), and the less dominant data is class shift with 37 data (12%). The quality assessment of translations pointed out that 7 data were scored as less accurate. and 1 data each for inaccurate, inacceptable, and unreadable. The data remains were high-scale accuracy, acceptancy, and readability. These results indicated that the occurrence of category shifts is important to achieve naturalness in translation.
References
Andriyaniy, S., & Widiyantari, Y. (2020). Category Shifts and Impact Of Translation in "The Secret of Unicorn" Movie Texts. Surakarta English and Literature Journal, 3(1), 1-8.
Catford, J. C. (1965). A linguistic theory of translation (Vol. 31). London: Oxford University Press.
Chesterman, A. (2016). Memes of translation. Memes of Translation, 1-237.
Ginting, R. A. (2018). Shifts in The English-Indonesia Translation of Captain America: Civil War Subtitle. Retrieved from https://repositori.usu.ac.id/handle/123456789/12608/
Indonesia, K. B. B. (2008). Departemen Pendidikan Nasional. Jakarta: Pusat Bahasa.
Lamere, w. S. J. (2020). Category shift and readability in two versions of the indonesian translation of poe's "the tell-tale heart" (Doctoral Dissertation, Universitas Sanata Dharma Yogyakarta).
Larson, M. L. (1998). Meaning based translation (p. 408). Lanham, MD: University press of America.
Moeliono, A. M., Lapoliwa, H., Alwi, H., & Sasangka, S. S. T. W. (2017). Tata bahasa baku bahasa Indonesia.
Nababan, M., & Nuraeni, A. (2012). Pengembangan model penilaian kualitas terjemahan.
Newmark, P. (1987). A textbook of translation. Prentice-Hall International.
Nisya, D. F. (2020). Exploring indonesian-english translation shift in jokowi's imf world bank 2018 speech. Jurnal Basis, 7(1), 47-54.
Oxford University Press. Oxford Learner's Pocket Dictionary (4th Ed). (2008). New York: Author.
Redaksi, T. (2008). Tesaurus Bahasa Indonesia Pusat Bahasa. Pus. Bahasa, Dep. Pendidik. Nas.
Vinay, J. P., & Darbelnet, J. (1995). Comparative stylistics of French and English: A methodology for translation (Vol. 11). John Benjamins Publishing.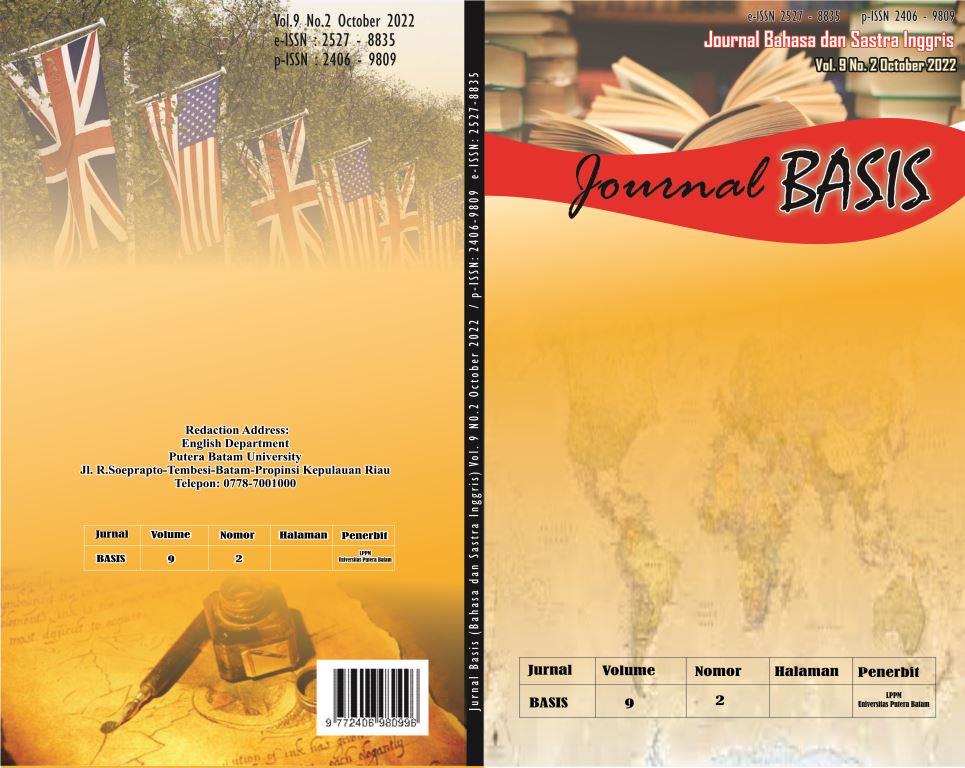 Downloads
Section
BASIS VOLUME 9 NO 2 OCTOBER 2022
License