STUDENT PERCEPTIONS ON PARTS OF SPEECH AFTER TAKING INTEGRATED ENGLISH
Keywords:
Perception, Parts of speech, Students
Abstract
This article discussed about perception students on parts of speech after taking Integrated English. The purpose of this research is to know the student's perception about Parts of Speech such as noun, pronoun, verbs, adjective, adverb, preposition, conjunction and interjection. Problems is students still confuse to put words of parts of speech in a sentence, so the researcher wanted to know what is students' perceptions on Parts of Speech after taking Integrated English. The method of this study is qualitative research which data was obtained with taking a note from WhatsApp. Michael Patton and Michael Cohran (2002,3) in Sihatul, M (2020) Qualitative research is characteristic by it is aim, which relate to understanding some aspects of social life, and it is methods which (in general) generate words, rather that numbers, as data for analysis.  Based on the result of the research, the researchers found the students perception on the parts of speech; First, from ten students as taken data only five students got felt difficult to learn Parts of speech; Second, the students' perception about Parts of Speech are Positive.
References
Croft, W (2000). Parts of Speech as Language Universal and Language -Particular Categories, Emprical Approaches to Languages Typology
Mulyana, D (2009). Ilmu Komunikasi;suatu Pengantar. Bandung; PT Remaja Rosdakarya.
Pujiwati, N (2018). Mengintegrasikan Automatic Grammar Checker Dalam Kelas Menulis. Jurnal Pendidikan Unsika. Judika.
Rakhmad &Tri (2019). Parts of Speech Analysis Appeared on Headline Newspaper. Jurnal Serunai ilmu Pendidikan Vol.5, No 2. Desember.
Suharman (2005). Psikologi Kognitif. Surabaya: Srikandi
Sihatul, M (2020). Thesis Students Perception on The Use of WhatsApp Application in Teaching of English at Eight Grade Students of Madrasah Tsanawiyah Nurul Hidayah Bhakti Idaman Tanjab Timur Jambi.
Shofiyuddin, M. (2017). Part of speech mastery of the eighth grade students taught by using whisper cycles game. Edulingua: Jurnal Linguistiks Terapan dan Pendidikan Bahasa Inggris, 4(1) link https://ejournal.unisnu.ac.id/JE/article/view/552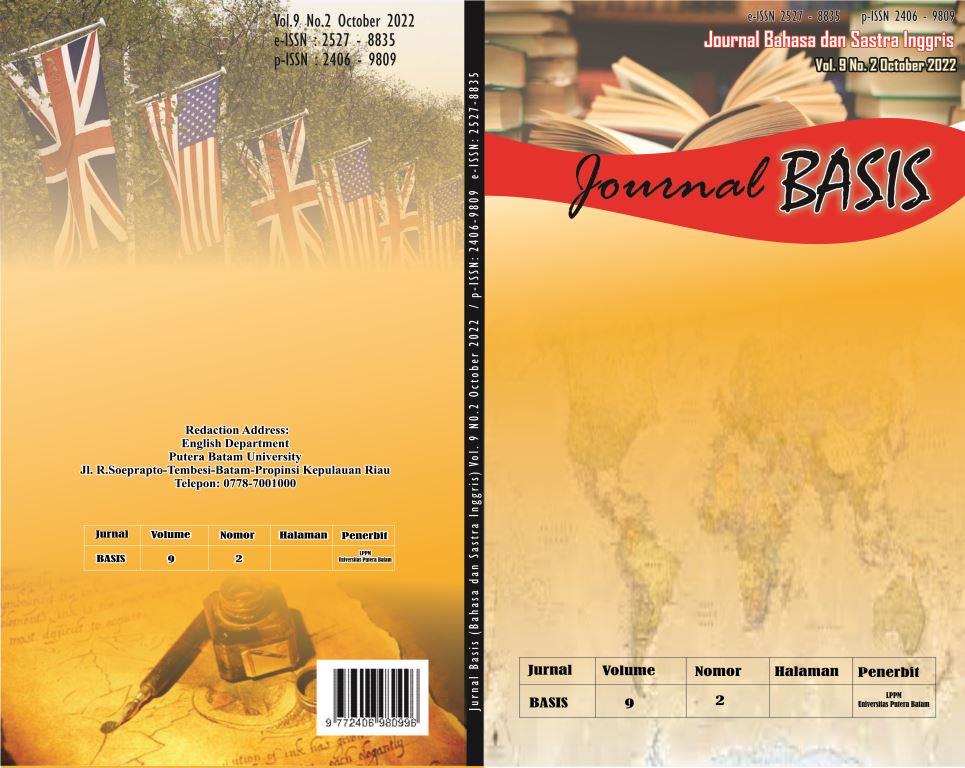 Downloads
Section
BASIS VOLUME 9 NO 2 OCTOBER 2022
License