PENGAJARAN KOSA KATA BAGI MAHASISWA EFL DENGAN MENGGUNAKAN GAME
Keywords:
Vocabulary, teaching technique
Abstract
Regardless of the vocabulary teaching in EFL students is neglected, the role of vocabulary becomes more and more essential in both second language teaching more over foreign language one. Putting off vocabulary teaching happens because many English teachers are not confident enough to decide both method and technique of teaching vocabulary. This paper is written to give interesting alternative of vocabulary teaching technique with the hope to meet challenge of teaching vocabulary
References
Ahmadi Mohammad Reza. (2012). Improving Vocabulary Learning in Foreign Language Learning Through Reciprocal Teaching Strategy. Macrothing Institute International Journal of Learning & Development, Vol 2(No. 6), 186–201.
Alderson, C. (2000). Assessing reading. Cambridge: Cambridge: Cambridge University Press.
Alqahtami, M. (2015). The Importance of Vocabulary in Language Learning and How to be Taught. International Journal of Teaching and Education, III(3), 21–31.
Anjomshoa Leila and MostafaZamanian. (2014). The Effect of Vocabulary Knowledge on Reading Comprehension of Iranian EFL Learners in Kerman Azad University. International Journal on Studies in English Language and Literature (IJSELL), 2(5), 90–95.
Erlina. (2011). Metodologi Penelitian. Medan: USU Press.
Gu, Y. (2003). Fine brush and freehand: The vocabulary learning art of two successful Chinese EFL learners. TESOL Quarterly, 37, 73-104., 37(73), 104.
Harmer, J. (2001). How to Teach English. London: Longman.
Jeanette S. Decarico. (2001). Teaching English as a Second or Foreign Language (3rd ed.). United States: Heinle & Heinle Thomson Learning.
Kaivanpanah, S., &Zandi, H. (2009). The role of depth of vocabulary knowledge in reading comprehension in EFL context. Journal of Applied Sciences, 9(4), 698–706.
Laufer B. (2003). Vocabulary acquisition in a second language: Do learners really acquire more vocabulary by reading? Some empirical evidence. Applied Linguistics, 19, 255–271.
Lervåg, A., & Aukrust, V. G. (2010). Vocabulary knowledge is a critical determinant of the difference in reading comprehension growth between first and second language learners. Journal of Child Psychology and Psychiatry, 51(5), 612-620, 51(5), 612–616.
Nation, I. S. P. (2011). Learning vocabulary in another language. Cambridge: Cambridge University Press.
Palincsar, A. S., & Brown, A. L. (1985). Activities to promote "reading with your mind. New York.
Qian, D. (2002). Investigating the relationship between vocabulary knowledge and academic reading Performance (No. 52).
Read. J. (2000). Assessing vocabulary. Cambridge: Cambridge University Press.
Schmitt N. (1999). The relation between TOEFL vocabulary items and meaning, association, 325 collocation, and word-class knowledge (No. 16).
Schmitt N. (2000). Vocabulary in language teaching. Cambridge: Cambridge: Cambridge University Press.
Stuart Webb. (2015). words to express their thoughts to others. International Journal of Teaching and Educatiion, III(3).
Thorburry S. (2002). How to teach vocabulary. England: Pearson Education Limited.
Tompkins, G. E. (2011). Literacy in the early grades: A successful start for prek-4 readers. Boston: Pearson.
Ur, P. (1998). A course in language teachin. Cabridge: Cabridge University Press.
Walter, & J. (2004). "Teaching the use of context to infer meaning: A longitudinal survey of L1 and L2 vocabulary research." Language Teaching, 37(4), 243–252.
Zhang, L. J., & Anual, S. B. (2008). The role of vocabulary in reading comprehension: The case of secondary school students learning English in Singapore. RELC Journal, 39(1), 51–76.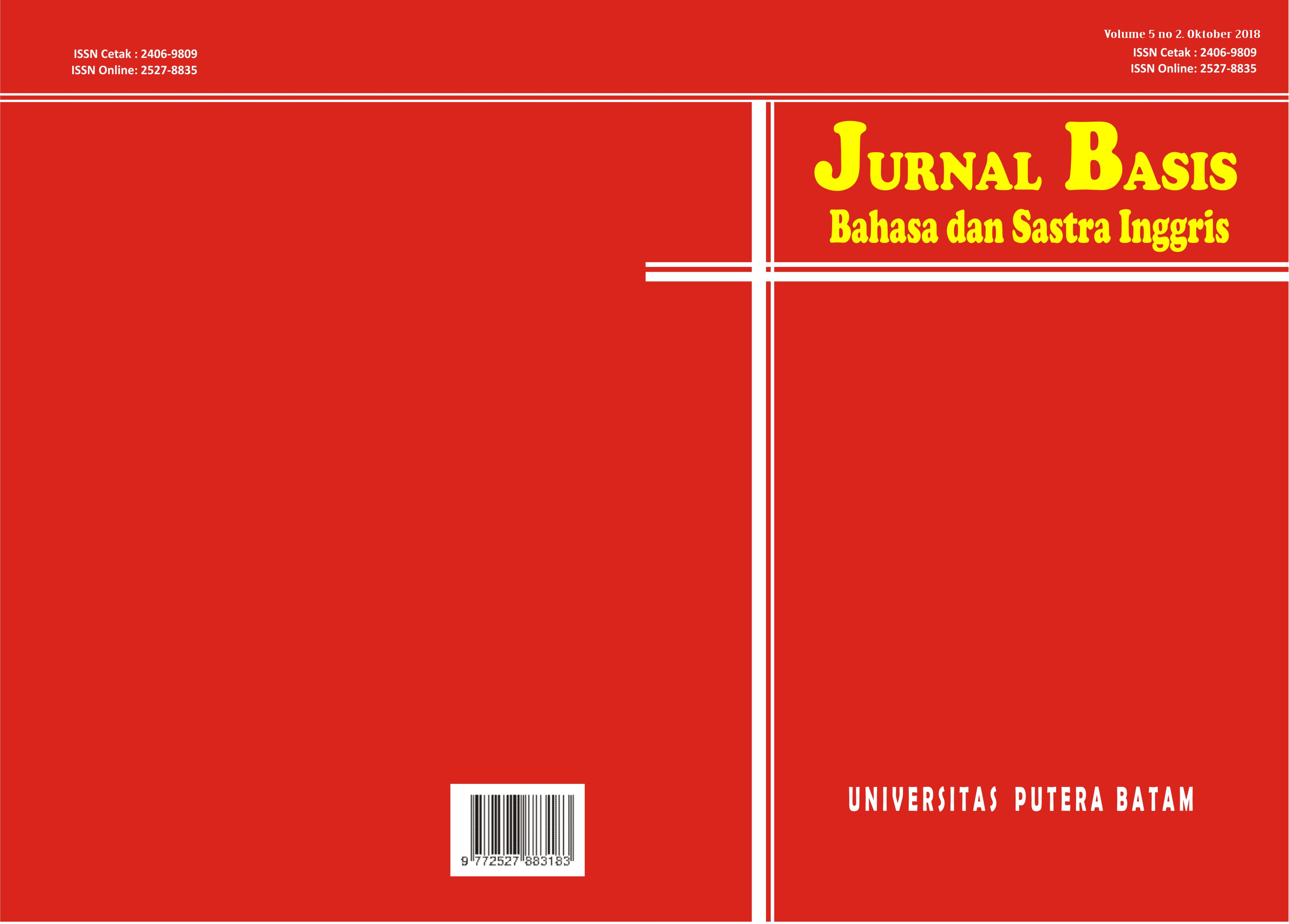 Downloads
Section
BASIS VOLUME 5 NO 2 OKTOBER 2018
License