THE ANALYSIS OF CONTENT TEXTS IN THE TEXTBOOK: COMMUNICATIVE ENGLISH IN CONTEXT PUBLISHED BY GRAFINDO
TINJAUAN ISI TEKS DALAM BUKU TEKS: COMMUNICATIVE ENGLISH IN CONTEXT YANG DITERBITKAN OLEH GRAFINDO
Keywords:
Competencies, Linguistic Features, Textbook.
Abstract
Since the analysis of textbook is highly important and beneficial for teaching and learning process and also as a reflective syllabus and curriculum, the present study aims to overview the content texts in the English textbook: Communicative English in Context for ninth graders published by Grafindo. It involves kinds of texts, how they were presented in this English textbook and their compatibility with syllabus and 2013 curriculum. It belongs to descriptive qualitative study which used document analysis to proceed the data in this study which kinds of texts become the main data. The findings show that kinds of texts which also embedded grammar points in this textbook are in the form of dialogues and informative texts such as descriptive, procedural, report and narrative texts which have fulfilled social function, generic structure and linguistic feature. Furthermore, these texts which become the materials for teaching and learning process are simply designed and compatible with syllabus and 2013 curriculum since they are relevant with students' competencies.
References
Akhmad, E., et al. (2022). The Criteria of Good English Textbook for Students: A Senior English Textbook Analysis. Eloquence Journal Of Foreign Language, 1(13), pp. 114-124.
Andriani, A., et al (2021). Teaching English Grammar in an Indonesian Junior High School. Al–Ishlah Journal, 13 (2), pp. 1046–1056
Basal, A. (2016). An Investigation into Illustrations in English Course Books in a Turkish Context. International Electronic Journal of Elementary Education. 8 (3), 525-536
Cahyani, S., et al. (2019). Textbooks Evaluation by Ur's Theory. Journal of English Language and Pedagogy, 2 (2), pp. 162–171
Izzah, N., et al. (2023). Higher Order Thinking Skills In Reading Exercises: A course Book Content Analysis. English Education Journal, 9 (1), pp. 61–74
Joy, J. L. (2013). ESL Syllabus Design: Its Impact on the Teaching-Learning Process. Shanlax International Journal of English, 1 (3), pp. 9–18
Laili, C.N., & Wahyanti, M. (2018). The Consistency Of Textbook "Pathway To English For SMA/MA Grade X" With The 2013 Curriculum. Journal Of English Language Teaching, 7 (1), pp. 92–103
Munir, S., et al. (2021). Developing Criteria Of An English Textbook Evaluation For Indonesian Senior High School. Jurnal Ta'dib, 24(2), pp. 217–227
Nanda, M., et al. (2019). An Analysis of Language Skills' Proportions in the English Textbook Grade XII Published by Kemendikbud 2014. Journal of English Education and Teaching, 3 (4), pp. 438–451
Normawati, A., et al. (2023). How EFL Learners Perceive Grammar In Speaking and Writing. JEES Journal, 6 (01), pp. 23–30
Nuha, U. (2014). Transactional and Interpersonal Conversation Texts in English Textbook. REGISTER Journal, 7 (2), pp. 205–223
Nurjanah, N., et al. (2018). Communicative English in Context for Ninth Graders. Bandung: Grafindo Media Pratama
Prameswari, Y., & Susanto. (2014). The Knowledge Of Genres Of Private Junior High School Teachers In Mojokerto. E-Journal UNESA, 1 (01), pp. 2–11.
Purnomo, R. (2023). The Reading Exercises in the English Students' Book Entitled "Interactive English" for Grade VIII Students. Journal of Education Nusantara, 2 (02), pp. 81–92
Rochmahwati, P. (2022). Book Review. English Curriculum and Material Development. LLT Journal, 25 (2), pp. 758 - 761
Sitoresmi, W.E. (2019). A Cultural Content Analysis of EFL Textbooks–Challenge Series: 2,3, and 4 Published By Pearson. BEST Conference 1 (1), pp. 1–7
Surtiyah, T., et al. (2017). Communicative English in Context for Eighth Graders. Bandung: Grafindo Media Pratama
Suryani, R.W. (2018). When English Rings The Bells: An English Textbook Analysis. Journal of ELTAR, 2 (01), pp. 2614–1108
Urrahmi, A. (2022). The Effect of Task-Based Learning on Students' Writing Ability During Pandemic COVID-19 AT MTSN 6 Lima Puluh Kota, RIELT Journal, 8 (1), pp, 1–8
Vega, D. N, et al. (2021). Book Review: English Curriculum and Material Development. Exposure Journal, 11 (1), pp. 7–15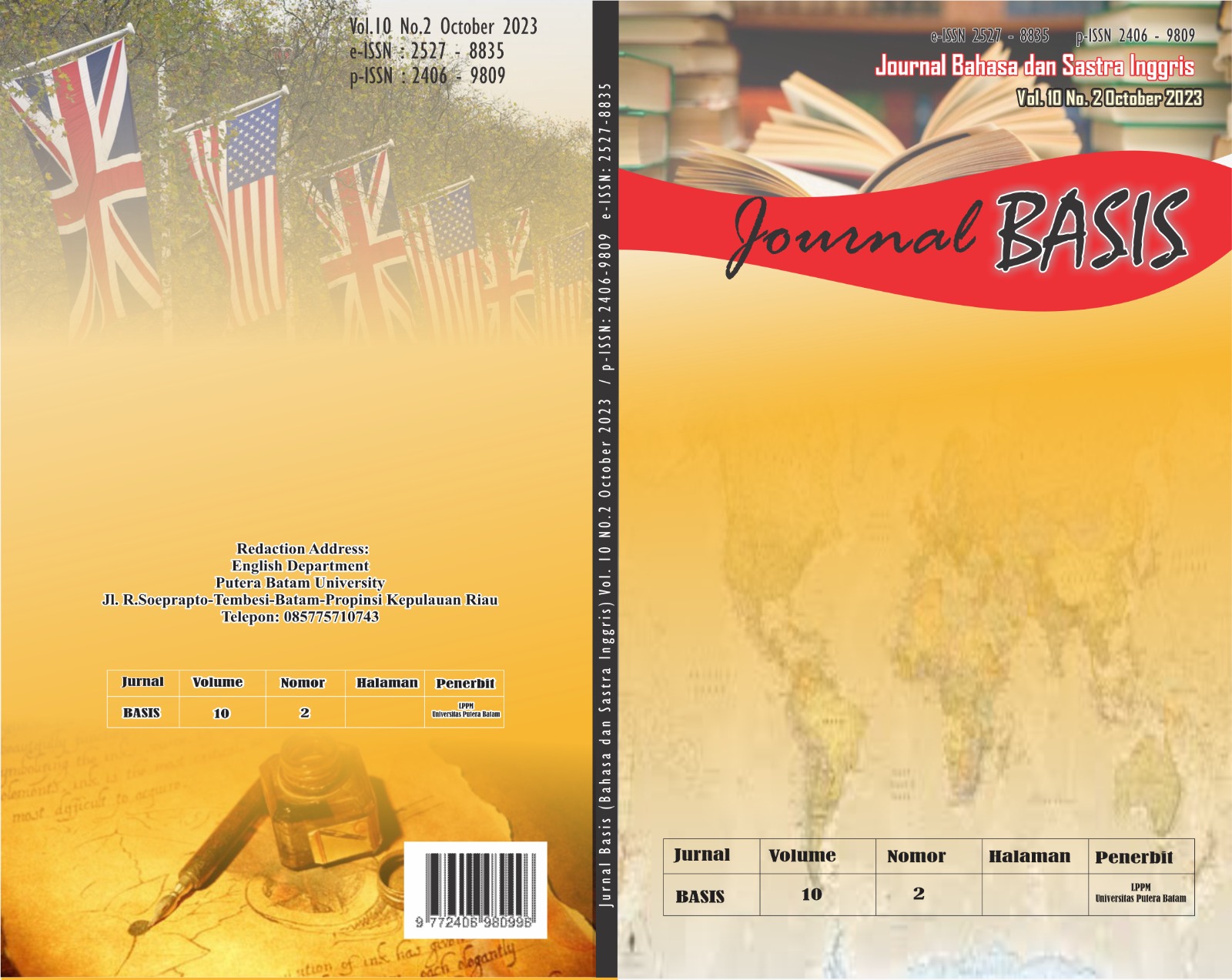 Downloads
Section
BASIS VOLUME 10 NO 2 OKTOBER 2023
License